Documentary Film AMERICAN CREED Premieres on PBS 2/27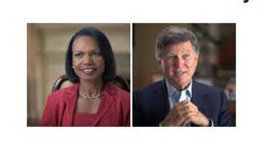 What does it mean to be American? What holds us together in turbulent times? In the documentary film AMERICAN CREED, former Secretary of State Condoleezza Rice and Pulitzer Prize-winning historian David M. KENNEDY come together from different backgrounds and points of view to investigate the idea of a unifying American creed. How, ask Rice and Kennedy, have American ideals of freedom, fairness, equality, and opportunity been shaped? How are they interpreted today? Rice and Kennedy's spirited inquiry frames the stories of citizen-activists striving to realize their own visions of America's promise. Written, directed, and produced by Sam Ball, AMERICAN CREED premieres Tuesday, February 27, 2018, 9:00-10:00 p.m. ET (check local listings) on PBS.
"I hear more and more people say, 'we're coming apart, we're not civil to one another, our institutions are falling apart'," says Rice. "In times like this," adds Kennedy, "we need stories that remind us of the ideals that hold us together."
THE PARTICIPANTS
(in order of appearance)
Junot Díaz is an acclaimed novelist, winner of the MacArthur "Genius Grant" and Pulitzer Prize recipient for The Brief Wondrous Life of Oscar Wao. Díaz has never forgotten his school librarian Mrs. Crowell, who believed that one of her Spanish-speaking immigrant pupils would one day write great American novels for a new generation. Díaz emigrated from the Dominican Republic in 1974 and grew up in a low-income, multi-ethnic melting pot in New Jersey, across the river from Manhattan. Díaz sees America "at its margins." Only by looking "at this country's farthest edges - the places where we rarely turn our eye - can we get a better sense of what our real values are and what they need to be."
Sergeant Tegan Griffith, from the rural town of Wittenberg, Wisconsin, joined the Marine Corps at 21 in search of economic and educational opportunity, and a meaningful, patriotic life. Her service offered Sgt. Griffith a valuable new perspective on what values are worth defending - those embedded in her vision of the American creed. After serving in Iraq, she returned to Wisconsin where she works tirelessly to help fellow vets build a support network to advocate for themselves and others. At Wisconsin's state capitol in Madison, she encounters loud and passionate protesters, and decides that defending their right to free speech is "part of the fabric of my uniform." As a leader of Iraq and Afghanistan Veterans of America, Griffith continues to fight for freedom and community.
Eric Liu of Seattle served as a speechwriter for President Clinton, and is the founder of Citizen University, a non-profit organization working to foster a strong and vibrant culture of civic engagement. His parents emigrated to the U.S. from China and worked multiple jobs while pursuing their education. Liu's mother worked for baseball great Jackie Robinson, and his father landed a job at IBM. Liu is part of "the tradition of students from poor or immigrant backgrounds who don't quite fit in but wind up finding their own way." After a trip to China, where he witnessed firsthand the political repression of dissidents, Liu made the decision to devote himself to fighting civic apathy at home. He believes that when you stop participating in politics, "you cede the field to the few who would like to command the field...and don't have your interests in mind."
Related Articles View More TV

Stories