Barnaby Blackburn's WALE Takes Home the Oscar-Qualifying Best Short Award at BronzeLens in Atlanta and Grand Jury Prize at Dances With Films in Los Angeles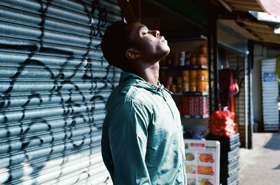 Writer/Director Barnaby Blackburn's Wale tackles the issues of social injustice and racial discrimination. This award-winning psychological thriller has been selected for several Oscar and BAFTA qualifying film festivals since its completion earlier this year and took home the top prizes at BronzeLens and Dances with Films, qualifying the film for the 2019 Academy Awards. The film stars newcomer Raphel Famotibe and GAME OF THRONES star James Sives.
Wale is the story of an 18-year-old mobile mechanic, who learned his trade whilst serving time in Aylesbury, the young offender's institution. Now he's out, living with his mum and trying to get his business going. But enterprise isn't easy when you're a young black male, with a criminal past.
Barnaby Blackburn is an award-winning Creative Director and commercial writer. Wale, which he wrote in 2016, is his directorial debut. However, Blackburn is no stranger to making films. In the past 5 years he has created several promos for well-known brands like Nike and Land Rover. Just some of the talent he has worked with includes Idris Elba, Charles Dance and Kenneth Cranham. At only 26 this talented director won a BAFTA for his promo for BBC's coverage of the Winter Olympics. In 2017 he founded his production company Dark Glass Films with his production partner, Ed Speleers.
Producer Ed Speleers has been acting on screen for 13 years in films such as 20th Century Fox's Eragon and Breathe, and the hit TV series Downtown Abbey and Outlander. Producer Catherine Slater works alongside Andy Serkis and producer Jonathan Cavendish at The Imaginarium, on blockbusters such as the upcoming Mowgli for Netflix, and Star Wars: Force Awakens; and independent films such as Breathe. Producer Sophie Alexander, having joined The Imaginarium in 2014, has worked in production on an array of projects such as Breathe and The Ritual, and the upcoming TV Series for the BBC, Death and Nightingales. Both Catherine and Sophie were selected for the prestigious BAFTA Guru scheme in 2018.
Just some of Wale's awards and selections include:
· East End Film Festival (World Premiere, Honorable Mention for Best UK Short award)
· Brooklyn Film Festival (East Coast Premiere)
· Arizona International Film Festival
· Dances With Films (West Coast Premiere, winner of Grand Jury Award)
· BronzeLens Film Festival of ATLANTA (winner of Best Short Award and Best Actor Award for Raphel Famotibe)
· Urbanworld Film Festival NYC
· Over-The-Rhine Film Festival
· BendFilm Festival
· Edmonton International Film Festival (Canadian Premiere)
· Toronto Black Film Festival
· SCAD Savannah Film Festival
· Norwich Film Festival
· Aesthetica Short Film Festival