An Evening with Lois Smith at Film Forum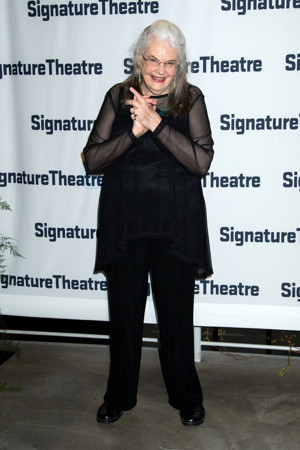 Actress Lois Smith, whose film career began over 60 years ago in East of Eden and is still going strong in such recent films as Marjorie Prime and Lady Bird, will appear at Film Forum on Monday, April 2 at 7:15pm for an evening of conversation and film clips, moderated by author and film historian Foster Hirsch, author of 16 books on film and theater, including A Method to Their Madness: The History of the Actors Studio
(Ms. Smith's Alma Mater).

From her training with Lee Strasberg at the Actors Studio to her unforgettable movie debut opposite James Dean in Elia Kazan's East of Eden in 1955, up through her two sterling performances in 2017, in Marjorie Prime and Lady Bird, Kansas-born Lois Smith has an astounding resumé. In an over- 60-years- and-counting career in theater, television, and movies - her credits including everything from Five Easy Pieces (as Jack Nicholson's neurotic sister) and Fatal Attraction to TV's Desperate Housewives and the
soap opera One Life to Live - she has created characters both tart and sweet, vulnerable and resilient, proving that, for great actors, there are no small parts. While she remains a commanding presence as a supporting actress, for this special evening, she's THE ONE and only star.

Lois Smith has appeared at the Signature in Annie Baker's John, for which she received a Lucille Lortel nomination; she also appeared in Tony Kushner's The Illusion and Horton Foote's The Old Friends and The Trip to Bountiful, winning multiple awards for the latter. Other stage roles include The Grapes of Wrath and Buried Child (both Tony-nominated performances), Broadway productions originating at Steppenwolf Theater in Chicago, and Amy Herzog's After the Revolution at Playwrights Horizons. Additional film credits include The Comedian, Minority Report, Twister, Dead Man Walking, How to Make an American Quilt, Four Friends, and Please Give. Ms. Smith's countless television appearances have included Route 66 and The Naked City in the 1960s and, most recently, Sneaky Pete, Younger, Blacklist, The Affair, Grace & Frankie, The Americans, and True Blood. Foster Hirsch is the author of sixteen books, including The Hollywood Epic, Film Noir: The Dark Side of the Screen, A Method to Their Madness:
The History of the Actors Studio, Detours and Lost Highways: A Map of Neo-Noir, and Otto Preminger: The Man Who Would Be King. Special admission to this event is $25 for non-members, and $15 for Film
Forum members.
Approx. 90 mins.
Produced by Bruce Goldstein.
Related Articles
View More TV

Stories
More Hot Stories For You