Alfonso Cuaron, Bo Burnham Take Top Prizes at the DGA AWARDS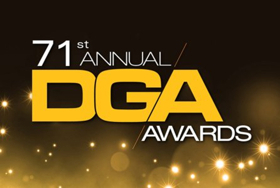 The winners of the Directors Guild of America Outstanding Directorial Achievement Awards for 2018 were announced tonight during the 71st Annual DGA Awards at the Hollywood & Highland Center's Ray Dolby Ballroom in Hollywood. Alfonso Cuarón won the DGA's Award for Outstanding Directorial Achievement in Feature Film for Roma.
Aisha Tyler hosted the ceremony before an audience of more than 1,500 guests. Presenters included (in alphabetical order): Mahershala Ali, Yalitza Aparicio, Christian Bale, Paris Barclay, Linda Cardellini, Marina de Tavira, Guillermo del Toro, Sam Elliott, Topher Grace, Tony Hale, Laura Harrier, Dennis Haysbert, Brian Tyree Henry, Ron Howard, Dolores Huerta, Quincy Jones, Stan Lathan, Viggo Mortensen, Sarah Paulson, Jordan Peele, Matthew Rhys, Keri Russell, Octavia Spencer, John David Washington, and Constance Wu.
Full list of DGA Awards winners below:
FEATURE FILM
ALFONSO CUARÓN
Roma
(Netflix)
Unit Production Manager: Ana Hernandez
First Assistant Director: Frederic Henocque Albino
Second Assistant Director: Patrick Heyerdahl
Second Second Assistant Directors: Luis Fernando Vásquez, Julián 'Chico' Valdés, Arturo Garcia
FIRST-TIME FEATURE FILM DIRECTOR
BO BURNHAM
Eighth Grade
(A24)
First Assistant Director: Dan Taggatz
Second Assistant Director: Vic Coram
Second Second Assistant Director: Evelyn Fogleman
DOCUMENTARY
TIM WARDLE
Three Identical Strangers
(Neon and CNN Films)
DRAMA SERIES
ADAM MCKAY
Succession, "Celebration"
(HBO)
Mr. McKay's Directorial Team:
• Unit Production Manager: Regina Heyman
• First Assistant Director: Amy Lauritsen
• Second Assistant Director: Scott Bowers
• Second Second Assistant Director: Nicholas Notte
• Location Managers: Michael Kriaris, Patty Carey
COMEDY SERIES
BILL HADER
Barry, "Chapter One: Make Your Mark"
(HBO)
Mr. Hader's Directorial Team:
Unit Production Managers: Mark Tobey, Aida Rodgers
First Assistant Director: Dale Stern
Second Assistant Director: Michelle Gritzer
Second Second Assistant Director: Chris Riddle
Additional Second Assistant Director: Gary Cotti
MOVIES FOR TELEVISION AND LIMITED SERIES
BEN STILLER
Escape at Dannemora
(Showtime)
Mr. Stiller's Directorial Team:
Unit Production Managers: Adam Brightman, Bill Carraro
First Assistant Directors: Lisa M. Rowe, Lyda Blank, Phillip A. Patterson
Second Assistant Director: Kevin R. Shields
Second Second Assistant Director: Luke A. Crawford
Location Manager: Hyo Park
VARIETY/TALK/NEWS/SPORTS - REGULARLY SCHEDULED PROGRAMMING
DON ROY KING
Saturday Night Live, "Adam Driver; Kanye West"
(NBC)
Mr. King's Directorial Team:
Associate Directors: Michael Mancini, Michael Poole, Bob Caminiti
Stage Managers: Gena Rositano, Chris Kelly
VARIETY/TALK/NEWS/SPORTS - SPECIALS
LOUIS J. HORVITZ
The 60th Grammy Awards
(CBS)
Mr. Horvitz's Directorial Team:
Associate Directors: Richard A. Preuss, Ron Andreassen, Kate Hollanda, Sabrina Rufo Mishler, Booey Kober
Stage Managers: Garry Hood, Doug Smith, Benny Almont, Joey Despenzero, Peter Epstein, John Esposito, Andy Feigin, Doug Fogel, Tyler Goldman, Jeffry Gitter, Phyllis Digilio Kent, Arthur Lewis, Julie Lorusso, Jeff Markowitz, Seth Mellman, Cyndi Owgang, Jeff Pearl, Alfonso Pena, Annette Powlis, Kyle Ramdeen, Lauren Schneider, Eddie Valk, Karen Tasch Weiss
REALITY PROGRAMS
RUSSELL NORMAN
The Final Table, "Japan"
(Netflix)
Mr. Norman's Directorial Team:
Associate Director: Carrie Havel
Lead Stage Manager: Jonathan Marks
Stage Managers: Daniel Curran, Mickel Picco
CHILDREN'S PROGRAMS
JACK JAMESON
Sesame Street, "When You Wish Upon a Pickle: A SESAME STREET Special"
(HBO)
Mr. Jameson's Directorial Team:
Associate Director: Ken Diego
Stage Managers: Shawn Havens, Mike Walker, Theresa Anderson
COMMERCIALS
SPIKE JONZE
(MJZ)
Welcome Home, Apple Homepod - TBWA Media Arts Lab
• Unit Production Managers: Vincent Landay, Natalie Hill
• First Assistant Director: Thomas Smith
• Second Assistant Directors: Robert Kay, Nadeem Ashayer, Dave Marnell
• Second Second Assistant Director: Jeff Tavani
Related Articles
View More TV

Stories