ATTACK OF THE SOUTHERN FRIED ZOMBIES To Be Released On DVD and Digital Platforms This March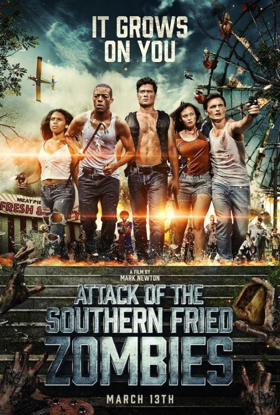 Gravitas Ventures has released the official poster and set March 13, 2018 as the release date for Director Mark Newton's Attack of the Southern Fried Zombies on DVD and all digital platforms. The film, f.k.a. Kudzu Zombies, which won the honor of "Goriest Film" at the 2017 FANtastic Horror Film Festival in San Diego, will also be released in select theatres, announced Daniel Wood, p.g.a.
In Attack of the Southern Fried Zombies, the kudzu covered hills of Charleston, Mississippi, notable as Morgan Freeman's hometown, are ground zero for GloboBioTech testing of their experimental herbicide Quadoxin, which goes horribly wrong. Lonnie, a crop duster pilot, must lead a mismatched group of survivors to escape the deadly zombie horde after the Quadoxin transforms the citizens of the small town into zombies.
The film stars Timothy Haug, Moses J. Moseley (The Walking Dead), Wyntergrace Williams (This Just In), Megan Few (Demons), Escalante Lundy (Django Unchained), Kaitlin Mesh, and Clay Acker. Zombie Makeup & SFX by Jonathan Thornton.
From a screenplay by Christian Hokenson, and produced by Daniel Wood, p.g.a., Mark Newton, Juri Koll, and Per Ericson, with co-producer Stephan Stromer.
Los Angeles zombie fans will have an opportunity to see the film early, when it screens as part of the Hollywood Reel Independent Film Festival on Wednesday, February 28 at 8:30 PM PST at Regal LA LIVE Stadium 14.