Opera In The Heights Announces Its 2019-20 Season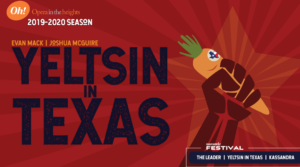 Opera in the Heights (OH), the opera company that provides a stage for emerging performers and affordable opera to the Greater Houston Area, will present its most daring season yet with its 2019-20 lineup. The company's 24th season will open October 5, 2019, with Puccini's iconic opera Tosca, and feature a total of six operas in a total of 21 performances.
A new OH initiative, the New Works Festival, takes place over two weekends in February and March 2020, presenting the world premieres of three operas: Yeltsin in Texas, music by Evan Mack and libretto by Josh Maguire; Kassandra, composed by Anthony Brandt and based in Greek mythology; and The Leader, composed by Karim Al-Zand, adapting a play by Eugène Ionesco (these last two will be performed as a double-bill). The season also includes a Christmas-time presentation of Menotti's Amahl and the Night Visitors, and a season-concluding production of Tchaikovsky's Eugene Onegin.
All of the productions, which feature the Opera in the Heights Orchestra, will be conducted by OH Artistic Director and Conductor Eiki Isomura. "I've strived to broaden our repertoire and impact as a company by expanding our definition of whom we exist to serve," said Isomura of the new season. "I want our company to provide a stage not only to the finest up and coming singers, but also to directors, designers, and composers; the people who are paving the way forward for our art form. Next season's programming and the launch of the New Works Festival is a meaningful step in that direction."
"We aim to make opera a more relatable experience that reflects who we are and where we've been," said Paige Myrick, OH Executive Director. "The stories we bring to life on stage help us to do this. We also consider the wide array of audiences in our midst from life long opera lovers to first-time ticket buyers to families and children. Our 2019-20 season is one that offers something for everyone. As a company, we're grateful for the opportunity to serve our community through the art form of opera."
OH is expanding its offerings in 2019-20 by offering five performances each of Tosca and Eugene Onegin - classic operas have in previous seasons had four performances. There will be three performances of Yeltsin in Texas, two of the Kassandra and The Leader double bill and four performances of Amahl and the Night Visitors. All performances in the 2019-20 season will take place on Friday and Saturday evenings and Sunday matinees, discontinuing previous seasons' Thursday evening performances.
The casts and directors for the season's operas will be announced in closer advance of each production. All operas are fully staged and presented in the original language with English translation (where applicable) projected above the stage.
All Opera in the Heights productions take place in Lambert Hall, nestled in the heart of the Heights historic district amidst the revitalized 19th St., walking trails, restaurants, and unique businesses. The historic venue seats approximately 300 people, making for an unusually intimate opera experience.
2019-20 Season Productions
Tosca by Giacomo Puccini - October 5, 6, 11, 12, 13, 2019
Puccini's Tosca, one of the most popular operas in the repertoire, opens the OH season. Depicting a passionate and tragic love triangle set against the backdrop of the Napoleonic wars, Tosca has some of the most celebrated arias in all of opera. This OH production offers audiences the opportunity to hear this tour de force in a small, intimate space.
Amahl and the Night Visitors by Gian Carlo Menotti - December 7, 8, 14, 15, 2019
As part of its goal to build family and children's audiences and serve the Heights community, OH will present the most beloved Christmas opera of all time, Menotti's Amahl and the Night Visitors. The OH orchestra will also perform Respighi's Botticelli Triptych, a symphonic work which, like Amahl, is based in part on a painted depiction of the three Magi, as a prelude to the opera. "We are particularly happy to be offering young audiences the experience of hearing power-house singing within an arm's length of the stage," said Paige Myrick. Tickets for children are available at half price for this production.
Yeltsin in Texas, music by Evan Mack, libretto by Josh Maguire, World premiere - February 22, 28, March 1, 2020, New Works Festival
Yeltsin in Texas, which opens the OH New Works Festival 2020, riffs on the idea of John Adams's Nixon in China, but is far from serious in nature. This comedic chamber opera, with music by Evan Mack and libretto by Josh Maguire, dramatizes the unlikely but true story of Russian president Boris Yeltsin's visit to a Houston supermarket and the eye-opening experience that shatters his view of communism. OH has been a champion of Mack's work, having presented the Houston premiere of Lucinda y las Flores de la Noche Buena, the bilingual holiday opera for family audiences. Mack was recently named one of 30 "Professionals of Year" by Musical America. Yeltsin in Texas is a co-commission with Texas Christian University Opera Studio and Alamo City Opera. This OH presentation is the work's professional world premiere.
Kassandra by Anthony Brandt, World premiere; The Leader by Karin Al-Zand, World premiere - February 23, 29, 2020, New Works Festival
Continuing the New Works Festival, OH will co-produce two world premieres with new music collective Musiqa, a Houston-based company that integrates new music with other modern art forms. These works are presented in a double bill format in the same night. Kassandra, composed by Anthony Brandt, with libretto by Neena Beber, adapts the Greek myth of Cassandra and Apollo in a modern retelling for the #MeToo era. The Leader, composed by Canadian-American composer Karim Al-Zand, and based on Eugène Ionesco's play of the same name, is an absurdist political satire and a call for independent thinking and personal engagement.
Eugene Onegin by Pyotr Ilyich Tchaikovsky - April 4, 5, 10, 11, 12, 2020
To close the season, OH presents its very first Russian opera: Tchaikovsky's Eugene Onegin. In this musical adaptation of the classic Pushkin novel, Tchaikovsky's alluring and sumptuous score tells the story of love, rejection and the changes of heart that come too late between the title character Onegin and his love, Tatiana.
Season subscriptions, ranging from $329 to $144 for students, are available for purchase now at http://www.operaintheheights.org/2019-20-season; Early Bird discounts are available through March 25th. Single tickets, ranging in price from $89 to $39, go on sale on August 1st, 2019. For a full list of subscription and ticket options, including senior and student discount prices, visit http://www.operaintheheights.org/2019-20-subscriptions.
Eiki Isomura (OH Artistic Director and Conductor) joined Opera in the Heights in 2015 as interim conductor, was named Principal Conductor in 2016, and appointed Artistic Director in 2017 for an initial term of three years. Previously, he served on the music staff at HGOco from 2013-15. His appointment as Director of Orchestral Activities at Lone Star College-Montgomery in 2012 brought him to Houston from Ann Arbor, MI, where he completed his doctorate in orchestral conducting at the University of Michigan. He also holds a masters degree in orchestral and opera conducting from the University of Arizona. He has been a conducting fellow at the National Arts Centre in Ottawa and the CCM Spoleto Festival in Italy. He has studied with some of the foremost conducting teachers in the profession, including Kenneth Kiesler, Thomas Cockrell, Mark Gibson, Colin Metters, and Gustav Meier.
Opera in the Heights exists to provide a stage for emerging opera performers and to bring affordable opera to the Greater Houston Area. Founded in 1996, Opera in the Heights began as an intimate neighborhood opera company. Today, it is nationally recognized as a presenter of outstanding emerging talent, and for making opera accessible to a wide range of audiences. In addition to producing high-quality opera, the organization dedicates significant resources to educational outreach and presentations of operas adapted for a younger audience. Opera in the Heights plays a role in sustaining the future of opera by investing in the next generation of opera professionals and audiences alike.
OPERA IN THE HEIGHTS 2019-20 SEASON
Saturday, October 5, 2019, at 7:30 pm
Sunday, October 6, 2019, at 2:00 pm
Friday, October 11, 2019, at 7:30 pm
Saturday, October 12, 2019, at 7:30 pm
Sunday, October 13, 2019, at 2:00 pm
TOSCA
---
Saturday, December 7, 2019, at 5:00 pm
Sunday, December 8, 2019, at 2:00 pm
Saturday, December 14, 2019, at 5:00 pm
Sunday, December 15, 2019, at 2:00 pm
AMAHL AND THE NIGHT VISITORS
---

New Works Festival
Saturday, February 22, 2020, at 7:30 pm
Friday, February 28, 2020, at 7:30 pm
Sunday, March 1, 2020, at 2:00 pm

YELTSIN IN TEXAS - World premiere
---
New Works Festival
Sunday, February 23, 2020, at 2:00 pm
Saturday, February 29, 2020, at 7:30 pm
KASSANDRA / THE LEADER - World premieres
---

Saturday, April 4, 2020, at 7:30 pm
Sunday, April 5, 2020, at 2:00 pm
Friday, April 10, 2010, at 7:30 pm
Saturday, April 11, 2020, at 7:30 pm
Sunday, April 12, 2020, at 2:00 pm
EUGENE ONEGIN
For subscription and ticket information, http://www.operaintheheights.org/2019-20-season