New Circle Theatre Company And LIU Post Present THE INFERNO PROJECT: LUST AND GLUTTONY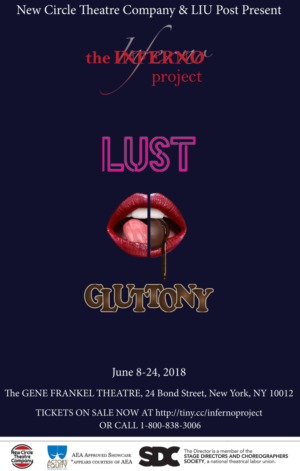 New Circle Theatre Company and LIU Post
present The Inferno Project: Lust & Gluttony, opening Friday, June 8.
Eight world-premiere one-act plays
June 8 through June 24 at the Gene Frankel Theatre.
In collaboration with LIU Post, Lust & Gluttony is the second of New Circle Theatre Company's staging of plays inspired by Danté's Inferno.
Following last year's premiere of sixteen ten-minute plays on the theme of Limbo, this year we present the next two circles of hell, Lust & Gluttony.
Program LUST and Program GLUTTONY consist of eight separate world premiere one-act plays - four on each theme - that will be presented in repertory from Friday, June 8th to Sunday, June 24th at the Gene Frankel Theatre, 24 Bond St, New York, NY 10012
Tickets on sale at: tiny.cc/infernoproject.
Or by calling: 1-800-838-3006
---
THE PLAYS
LUST
You Too? by Jan Jalenak
Directed by Kaleigh Jacobs. Featuring: Amber Paul*, Candace Janée, and Alex Emanuel*.
Palace of Secrets by Jon Fraser
Directed by Keith Greer. Featuring: Delphi Harrington* and Allen Guy Wilcox.
##Me/You by C.P. Goutman
Directed by Janet Bentley. Featuring: Dominic Comperatore* and Rachel Claire*.
Wing Woman by Emily Tetzlaff, Kimmarie Bowens, and Candice Owens
Directed by Barbara Bosch. Featuring: Debra Kay Anderson* and Onika Day.
---
GLUTTONY
Two and A Half Times by Catherine Allen
Directed by Eric Nightengale. Featuring: Ashley Nease, Max Wolkowitz*, Judith Hiller*, and Dick Hughes*.
Infinit-E by Bill Leavengood
Directed by David Kronick. Featuring: Alice King* and Chris Tipp*.
Consumption by Ed Valentine
Directed by Melanie S. Armer. Featuring: Jennifer Laine Williams*, Anna Ewing Bull*, Giselle Liberatore, Edmund Wilkinson*, Jason Howard*, and Will Manning*.
Hunger Shame by Lori Goodman
Directed by Brady C. Ness. Featuring: David Arrow*, and Tom Bozell*.
(* indicates member of Actors' Equity Association)
Set Design by Marisa Kaugars
Lighting Design by Katherine R. Mitchell
Costume Design by Lauren Burke
Sound Design by The Roly Polys
Production Stage Manager: Kaitlyn Curci
New Circle Theatre Company is a company of actors, writers and directors, many of whom have worked together for decades with a dedication to develop and foster new American plays.
New Circle Theatre Company (NCTC) traces its lineage back to the Circle Repertory Company and the Circle Rep Lab. When Circle Rep closed its doors in 1996, Michael Warren Powell, the Lab's long-time Artistic Director, started a new company with the aim of continuing the work of Circle. Michael, along with many of the Circle family, founded the Lab Theater Company which eventually became Circle East. Michael continued his inspirational leadership of the company until his death in July 2016.
New Circle Theatre Company was established to carry on this legacy.
This legacy began in the early 1960's at the Caffe Cino and the formation of the Off-Off-Broadway movement. It was at the Cino where Michael Warren Powell, his friend, a young playwright named Lanford Wilson and director Marshall W. Mason got their start in New York theatre.
In 1969, Marshall, Lanford, actor Tayna Berezin, and actor/director Rob Thirkield founded the Circle Repertory Company, which the New York Times called "the chief creator of new American plays." For years the Circle Repertory Company continued producing new and innovative work, launching the careers of many of the most consequential theatre artists of the last three decades of the 20th Century.
New Circle Theatre Company's mission remains dedicated to this legacy and to the development of new plays by continuing the tradition handed down to us by these pioneering and influential artists.