Long Beach Opera Presents the World Premiere of THE ROMANCE OF THE ROSE
The Romance of the Rose performs February 18, 19, and 25, at the Warner Grand Theatre in San Pedro.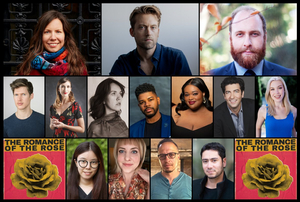 Continuing an important tradition of presenting groundbreaking new works, Long Beach Opera will present the world premiere in February of 2023 of Kate Soper's fantastical and darkly comic opera The Romance of the Rose. The composer/librettist describes the work as "an operatic exploration of the ways in which love, sex, and music wreak havoc on our sense of self." The Romance of the Rose performs February 18, 19, and 25, at the Warner Grand Theatre in San Pedro; tickets now on sale at longbeachopera.org.

Soper's singular compositional voice returns to LBO after Voices from the Killing Jar (presented in 2021) with this premiere that blends an oft-neglected sense of comedy in opera with a genre-smashing adventure story of epic proportions. Soper, inspired by the namesake 13th Century poem, has created a boundary-breaking work that defies all categorization. In a thrilling opus that examines one Dreamer's quest for a literal rose, The God of Love, Shame, Lady Reason, and their cadre of followers lull the audience into a dreamlike world that deftly highlights the profound juxtaposition of beauty and absurdity in our own human folly.

Pulitzer Prize finalist Soper fills her newest opera with music that defies tradition and will envelop the theater in new ways with a blend of modernistic shrieks and wails, madrigalistic finery, auto-tuned didacticism, all in tandem with Soper's gift for lush Romanticism. The world premiere production, directed by James Darrah, will inhabit multiple spaces within the historic art deco Warner Grand Theatre and is designed by a carefully selected design team-who has crafted a unique setting for the work. LBO Artistic Director JAMES DARRAH, who is known for creating successful award-winning world premiere productions for composers including Ellen Reid (LA Opera, Prototype), Missy Mazzoli (Opera Philadelphia, NYU Skirball, Miller Theater, and Opera Omaha) and Mark Adamo/ John Corigliano (Santa Fe Opera), will be joined by conductor and LBO Music Director CHRISTOPHER ROUNTREE in guiding the orchestra through this unique and sonically engaging work.

The Romance of the Rose freely beguiles, charms, and terrifies with no moral allegiances or moral compass and promises to lead audiences thrillingly astray.

Originally slated to premiere in April of 2020 on the East Coast, The Romance of the Rose was a much-anticipated event by The New Yorker writer Alex Ross who stated "Nothing on the spring schedule had whetted my anticipation more than Kate Soper's The Romance of the Rose." The piece was also covered multiple times in features by The New York Times, and recently was lauded as an upcoming season highlight by the Times in December 2022 because of Soper's "specialty of turning dense, thorny, seemingly unmusical sources into elegant, surprisingly poignant art."

After the Covid-19 cancellation, LBO's new Artistic Director James Darrah was introduced to the piece and found the musical storytelling, operatic innovation and compositional voice irresistible and especially in line with the new era and artistic identity of Long Beach Opera. He selected Rose to be the opener of LBO's 2023 season, giving this opera that defies definition a well-deserved world premiere that shouldn't be missed.

LBO Artistic Director and Chief Creative Officer, James Darrah, says "The Romance of the Rose is such a singularly unique creation that I hesitate to even call it an opera as it seems reductive. While it plays into our expectations of everything that a big opera with fantastic voices should offer us, it also mocks our own obsessions with narratives and our fear of abstraction. The work quickly plunges us headfirst into Kate Soper's wild and wonderful sense of sound merging with voice to yield an overwhelmingly original evening of pure theater. She's also not afraid of comedy and possesses an elegant self-awareness - which frankly seems very welcome in our current moment as audience members too."

CAST AND TEAM:

The stellar cast will be led by Tony Award nominee actor and singer LUCAS STEELE. Steele, a multi-faceted artist, actor, composer, and creator who is well known for his award-winning portrayal of Anatole in Natasha, Pierre and the Great Comet of 1812 on Broadway, will make his Long Beach Opera debut in the leading role of The Dreamer. Moreover, Steele will continue a close collaboration with Darrah and Long Beach Opera as director and producer of a forthcoming film project to be announced and debuted at LBO's Opera and Film Festival in June 2023.

LAUREL IRENE, heralded by the LA Times as "an astounding singer" in LBO's 2021 Soper opera Voices from the Killing Jar, will star as Shame, and she will be joined by another Los Angeles favorite, soprano ANNA SCHUBERT as Lady Reason, recently described as "radiantly pure sounding" after her lauded performance in LBO's Giustino.

Two young artists will join the LBO cast: soprano TIFFANY TOWNSEND, currently a young artist with LA Opera, will sing the role of Idleness, and mezzo-soprano TIVOLI TRELOAR will make her professional debut in this production in the role of The Lover. Rounding out the cast will be baritone PHILLIP BULLOCK singing The God of Love and LBO favorite BERNARDO BERMUDEZ who will sing the role of Pleasure.

The production will be led by LBO's two GRAMMY nominees; LBO's Artistic Director and CCO JAMES DARRAH will direct, and Music Director CHRISTOPHER ROUNTREE will conduct. The design team features production design by operatic debut artist PRAIRIE T. TRIVUTH, lighting design by the award-winning PABLO SANTIAGO, an inventive costume design by MOLLY IRELAN, hair and makeup design by BERENICE GALLEGOS and sound design by CARLOS MOSQUERA.


THE ROMANCE OF THE ROSE DETAILS:

WORLD PREMIERE - NEW PRODUCTION

LOCATION and TICKETS:
Warner Grand Theatre
478 W 6th St
San Pedro, CA 90731
Single tickets, season tickets, and information are available at longbeachopera.org.

CAST:
The Dreamer: Lucas Steele
Lady Reason: Anna Schubert
Shame: Laurel Irene
God of Love: Phillip Bullock
Idleness: Tiffany Townsend
Pleasure: Bernardo Bermudez
The Lover: Tivoli Treloar

CREATIVE TEAM:
Composer: Kate Soper
Director: James Darrah
Conductor: Christopher Rountree
Scenic Designer: Prairie T. Trivuth
Costume Designer: Molly Irelan
Lighting Designer: Pablo Santiago
Hair & Makeup Designer: Berenice Gallegos
Sound Designer: Carlos Mosquera