BWW Review: How Did the Queen of Carthage Die? Juilliard's Version of Purcell's DIDO Isn't Telling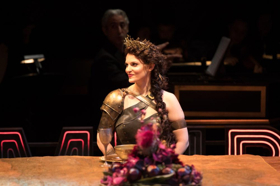 Purcell's DIDO AND AENEAS--written in about 1689 with a libretto by Nahum Tate--doesn't exist in a final version approved by the composer but, well, never mind. In the care of the more-than-budding artists of the Juilliard415 historical music ensemble and singers from Juilliard's Marcus Institute for Vocal Arts, all was well.
The young performers were willing and able to take on everything put before them, whether the sometimes-peculiar antics by director Mary Birnbaum or choreographer Claudia Schreier, or the eloquent score under conductor Avi Stein (at the harpsichord). All of this may not have been exactly musically authentic--par for the course a work whose score was not left in a definitive performing version--but was certainly lively.
The opera's probably most famous for the aria, "When I am laid to rest," better known as "Dido's Lament" ("Remember me but forget my fate...") though there is certainly enough other music in the opera to cement its place in history. Luckily for the audience in the tiny Willson black box theatre, the aria was left in the able hands and gorgeous voice of mezzo Shaked Bar.
I first heard her a few months ago in the school's production of Handel's AMINTA E FILLIDE and I was immediately ready to follow her anywhere. She proved that first impressions do matter, with a lovely account of the Queen of Carthage, whether singing of her torment to Belinda [soprano Mer Wohlgemuth as her sister and handmaid] or going on a hunt with Aeneas [baritone Dominik Belavy]--or walking off stage rather than throwing herself on the pyre in the finale.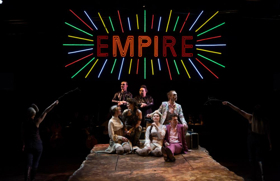 This version is quite different from the story of the lovers in Berlioz's LES TROYENS, particularly in the weak-ish version of Aeneas, the prince of Troy, though baritone Belavy did his best to put it across. And it has made the Sorceress into a major role that was a field-day for mezzo Myka Murphy, from her entrance in Act II calling out to the others of her ilk, "Wayward sisters..." (soprano Shereen Pimentel and mezzo Olivia Cosio) as they plot their revenge.
Of the other soloists, I thought soprano Wohlgemuth did quite well with "Thanks to these lonesome vales" while tenor Chance Jones-O'Toole, as the First Sailor, had his moment with "How happy the lover," from KING ARTHUR. This was my favorite of the interpolations from other Purcell works, which also included two arias from THE FAERIE QUEEN and a stand-alone, that were chosen to fill out the opera's score.
The cast in general did very well, not only providing much passionate singing but a willingness to take on anything choreographer Schreier demanded [though I must admit they seemed to have a better time than I did with some of her steps]. Others in the cast not previously mentioned were Kady Evanyshyn, Britt Hewitt, Joan Hofmeyr, Richard Pittsinger, Santiago Pizarro, Carlyle Quinn, William Socolof, Luke Sutliff, Maggie Renee Valdman.
Scenic design was by Grace Laubacher with lighting by Anshuman Bhatia and notably effective costumes by Oana Botez.
According to the production notes, Birnbaum's take was inspired by the discovery that that real Dido committed suicide as an act of political protest, after founding Carthage and fearing a marriage with King Iarbas. But the director's ending--which gave several choices for the manner of Dido's demise, settling on none--left me more bewildered than bewitched.
Related Articles View More Opera

Stories