BWW Preview: The PROTOTYPE of a Very 21st-Century New Opera-Music Theatre Festival, January 9-20
With less than a week until the opening of New York's PROTOTYPE 2018, I was Skype-ing with the producers--no, not Nathan Lane and Matthew Broderick--but Jecca Barry (of Beth Morrison Projects, BMP) and Kim Whitener (of HERE), who seem pretty calm. (Actually, they're two of four producers, the others being the eponymous Beth Morrison and Kristin Martin of HERE.)
What's to be nervous about? After all they only have 8 new-opera/new-theatre productions (along with many other events) opening between January 9th and 20th, including a couple of world premieres, with three shows in full tech for openers during the first week and others staggered over the next few days!
First things first: Is there a "PROTOTYPE style"?, I ask the women. According to Whitener, "I'd say there's a very real PROTOTYPE style, in that, being all strong women, we want to make sure that we are balanced in terms of both male and female perspectives from of our composers, diversity of genres, ideas and perspectives.
"One of the great things about PROTOTYPE is that we're always looking to redefine or push boundaries when it comes to what you call opera-theatre or music-theatre," says Barry. "So I think that, with all of the projects that we curate, whether mainstage opera productions or small cabaret shows, we're looking to see what's new in what they're going to say." Whitener concurs. "We're looking for projects that are going to resonate now, are of the moment. I think there are some great projects out there that we love but don't necessarily say something about the time we're living in. In the end, all the pieces that are part of the festival feel very, very current."
"With the four of us doing the curating, we all go out to all kinds of work. In addition, both companies"--HERE and BMP--"are developing our own projects," explains Whitener. "So there's a collective 'hive' mentality where we come together with artists we're interested in and keeping a programming spreadsheet of everyone who comes across our radar screens for discussion.
"We take a look at all that material, and also take a look at the ability of the pieces to tour, because we are committed to getting the works out to broader audiences. That's why we've developed partnerships with regional companies: not just to bring interesting and exciting projects here but to send them out as well."
That doesn't mean, of course, that all the pieces of the festival are chosen with a cookie-cutter approach. For example, look at three of the works that seem to have been generating a great deal of buzz.
AQUANETTA
First, there's AQUANETTA, which opens the festival on January 9 at the Gelsey Kirkland Arts Center in Brooklyn, which is its co-presenter. It's by composer Michael Gordon and librettist Deborah Artman, directed by Daniel Fish and conducted by Daniela Candillari. According to the festival notes, "The spirit of 1940s horror movies is turned inside out in a bravura, one-act deconstruction of the genre that explores how vision relates to identity, using a B-movie star of the '40s (Mikaela Bennett). It examines the ways the movie camera manipulates how we see and are seen."
This is the world premiere of a new 70-minute chamber version of the piece, which originally premiered in a grand opera format in 2006 in Aachen, Germany. According to Barry, it's an "incredibly beautiful concept that is going to surprise audiences-about where it starts and the journey they're taken on. It's very abstract, very avant garde." The score has been almost completely rewritten since the German performances, and the director has "incredible" ideas, according to the producer.
THE ECHO DRIFT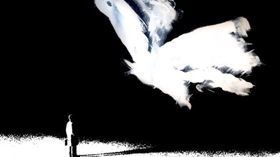 Then there's the world premiere of THE ECHO DRIFT, with music by Mikael Karlsson, libretto by Elle Kunnos de Voss & Kathryn Walat, directed by Mallory Catlett and conducted by Nicholas DeMaison. It's opening on January 10 at the Baruch Performing Arts Center in Manhattan. According to the festival notes, it tells of a convicted murderer trapped in a timeless prison and is unexpectedly befriended by a moth with an offer of a perceived way to freedom.
It oscillates between the confines of a tiny cell and an expansive visual world of animation," using, according to Barry, 3000 individual drawings that create an entire other character. "It's almost a monodrama with a solo singer (Blythe Gaissert), in an 'interesting and surprising production' and music that is a combination of acoustic and electronic surround-sound." It features the International Contemporary Ensemble (ICE) and pianist Aaron Likness and also runs about 70 minutes. It was originally developed by Karlsson and de Voss in a full-length workshop presented by Swedish Embassy in Washington DC in 2014, commissioned, developed and produced by BMP, HERE and American Opera Projects.
FELLOW TRAVELERS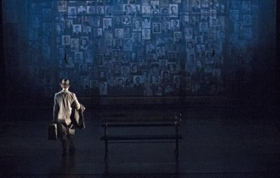 FELLOW TRAVELERS is by Gregory Spears and Greg Pierce, directed by Kevin Newbury. It is making its much-anticipated New York debut on the 12th at the Gerald Lynch Theatre, John Jay College in Manhattan, which is also a co-presenter along with the American Composers Orchestra, the production's pit band (under George Manahan). It's a gay love story (sung by Aaron Blake and Joseph Lattanzi) that takes place against a background of the McCarthy Era and the "Lavender Scare" of the '50s, based on a novel by Thomas Mallon.
"It's probably the most opera-y and most traditional piece that we've ever done but we feel strongly about it--first because Greg Spears' music is sublime and second, because the story is really intense," says Whitener. The opera has been garnering attention since it premiered at Cincinnati Opera in June 2016; it is making its Chicago debut under the aegis of the Lyric Opera of Chicago in March.
"We feel it was really important to bring that love story on the stage, on the operatic stage," says Whitener. "Even though it does border on the more 'conservative' for us--we do love being 'out there'--the content was really what drove it to us," she continues. "One more thing about TRAVELERS: Greg Spears brought his piece, PAUL'S CASE, to PROTOTYPE in 2014, our second year, when he was just becoming known. It was really a success for us and kind of put him on the map, going on to have a bunch of commissions, including TRAVELERS. So we feel that PROTOTYPE can play a role in furthering the careers of artists we're interested in.
"But I think that in the programming of the festival as a whole, we like to present and produce a wide variety of work, to show that opera can be all these different things. And, that it makes sense to have a piece like FELLOW TRAVELERS in a traditional grand opera style in the same festival as a BLACK INSCRIPTION (a multimedia contemporary song cycle, drawing on rock, classical, and pop music).
"We think of ourselves as very 21st century in the sense that we're interested in writers-composers-librettists-collaborators who are grappling with issues of our time. We are drawn to that. It's not like we're going out and saying, 'We want a piece about oceans,' which is what Carla Kihlstedt's piece (BLACK INSCRIPTION) is about. But when she came to us with this project, we were incredibly drawn to the fact that it deals with the huge issue of the ocean as well as the human relationship." "She adds, "There's a lot of humanity in it--and we look for that--but we're also interested in developing the voices of the artists who have not necessarily all that well known."
One last question for the producers: For you to consider this year's PROTOTYPE to be a success, what one thing does it have to accomplish?
"Actually, for me personally," says Barry, "I already feel it's a success because we're presenting and producing the most beautiful work that we can. I already feel all of the pieces--I'm in love with all of them. So, yes, for me it already feels successful but I also want to share them with as many people as possible."
As for Whitener, who says she know she's going a little 'off topic,' but adds, "I think that what we've collectively felt has been successful about PROTOTYPE is how the model has been embraced--a festival of many kinds of work, of showcasing new work--that art of this nature that can travel and tour and go on to have a further life. It's that our approach is working to further the life of the form: opera--to get the word out about how it can be important in our lives and the importance of telling the stories of our time."
For a full schedule of PROTOTYPE 2018 and to buy tickets, see the festival's website.
###

Related Articles View More Opera

Stories
Richard Sasanow has been BroadwayWorld.com's Opera Editor for more than five years, with interests covering contemporary works, standard repertoire and true rarities from every era. (read more...)