Toronto Pop Experimentalists BERNICE Announce New Album & Share Lead Single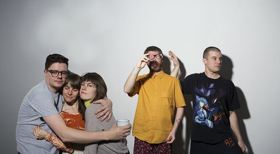 Following the release of 2017's maximalist Puff EP produced by Grammy Award-winner Shawn Everett, Toronto-based experimental pop group Bernice have announced their minimalist follow up, Puff LP: In the air without a shape, with which the band continues its enigmatic exploration of pop, jazz, R&B, and more. Sitting between Enya, Julia Holter, Chairlift, and Deerhoof where clear vocal melodies fly kites over spare arrangements, Bernice's new album attempts to mimic the playful intimacy of the band's live show.

LISTEN TO BERNICE - "GLUE" HERE:
https://soundcloud.com/artsandcrafts/glue

"Our goal was to capture how we really sound," says songwriter/vocalist Robin Dann of the new album, which also features new recordings of EP tracks "David" and "St Lucia". "Some people in a room, playing music together."
Recording the album at Breakglass Studios in Montreal, the band fell in love with the open spaciousness of the studio and how much it allowed them to connect whilst performing. "The vocal booths have sightlines to the band room through windows. We did live takes of each song to tape. We could look at each other, try different things, mostly we got each song in a few takes," said Dann of the recording process.
Nothing is more indicative of the band's appreciation for space than the lead single, "Glue" -- a breezy song that could float away at any moment. "This one feels to me like an upward spiral," Dann explains of the track. "I wrote it about the freedom of new love. The outro is co-opted from another song I co-wrote with Felicity and Thom for one of our side projects (Bliss Gloss - which is an outlet for us write the songs we're not allowed to write in 'real life') and it has become such an important part of Glue - it's a landing pad of feelings, fruits, colours, flowers. Solid ground, finally."
Multi-instrumentalist and longtime Owen Pallett collaborator Thom Gill plays synth bells and doo-ahs next to Colin Fisher's creaky alien chatter on guitar while Dan Fortin and Phil Melanson groove along. Dann's melody unfolds like "an upward spiral" as she sings "All in all among your eyes and breath, your hair wraps 'round your head like a tangly crown. This dream is hard to awaken from."
Vocalist Felicity Williams' harmonies punctuate Dann's poetic query: "And like the water you bring, we hold onto things. Oh, but isn't it a wonder when we can realise we walk among the living?" The song changes pace at the 3/4 mark and finds its form in a lounge-y, R&B groove. Dann and Williams list off various fruits, and feelings, and colours like the innocent, wide-eyed lyricism of Smile-era Brian Wilson: "Can we sing together, wanna be free forever, if we let it"
Photo credit: Claire Harvey
Related Articles
View More Music

Stories
More Hot Stories For You