Stream New Album From Experimental Pop Group Bernice via Stereogum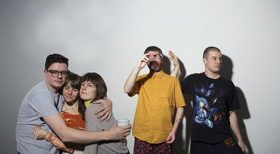 Toronto experimental pop group Bernice will release the their album Puff LP: In the air without a shape this Friday, but first they share an early stream of the record. Puff: LP In the air without a shape - the minimalist follow-up to 2017's maximalist, Grammy Award-winner Shawn Everett-produced Puff EP - has been received with critical acclaim from its first single, "Glue", which Stereogum lauded as both "gorgeous" and "surprising" and Pitchfork praised, noting that though Bernice's enigmatic sound is difficult to categorize with traditional genre labels, "reinvention continues to be one of few constants in Bernice's music, and they're all the more interesting for it," through the latest single "He's The Moon," grabbing the attention of the New York Times who proclaimed it to be "a monument to ephemerality."
In a new interview with Stereogum -- who attests the new album is one that "rewards listening front to back, it's a series of seemingly elusive compositions that become more logical the more you sink into them" -- songwriter/vocalist Robin Dann opens up about her creative process, inspirations, Bernice's penchant for improvisation, and more alongside an early stream of the LP. Read the interview and stream the upcoming new album in full via Stereogum HERE and pre-order on vinyl, CD, and digitally HERE.
STREAM Puff LP: In the air without a shape via Stereogum
Puff LP: In the air without a shape is Bernice tackling pop minimalism; the stripped-down album touches on jazz as much as the enigmatic mix of pop, electronic, and R&B with their unique air of playfulness. Sitting between Enya, Julia Holter, Chairlift, and Deerhoof where clear vocal melodies fly kites over spare arrangements, Bernice's new album attempts to mimic the playful intimacy of the band's live show.
"Our goal was to capture how we really sound," says Robin Dann of the new album, which also features new takes on EP standouts "David" and "St Lucia". "Some people in a room, playing music together."
Recording the album to tape at Breakglass Studios in Montreal (with the exception of "He's The Moon" and "Passenger Plane"), the band fell in love with the open spaciousness of the studio and how much it allowed them to connect whilst performing. "The vocal booths have sightlines to the band room through windows. We did live takes of each song to tape. We could look at each other, try different things, mostly we got each song in a few takes," said Dann of the recording process.
Born to a musical family, the daughter of a symphony harpist and the former Toronto Symphony Orchestra's principal violist, and a graduate of Goldsmiths' MA in Music, Dann's background, formal training, and experimental sensibilities developed into Bernice's sparse arrangements and pop-minded songwriting, often following curious and unexpected paths.
Bernice's members and collaborators include longtime Owen Pallett collaborator Thom Gill (keyboard/sampler) as well as Colin Fisher (guitar), Daniel Fortin (bass), Philippe Melanson (drums), and Felicity Williams (supporting vocals). All are professional musicians from Toronto's music community and members of Owen Pallett, DIANA, John Southworth, Bahamas, Martha Wainwright, The Barr Brothers, and many others.
Bernice have been performing actively since late 2010 and have released one full-length album (what was that, 2011), an EP (when I know how to climb, 2013), and a "cassingle" in 2015, all released independently.Bernice's 2017 breakout Puff EP on Arts & Crafts was praised by Pitchfork ("intricate, dream-like music from deeply emotional lyrics and woozy electronic beats"), NPR ("deeply textured, largely experimental songs filled with wondrous and mysterious sounds"), Stereogum (Best EPs of 2017), Exclaim (#1 EP of 2017), Pigeons and Planes ("one of the most interesting bands out of Toronto right now"), The FADER, Noisey, Zane Lowe, and more.
Bernice - Puff LP: In the air without a shape
(May 25, 2018 - Arts & Crafts)
Tracklist:
1. Glue
2.
Passenger
Plane
3. David
4. One Garden
5. He's The Moon
6. St Lucia
7. Boat Follow
Bernice
Online:
Official Website
/
Twitter
/
Facebook
/
Instagram
/
Bandcamp
Spotify
/
Apple Music
/
Arts & Crafts
Photo Credit: Claire Harvie
Related Articles
View More Music

Stories
More Hot Stories For You