Ronnie Earl & the Broadcasters, Live at the Regent Theatre
The Regent Theatre is an intimate, 500-seat venue in Arlington, Massachusetts. Considering how many years I lived in Boston, and spent so much of my time right around the corner at a particular establishment for related endeavors, I'm surprised I never stepped inside.
That was made easy when Ronnie Earl & the Broadcasters scheduled a late September date for the Regent, which Earl confirmed was his favorite place to play. A career that has spanned decades, Earl has played with and learned from legends, and has cut some two dozen solo recordings. Above these and numerous awards, the guitarist has refined a style that draws from blues, jazz and other forms, and it's uniquely his own.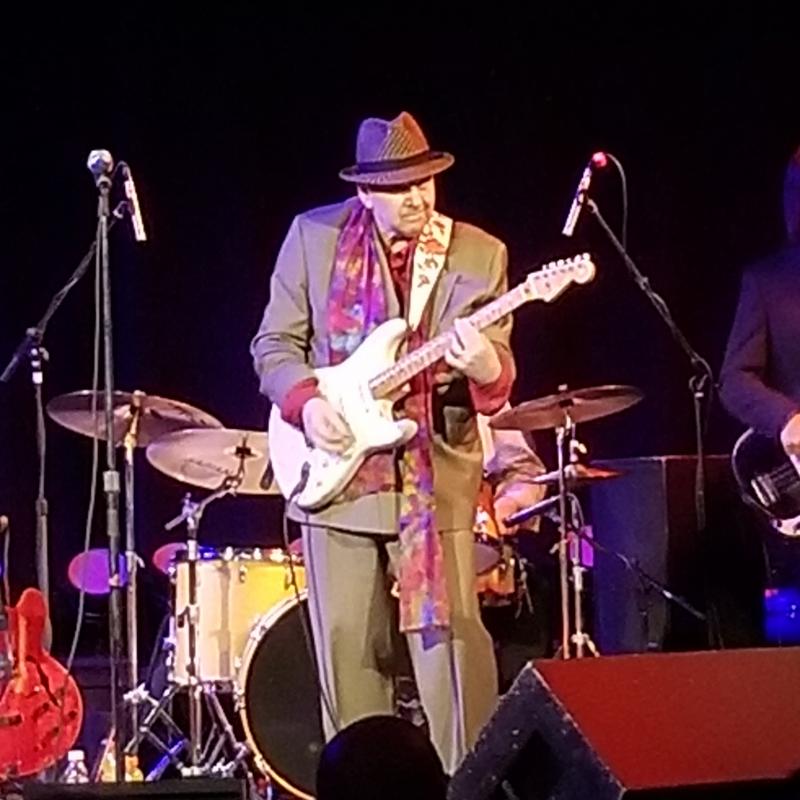 Earl no longer tours, only playing selected festivals and dates, so the near-capacity crowd that filed into the Regent knew that each night with Earl was one to enjoy, but also remember. I can recall every time I've seen him play, and the differences of each night, and this would be no different.
The night opened with Scott Matsumoto, who brought his acoustic guitar to the stage, and played exceptional renditions of "In My Life" and Duane Allman's "Little Martha."
Matsumoto told the assembled Earl (who he didn't know) dropped in on an open mic, heard him, and brought him out. He also noted that Earl by example taught him he was doing it wrong by playing with his hands. "You play from your heart," Matsumoto said, and how true.
The Earl took the stage with his current lineup, drummer Forrest Padgett, bassist Paul Kochanski, and Dave Limina on piano and Hammond B3, along with Mario Perrett and Scott Shelter on tenor and baritone sax, respectively. They immediately opened with Art Blakey's "Moanin'," and that slowly turned up the heat on the night. Earl dedicated the show to one of his mentors, Otis Rush, who had just passed away; that did not bring down the mood, but heightened it, and inspired more soulful play from Earl and the full band.
Featured vocalist Diane Blue was then brought out. A performer and recording artist in her own right, Blue has become an integral member of the Broadcasters. Her range and ability to handle any piece was evident on "Higher Love" (from Earl's album of that name), and Sam Cooke's "A Change is Gonna Come." Rush's "Double Trouble" was yet another highlight, among other pieces from recent recordings and shows, along with "Ain't That Lovin' You" and "Heartbreak (It's Hurtin' Me)" from the latest album, The Luckiest Man.
Earl also took a slow, casual stroll through the audience with an extra-long mic cable to show the crowd how it's done. He twice sat down in the audience to the delight of many. Guitarist Pete Henderson was also brought to the stage, and Earl stepped aside to let an old friend lead the band.
Ever professional and gentlemanly, Earl offered thanks to the appreciative crowd. He did not preach, but spoke of current times and alluded to the recent hearings. Earl asked for more love, more forgiveness; Earl spoke from his heart, and left us with some reminders.
I must pass along what a friend and fellow musician said of listening to Ronnie Earl. Marveling at his skill, she said, "(He was) like listening to a bird sing." If you get the chance, now seemingly more rare to see Ronnie Earl perform, take it.
(Banner photo, courtesy of the Kurland Agency)
https://www.facebook.com/RonnieEarlBlues/
http://www.stonyplainrecords.com/Web/home.asp