Roady4Roadies Raises Over $55K for Support Act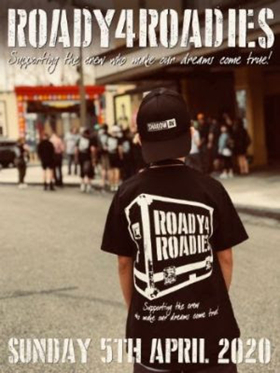 The recent inaugural Roady4Roadiesevents proved a stunning success in so many ways! The national event, an audacious campaign held on 10 March in Melbourne, Sydney, Brisbane and Perth and 24 March in Adelaide, raised $65,470.00, with a nett profit of $56,790.00 going towards the Support Act 'Roadies Fund'.
Shining a big, bright spotlight on the diverse range of highly technical and creative skills required of live music production crew, Roady4Roadies also raised public awareness to the dire outcomes many of them now face. The work is high octane, high pressure and sometimes highly dangerous! The intense pressure of the job itself can often lead to chronic physical problems, financial difficulties and mental health issues. Co-organiser Tony Moran says
"One of the most pleasing aspects was to witness so many of our top professionals, from all areas of the music business, pulling together as a team. Promoters, publicists, managers, agents, venues and artists, all freely giving their time... and their money! All working along-side each other with the best crew in the country, the best in the world."
Fellow organiser Howard
Freeman
put it bluntly:
"I've worked in this industry for over 50 years. These are my people. I simply cannot stand by and watch this happen without doing something!"
The Melbourne event saw in excess of 300 supporters walk from The
Palais Theatre
in St Kilda to Point Ormond and back to watch the Mark Seymour,
Dave Graney
& the mistLY, J.R. Reyne,
Sisters
Doll and Jarosite perform. Minister for the Creative Industries and Minister for Mental Health, Martin Foley, chose the Roady4Roadies event to announce the Victorian Government's $100,000.00 grant for Support Act, the first time any government has done so, before mesmerising the audience with his lead rolling skills! The day in Sydney was held at
The Bridge
Hotel in Rozelle. Over 200 gathered to hear a few words from Shadow Minister for the Arts Tony Burke MP, Lindy Morrison from Support Act, author and Roady4RoadiesAmbassador Stuart Coupe and Shadow Minister for Music and the Night Time Economy, John Graham MLC, before being entertained by performances by Brendan
Gallagher
and FOK ROK, then Mark
Callaghan
and Buzz Bidstrup from GANGgajang, who were joined by Ollie Bailey - the late Chris Bailey's son (The Angels, GANGgajang) on a masterful rendition of The Angels'
No Secrets
. At the Brisbane Entertainment Centre, the Roady4Roadies walk meandered through their picturesque bushland surrounds, before gathering at the specially built stage to listen to performances by Tyrone Noonan (george), Robbie James (GANGgajang), Matt Turner, Pepper Jane and Joel Turner. Tickets to Splendour In The Grass, Fleetwood Mac,
Post Malone
and KISS were raffled and helped make a significant contribution to the cause. In Perth, the day began at The Lucky Shag where 350+ assembled, before walking to The Camfield to see a family show featuring Darren Reid & the
Soul City
Groove,
James Wilson
and entertainers and musicians from many well-known WA bands, past and present. Two weeks later it was Adelaide's turn, as over 300 people turned up to walk from the
Adelaide
Oval to the
Adelaide
Entertainment Centre. Featured artists included Kelly's Wayke, Dino 'Jag' La Vista and Pigsy. A highlight was the Crewathlon (also held in Melbourne), where teams of Roadies demonstrated their prowess in a series of events pitting their skills against each other.
Industry
legend Frank Castel was also inducted into the SA Music Hall of Fame. Support Act CEO, Clive Miller, said
"Support Act adds its thanks and congratulations to all involved with the inaugural Roady4Roadies event. The funds raised will enable us to continue providing crisis relief services to those in need, whether it is paying the rent, facilitating access to housing, assisting with medical needs, or the many other physical or mental challenges that road crew sometimes confront. We are here for roadies and feel privileged to have been part of this great new initiative."
Roady4Roadies was staged by a voluntary team of Australia's leading live production personnel and industry professionals. Throughout the Roady4Roadies campaign, valuable music memorabilia was donated, some of it personally autographed by world renowned acts. Guitars signed by Red Hot Chilli Peppers,
Keith Urban
and the Hoodoo Gurus, top flight road cases donated by Design Quintessence and a rare 3 volume limited edition of Australian rock posters are now all being auctioned online at
roady4roadies.com/online-auction
. The auction will be open until 5.00pm on Tuesday 30 April 2019. Roady4Roadies t-shirts are also available from
here
Roady4Roadies 2020 is already being planned as a truly national day for all crew on Sunday, 5 April 2020. Along with Melbourne, Sydney, Brisbane, Perth and Adelaide, the events will be rolled out in other capitals Hobart, Canberra and Darwin, as well as regional areas such as Newcastle, Geelong and Bendigo, the
Sunshine
Coast and Gold Coast, Launcestonand many more.
Related Articles
View More Music

Stories