Peter Mulvey Releases New Album 'There Is Another World'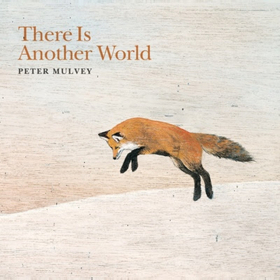 Folk ambassador Peter Mulvey has been a singer, songwriter, road-dog, raconteur, and an almost-poet since before he can remember. With a career spanning nearly three decades, eighteen albums, and countless live performances worldwide, Mulvey has built his life's work on collaboration and on an instinct for the eclectic and the vital. Today he releases There Is Another World, his most vivid album yet, via Righteous Babe Records Purchase the album HERE.
Early in 2017, a series of upheavals found Mulvey living through the winter in a friend's empty house in the small midwestern town of Fort Atkinson. Unmoored and lost in the middle of his life, he spent hours each day walking along the frozen marsh of the Bark River and through the wintry oak savannah nearby. The songs came in fast and strange and emotional, which Mulvey transcribed during the night at a table in the vacant house. These songs became his new album, a powerful dreamscape of imagistic, haiku-like auditory sketches, within which are plenty of wrenching, haunting, and even sweet songs.
Produced by Todd Sickafoose (Ani DiFranco, Anais Mitchell, Andrew Bird), the thirteen track effort amounts to a remarkable, brief, potent stab which as been embraced by Billboard, Parade Magazine, and Folk Alley among others. Alienation, loss, and heartbreak; all are rendered lucid, even beautiful, in the bright-dark sideways light of deep winter. It is also a story of renewal, through close attention and a determined stillness, a piercing gaze toward detail and an opening toward simple acceptance of what is.
Track Listing:
01) The Fox
02) Who's Gonna Love You Now
03) When I Was in Monaghan
04) Fool's Errand
05) False Indigo
06) Beckett Was A Bird Of Prey
07) Strayaway Child
08) To Your Joy
09) Nickel & Dime
10) Henry's Only Daughter
11) All Saints Day
12) The Cardinal
13) Owl
Tour Dates:
02/13-02/16 - Montreal, QC @ Folk Alliance International
02/27 - Seattle, WA @ Ballard Homestead
02/28 - Portland, OR @ The Old Church
03/01 - San Francisco, CA @ The Lost Church
03/02 - San Francisco, CA @ The Lost Church
03/06 - Santa Ynez, CA @ Tales from the Tavern
03/08 - Santa Monica, CA @ McCabe's Guitar Shop
03/09 - Phoenix, AZ @ Roastery at Cave Creek
03/10 - San Diego, CA @ LeStat's Coffee House
03/21 - New London, NH @ Flying Goose
03/22 - New York, NY @ The Loft at City Winery
03/23 - Middleboro, MA @ Studio 84 House Concerts
03/24 - Pomfret, CT @ Vanilla Bean
03/27 - Vienna VA @ Jammin Java
03/28 - Philadelphia, PA @ The Locks at Sona
03/31 - Boston, MA @ The Sinclair
04/05 - Evanston, IL @ SPACE
04/06 - Ann Arbor, MI @ The Ark
04/07 - Traverse City, MI @ Sleder's Family Tavern
04/12 - Milwaukee, WI @ Colectivo
04/25 - Akron, OH @ The Rialto Theatre
04/26 - Dayton, OH @ Yellow Cab Tavern
04/27 - Princeton, IL @ The Princeton Coffeehouse
05/02 - Nashville, TN @ City Winery Lounge
05/03 - Decatur, GA @ Eddie's Attic
05/04 - Asheville, NC @ Isis
05/05 - Charlotte, NC @ Evening Muse