Nearly 70,000 Attend 6th Annual Taste Of Country Music Festival: Record-breaking, Sellout Crowd Achieved At This Year's Event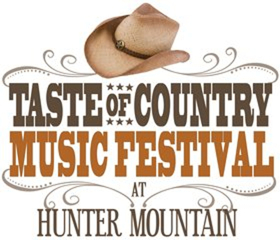 Townsquare Media, Inc. (NYSE: TSQ) ("Townsquare") announced today that its 6 th Annual Taste of Country Music Festival played to a record-setting, sellout audience of nearly 70,000 country music fans this past weekend (June 8-10, 2018) at the Hunter Mountain Resort in Hunter, NY.
The star-studded lineup for this year's festival was headlined by Eric Church, Florida Georgia Line, and Sam Hunt; and also included Justin Moore, Dustin Lynch, LeAnn Rimes, Montgomery Gentry, Rodney Atkins, Kane Brown, Devin Dawson, Ashley McBryde, Jordan Davis, Danielle Bradbery, and several other rising stars of country music, playing on two stages.
"We reached a new milestone this year as, for the first time in our history, the festival sold out," commented Dhruv Prasad, one of the festival's founders and Co-Chief Executive Officer of Townsquare. "Six years ago, we started this event to celebrate country music, and we are so grateful to all the fans, artists, and sponsors who have since made this event a staple of their summer and transformed it into the biggest and best country music festival in the Northeast. We can't wait for 2019."
The 7th Annual Taste of Country Music Festival will be held June 7-9, 2019. Advance tickets for next year's event are on sale now through Friday, June 15th at 11:59PM ET at the festival's website.
The Taste of Country Music Festival is the Northeast's premiere multi-day country music festival, and is held at Hunter Mountain Resort (Hunter, NY) in the Great Northern Catskills of Greene County. For more information about the Taste of Country Music Festival - and to purchase tickets for the 2019 festival - visit www.tasteofcountryfestival.com.
Stay connected with up-to-date information on the Taste of Country Music Festival at Facebook or by following @TOCFestival on Twitter and Instagram.
About Townsquare Media
Townsquare is a radio, digital media, entertainment and digital marketing solutions company principally focused on being the premier local advertising and marketing solutions platform in small and mid-sized markets across the U.S. Our assets include 317 radio stations and more than 325 local websites in 67 U.S. markets, a digital marketing solutions company (Townsquare Interactive) serving approximately 12,800 small to medium sized businesses, a proprietary digital programmatic advertising platform (Townsquare Ignite) and approximately 200 live events with over one million attendees each year. Our brands include local media assets such as WYRK, KLAQ, K2 and NJ101.5; iconic regional and national events such as the Taste of Country Music Festival, WE Fest, Country Jam, the Boise Music Festival, the Red Dirt BBQ & Music Festival and Taste of Fort Collins; and leading tastemaker music and entertainment websites such as XXLmag.com, TasteofCountry.com and Loudwire.com. For more information, please visit www.townsquaremedia.com, www.townsquareinteractive.com, and www.townsquareignite.com.
About Chet-5
Chet-5 Festivals is the co-founder of Taste of Country and the founder of the Mountain Jam Music Festival, also held at Hunter Mountain the week after Taste of Country. Chet-5 produces numerous concerts and festivals in and around upstate New York. The company is owned by Gary Chetkof, who for 25 years has been the principal owner and operator of Radio Woodstock, the legendary independent radio station broadcasting from Woodstock N.Y.
SOURCE Townsquare Media, Inc.