Lionel Richie's Mentee,Rayvon Owen Releases Glittering New Track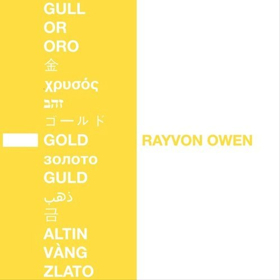 "Can I be honest for a minute?" asks Rayvon Owen, his smooth voice gliding effortlessly over effervescent synths on his song, "Volume". It's a fitting opening line to the first single from his forthcoming EP, given that authenticity is a common theme within the Virginian artist's music. Stream it here
His new track, "Gold" is no exception, a glittering and anthemic pop track, brimming with an energy that makes the song feel like it's going to burst at the seams. The song premieres on Billboard, who called it a "an upbeat anthem about celebrating love." Speaking to Billboard about the track, Owen explained - "I wrote the song with my buddy Nate Merchant, who I worked with on "Can't Fight It." That day, we were feeling good. There was a good energy in the room. Whenever I write, it's a stamp in time that captures the emotion of what I'm feeling that day. We were talking about coming out to L.A. and being out in the industry and how stressful that can be. He was kind of diggin' someone, I had just started dating my boyfriend and exploring being a gay man -- I've never felt that emotion before, being with someone like that. I'm getting chills right now just thinking about it. It's been a long time coming for me to feel that. I know there's so many other people who don't get to feel that, but I'm hoping that they do when they come to terms with who they are. So that fueled us, and I just wanted to say, "Hey, you got me feeling good as gold." What better feeling do you have?
Falling
in love is such a beautiful thing. I love singing about love in general -- the good and the bad -- I write sad songs too, which will be on the future project too. You'll kind of see the whole gamut. But in that moment, we were feeling good and thankful." A glowing collection of pop gems layered with textures of soul and rnb and incandescent synth, each song on Rayvon Owen's forthcoming project is a glimpse into who he is as a person, and the joy that being yourself can bring to not only you, but others. "People go through a lot every day and I think you can get really down when you're only hearing negative things about what people are saying about you, or what people are doing to you. I think that the best thing you can do is to be yourself and I hope that people find that message through my music." Having already garnered attention from the likes of People Magazine, Huffington Post, USA Today and Billboard for his 2014 EP, "Cycles," Rayvon's ability to bring authenticity and emotion to his to his lyrical narrative and melodies is a strength that he only continues to excel at on his new EP. His previous single, "Can't Fight It," released on
Valentine's
Day, was a special moment in Rayvon's life- he used the visuals to come out publicly as gay. "I was working on "Can't Fight It", and one of my close friends passed away. He was struggling with who he was and what he wanted to do, and never really accepted himself. And I really was thinking like- what legacy will I leave- is it going to be my authentic self?" Rayvon continued to work on his music when a few weeks later, love struck. "I fell in love and it was all so much at once, the death of a friend who was going through the same thing and then beginning of this relationship, and it was just like, hitting me over the head - the universe telling me "you need to get this together." Despite knowing the time was right, Rayvon was nervous to reveal the news, recalling that he even lost contact with some close friends and family from his home town. "I was so afraid, being from the South and being black and coming from a more conservative area and growing up in an environment that is not very conducive to being gay or even questioning your sexuality," Rayvon adds. Nevertheless, the outpouring of support from his fans was overwhelming - "I would get a message from someone who would say this helped me come out to my parents, or saved me from taking my life. And it's just like- ok, this is worth it." Rayvon has a strong presence within the LGBT community, doing work with organisations like The Trevor Project, Human Rights
Campaign
and POINT Foundation. He also worked closely with his boyfriend, producer and director, Shane Bitney Crone, following the release of his documentary, 'Bridegroom." The film followed Shane's heartbreaking story about the prejudice he faced from his late boyfriend's family following his tragic death. Rayvon encouraged Shane to keep his late boyfriend's memory alive. "I love singing about love, life experiences and my journey growing up to be the person I am today." Rayvon won't quiet down for anyone, and his new EP is no exception. From the shout from the rooftop lyrics of "Volume", to the glittering loved up melodies of "Gold," Rayvon Owen's latest effort is a stunning insight into an artist who's story has only just begun.