Le Couleur Release 'Concorde' LP
Listen to the new album below!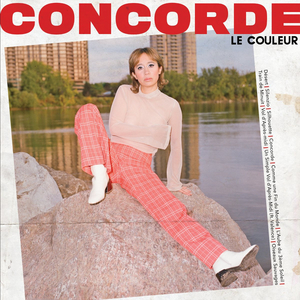 Montreal-based alternative pop trio Le Couleur have released their album, Concorde, out now via Lisbon Lux Records. On the album, Le Couleur create a rich, dreamy, and intoxicating soundscape, infused with elements of nu-disco and synth pop. Radiant and otherworldy melodies are uplifted by Laurence Giroux-Do's ethereal vocals and warm synth tones.
In support of the album release, Le Couleur are playing a virtual live show. This unique concert, which will only take place once online, will also be the opportunity to discover the band's new formation, which now includes 6 musicians on stage. By purchasing tickets online, the public will receive a private URL to attend the live show, which will take place on Thursday, September 17th at 9pm Eastern Standard Time (EST). Buy tickets
here
and RSVP
here
. Concorde takes its name from the legendary Franco-British airplane from 1965, nicknamed the "beautiful white bird" for its sleek and modern design. This avant-garde project that ended in tragedy has always held a certain fascination for Laurence Giroux-do (vocals); a deadly "crash" that inspired in her a sense of macabre sensuality. Le Couleur called upon several Montreal musicians for the creation of Concorde, such as singer Valence, Radiant Baby, Éliane Préfontaine (Paupière), Louis-Joseph Cliche (Beat Market), Jean-Nicolas Doss (Wizaard) Philippe Beaudin (The Brooks) as well as the American Paul Hammer (Savoir Adore). Concorde is out now.
Listen here: