Jesse McReynolds, Rob Ickes & Trey Hensley to Headline SONG OF THE MOUNTAINS April 14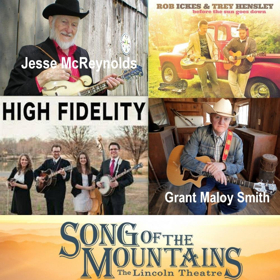 Legendary bluegrass musician Jesse McReynolds is among artists scheduled to perform April 14 on the nationally syndicated television concert series "Song of the Mountains" (SOTM) at The Lincoln Theatre in Marion, Virginia.
The multi-Grammy nominee and winner is known for his trademark crosspicking and split-string styles of mandolin playing. At age 88, he is the Grand Ole Opry's oldest living member, having joined the show in 1964. However, he has played music professionally since the late 1940s, when he and his late brother, Jim, started recording as The McReynolds Brother and, later, as Jim and Jesse and the Virginia Boys.
Also performing will be Grammy nominees Rob Ickes and Trey Hensley, critically acclaimed American roots artist Grant Maloy Smith, and Jeremy Stephens, Corrina Rose Logston & High Fidelity Band.
"Our shows are bluegrass-oriented, but this one is very diversified," said Tim White, the show's host and co-creator. "Jesse McReynolds is known for bluegrass, and so is the High Fidelity Band. Rob Ickes and Trey Hensley have more of a country slant, and Grant Maloy Smith is Americana. All of the performers are singer-songwriters, so you're going to hear a lot of great, original music."
Rob Ickes is a 15-time International Bluegrass Music Association (IBMA) Award-winning dobro player. Guitarist and vocalist Trey Hensley has shared stages with the likes of Johnny Cash, Charlie Daniels, Steve Wariner and Peter Frampton. Ickes and Hensley first teamed up in 2015 to record the Grammy-nominated album "Before the Sun Goes Down." A year later, they released their critically acclaimed album "The Country Blues."
Grant Maloy Smith has attracted attention since the release of his Billboard-charting album "Dust Bowl - American Stories" in 2017. Coincidentally, Rob Ickes is prominently featured on the album, which No Depression called "a heartland masterpiece... as potent as Woody Guthrie," and the Knoxville News-Sentinel described it as "sweet, sad, defiant and full of sentimentality."
Meanwhile, North Carolina-based Jeremy Stephens and Corrina Rose Logston have received rave reviews for their High Fidelity Band. After forming in 2014, the group won the SPBGMA International Band Championship and later released their debut, self-titled album in 2016.