Jenn Vix Presents UNLOCKED EP and New Video for COMPLICATED MAN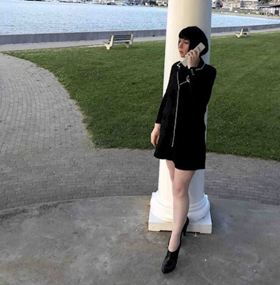 Alternative singer-singwriter Jenn Vix presents the new video for 'Complicated Man', the lead track off her new 'Unlocked' EP. The video was directed, produced and edited by Renan DeAraujo, a 27 year old, Brazilian filmmaker who loves to tell stories with light and rhythm. The video features Jenn Vix herself, along with actor Michael French.
"My interpretation was to put Jenn's personality on the screen, and in particular, the overall feeling of the trck; a mysterious and delicate mood, at the same time. I was trying to express the character's point of view," says DeAraujo.
Based in Rhode Island, Vix is an American solo electronic-rock recording artist, songwriter, producer and recording engineer, who has, over the years, ventured into other genres including alternative rock, trip hop, darkwave, modern new wave and electro-industrial.
This five-track release sees Vix at her best. With weighty lyrics surrounding personally challenging experiences, her vocal delivery on 'Complicated Man' has earned her comparisons to Shirley Manson of Garbage. "I wanted to explore different sounds, and it felt good to do so. After my illness, it took me a year and a half to be able to even listen to music again. Change is scary, but it can also be refreshing. I recently had to burn a few bridges, but they say that the brightest light can come from the bridges you burn. I agree," explains Jenn Vix. Her discography indicates that Vix has collaborated with some quite achieved artists in the alternative realm, including two members of The Cure, Tin
Machine
and David Bowie and Iggy Pop's bands. The track 'Unlocked' features John Ashton, original guitarist of The Psychedelic Furs. Ashton previously collaborated with Jenn Vix twice previously, on tracks 'The Woman with No Fear' and 'Weirdo', which are found on her five-track EP 'Strange Buildings'. "Jenn's haunting voice draws you in immediately and possesses a vulnerability that feels genuine," says John Ashton. "Her music is where minimalist groove electronica meets gritty rock guitar and melodic bass, which for me, is far from a bad neighborhood to be hanging around in. It's dark and vibey." Danny Chavis of shoegaze pioneers
The Veldt
also produced a remix of 'Complicated Man', as well as contributing guitar and other instrumentation here. His background is wrought with collaborations with TV On The Radio, Mos Def and Lady Miss Kier (Deee-Lite), and touring with Phantogram, The Brian Jonestown Massacre, The Pixies, Throwing Muses, Echo & The Bunnymen, Cocteau Twins, Manic Street Preachers, The Jesus and Mary Chain, Oasis, Chuck D, Living Colour, and Schooly D. On past releases, Jenn Vix has collaborated with Reeves Gabrels, current guitarist for
The Cure
and former guitarist for David Bowie and Tin Machine, and with Andy Anderson (The Cure and Iggy Pop), as well as Dirk Ivens, Belgian electro-industrial pioneer of Absolute Body Control, The Klinik and Dive. Her work with Marco Pirroni (Adam Ant, Rema Rema, The Models, Sinead O'Connor) resulted in her cover version of
Shirley Collins
'Turpin Hero' being featured on the compilation album 'Shirley Inspired'. Vix also recorded vocals on tracks by Rodney Linderman (a.k.a. Rodney Anonymous) of The Dead Milkmen. She eventually contributed three tracks to the PBS series 'Hit and Run History', featuring Andrew Giles Buckley. In her first (high school band Disco Donut, Vix sang backing vocals for Nicole Willis (Nicole Willis & The Soul Investigators) and Adam Horovitz (The Beastie Boys) on bass. The 'Unlocked' EP can be found on the usual streaming and store platforms, and also on Bandcamp. Check it out
here
! TRACK LIST
1. Alive Again
2. Complicated Man
3. Nerve
4. Complicated Man (Into
The Veldt
Mix) by Danny C. Chavis
5. Unlocked