Irish Singer/Songwriter Lisa Lambe Releases 'These Eyes'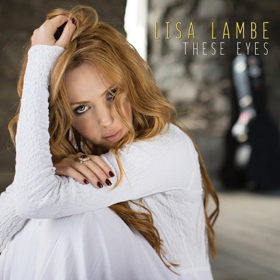 LISA LAMBE, a former member of the ensemble Celtic Woman, and who was once described by The Irish Times as "The finest singer and actress of her generation" is set to release her new single. "These Eyes" is the second single released from her forthcoming, as yet untitled, studio album, and the first with Blue Élan Records, set for release in spring 2019.
The idea to record a cover of The Guess Who's, "These Eyes," came after a meeting with label owner, Kirk Pasich. As Lisa explains, "Sitting in Westwood Los Angeles day-dreaming, writing songs and working on my new record, I had a wonderful afternoon with Kirk chatting about artists I love and songs that inspire, move and change the heart and spirit. I definitely am a 70's flower child in my music heart. Kirk spoke of the great Burton Cummings and we talked about his catalogue of great songs, one of them being These Eyes." She continues, "Kirk, I, and several others went into Clear Lake Recording Studios in Los Angeles to see if we could do something special with this song. Together with Jake Curran, who creates a world of groove and story within his playing, we laid it down. Back in Ireland, with my music collaborator Karl Odlum, we put the finishing touches. The whole experience was amazing and I'm so happy we captured this version of such a great song. I hope you enjoy it!"
Lambe is one of Ireland's most sought-after performers and is currently featured at Ireland's national theatre performing in the smash hit Jimmy's Hall. To American audiences, Lambe was best known for her three-year stint as the lead vocalist of Celtic Woman. Lambe's first solo album, her 2015 self-releasedHiding Away,was recorded in Nashville and released in Ireland to much critical acclaim. The Independentnoted: "Whatever the guise, it would be hard to forget the talented singer and actress-and her riot of flowing red curls." The Irish Times said, "Lambe's bright, warm, supple voice has just a touch of grain, and she is obviously at home in country-folk," while RTE described Lisa as a "national treasure," and the Irish Times stated "Lambe's voice is pure gold."
Related Articles
View More Music

Stories