Guitar Mash Announces Lineup for the 7th Annual Urban Campfire at City Winery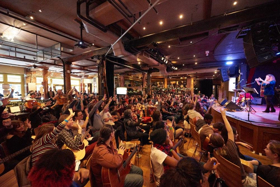 Guitar Mash has announced its artist line-up for the 7th Annual Urban Campfire at City Winery on Sunday, November 18th from 12:00 p.m. to 3:30 p.m. The Urban Campfire is a unique and immersive musical experience where artists break down the wall between the stage and the house, and invite the audience to perform along with them. The theme for this year's event is "Songs for Change" which focuses on the power of music to generate awareness and bring people together.
Directed by Guitar Mash Artistic Director Mark Stewart (music director for Paul Simon, founding member of the Bang on a Can All-Stars), this year's edition of the New York "campfire" will feature Ani DiFranco, Marc Ribot, Jimmy Vivino, Kat Edmonson, Biodun Kuti and Fernandito Ferrer. More artist leaders TBA. The Guitar Mash House Band is Rob Schwimmer (piano), Zev Katz (bass) and Dave Cossin (drums).
At every Urban Campfire, Guitar Mash projects the lyrics and chords for easy follow-along, and "Chord Coaches" help you get seated and tuned up. Whether or not you have an instrument in hand, you are in for an engaging afternoon with artists as they share the songs and stories that have shaped them.
"At Guitar Mash, there's no exclusivity. There's no 'I'm the performer, you're the audience.' WE are the thing. We are genuinely all in the same room. The thing we create together is unique because of this quality. And it is always fresh and new to both the seasoned performers on stage and the 'big band' (formerly known as 'the audience'). It is nothing less than equality manifest in sound," says Mark Stewart.
Guitar Mash Founder and Executive Producer Rebecca Weller says, "This year's Urban Campfire will be an exciting afternoon where an array of artists and activists will shine a light on what inspired them to create. How did music change them? How can music change us all? How can music change the world? In the spirit of Pete Seeger, we'll be in it all together, using music to unite and inspire change."
Other event highlights include the debut of the winner of the 2nd Annual #MyNYCSong teen songwriting contest presented in collaboration with the Mayor's Office of Media & Entertainment (finalists will be announced on or around Nov 1st; details at guitarmash.org/mynycsong) as well as a performance by the Guitar Mash Teens with Mash Teen Co-Chairs Brandon "Taz" Niederauer, Chloe Hennessee and Evie Dolan.
And back by popular demand, just before the show, when doors open at noon, event attendees will have the opportunity to take part in Musical Speed Dating: lightning rounds of mini master classes with a handful of Guitar Mash artist alumni, to be announced soon.
DETAILS
All acoustic strings welcome! Or just bring you!
Sunday, November 18, 2018
City Winery NYC (155 Varick Street)
Doors at Noon | Show at 1pm
GA Tickets: $40/$20 for students
Attendees have the opportunity to add an all-inclusive brunch package to their ticket.
FOR TICKETS AND MORE INFORMATION: guitarmash.org/nov18
Hint and Fishman are official sponsors of Guitar Mash.
WFUV, WNYC and Premier Guitar are official media partners of the 7th Annual Urban Campfire at City Winery NYC.
Brunch partners include Zucker's Bagels & Smoked Fish, Magnolia Bakery and Tito's Handmade Vodka.
To learn more about Guitar Mash visit guitarmash.org and check out the highlights from our 2017 NYC Urban Campfire.
ABOUT THE ARTISTS
Ani DiFranco: folk-rock troubadour, and founder of Righteous Babe Records
Fernandito Ferrer: activist/songwriter from Puerto Rico, part of the Nueva Canción movement
Biodun Kuti: Nigerian guitarist hand-picked by Paul Simon for his final tour
Jimmy Vivino: longtime music director of Conan O'Brien's late night show and member of the Fab Faux
Kat Edmonson: vintage pop singer-songwriter
Marc Ribot: genre-defying guitarist who recently released the album Songs of Resistance
Mark Stewart: multi-instrumentalist, composer and instrument designer, Mark Stewart is the founding Artistic Director of Guitar Mash. He is a founding member of the Bang on a Can All-Stars and since 1998 has recorded, toured and been Musical Director with Paul Simon.
ABOUT GUITAR MASH
Guitar Mash, a 501(c)(3) non-profit organization, celebrates the power of communal music-making to connect people of all ages, backgrounds and musical abilities through singing, playing and sharing stories - transcending our egos and all our differences.
In 2012, producer Rebecca Weller was introduced to Paul Simon's longtime guitarist Mark Stewart after he had led a parade of trombones down a street in the East Village. Weller and Stewart shared a passion for the participatory - and the recognition of the portable, democratic guitar as the quickest catalyst for sharing stories and songs - which resulted in him leading the first Guitar Mash "campfire jam" in a NYC living room. Guitar Mash expanded to Nashville last spring and will return in 2019, part of the constellation of Guitar Mash activities that includes a vibrant teen program for communal playing and songwriting
Photo Credit: Guitar Mash