Gavin Haley Releases New Single 'Pepper'
His first release of 2021, the melodic, down-tempo track was written by Haley over the course of the past year.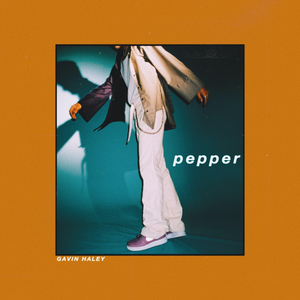 Today, emerging singer-songwriter and multi-instrumentalist Gavin Haley releases his brand new single "Pepper," out now via Red Bull Records. His first release of 2021, the melodic, down-tempo track was written by Haley over the course of the past year and explores a passionate new relationship with a fiery love interest.

"'Pepper' is a side of myself I haven't really shown," says Haley of the record. "[In] 2020 there wasn't much to do, and I would go on these long drives almost every night. Just exploring new roads and listening to a lot of instrumental songs. It really inspired a world for this song. The story is so straightforward, and I love how the production feels almost dark in a way. I can't wait to perform this one."

The release of "Pepper" follows Haley's acclaimed EP Unfolding last fall, which earned over 3 million streams in its first two weeks and featured hit singles including "Be There For You," "Self Control" featuring UK R&B artist Izzy Bizu, and "Tati" featuring West Coast rapper Yung Pinch, the latter of which received a remix treatment from Travis Barker. Praised by People Magazine as one of their "20 Emerging Artists making their mark in music," the rising star has remained busy over the past few months, with much-anticipated new music to come this year.

Throughout an often-unbelievable journey, Gavin Haley gained experience, wisdom, and truth from every trial, tribulation, and triumph and applied it all to his music. The trip brought the Los Angeles-based singer, songwriter, and multi-instrumentalist from competitive athletics and health struggles through various relationships and understanding his unconventional upbringing, split between homeschooling and churchgoing in Louisville, Kentucky.

Along the way, he fashioned an irresistible alternative pop sound with a hip-hop undercurrent offset by acoustic guitar and confessional lyrics. It immediately resonated on singles such as "Jet Lag" and "Show Me," as well as his 2019 debut EP Long Game via Red Bull Records. As he racked up over 70 million total streams in just two years, "Jet Lag" cracked 10 million, while "The Way I Am" featuring Ella Vos exceeded 30 million and garnered national support from SiriusXM. In addition to acclaim from Billboard, The A/V Club, American Songwriter, Ones to Watch, and more, Alternative Press best described Gavin Haley's music as "the perfect insight into the human condition."
Listen here: