Francisco Fullana Announces Recording Debut and CD Launch Event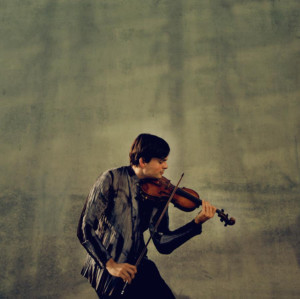 Spanish violinist Francisco Fullana's debut recording will be released on March 17, 2018 on the Orchid Classics label. Entitled Through the Lens of Time, the recording brings together four modern perspectives reimagining the Baroque tradition: a dialogue that prompts both composers and performers to explore musical giants of the past and place them in their own lives.
Fullana, 27, appears on this recording together with the City of Birmingham Symphony Orchestra, conducted by Carlos Izcaray as well as with pianist David Fung.
In celebration of this exciting collaboration and milestone in Fullana's rising career, the violinist performs selections from this recording at a special release event at Rose Studios in Lincoln Center on March 17. Fullana performs with the acclaimed Metropolis Ensemble led by Andrew Cyr.
Saturday, March 17, 2018 at 7PM
Rose Studio - Lincoln Center
Francisco Fullana, violin
Metropolis Ensemble
Andrew Cyr, conductor
The Through the Lens of Time begins with Max Richter's daring reworking of Vivaldi's Four Seasons, which Fullana first performed in 2016 with Venezuelan conductor Carlos Izcaray, who also conducts this debut recording. Fullana remarks: "Richter's The Four Seasons Recomposed awoke a renewed commitment to my musical approach focused on instinct and emotion. It brought me back to my own beginnings, as The Four Seasons was one of the few cassettes that my family would play in the car when I was a young boy. During the performance, Carlos Izcaray and I found that we both shared the same energetic approach to music making. It became clear that we both loved performing this piece too much not to do so again."
The three works that follow provide unique takes on the Baroque tradition. The Korean-German Isang Yun's Königliches Thema pays homage to Bach's Musical Offering, conflating Baroque and modern styles in one densely rich composition that magically surveys Western musical tradition through the lens of Eastern philosophies. Meanwhile, Schnittke's Suite in the Old Style presents a combination of different aspects of the Western tradition from Baroque onward, and is heavily influenced by the musical aesthetic of the composers' own time. As such, the writing represents a sort of time capsule, portraying what "Baroque style" meant to performers?in the 1970s, with exaggerated gestures, verticality, and highlighting the sense of drama to the point of becoming ceremonial. Finally, Salvador Brotons's Variations on a Baroque Theme hearken to the roots of Fullana's career, and to his first performance before the public at the age of nine, soloing in Mozart's Turkish A Major Concerto, under Brotons's baton. The one-time mentor composed his set of variations specifically for this project, completing a circle by basing the work on a popular aria from the zarzuela, Acis Y Galatea, by a third Spaniard, the 18th Century Mallorcan composer Antoni Lliteres.
Francisco Fullana has received international praise as a "rising star" (BBC Music Magazine), an "amazing talent" (maestro Gustavo Dudamel) and "a paragon of delicacy" (San Francisco's Classical Voice). His 2016 recital debut at Carnegie Hall was noted for his "joy and playfulness in collaboration; it was perfection" (New York Classical Review).
The coming year will find Francisco Fullana in debuts as a soloist with the Castilla y Leon Symphony Orchestra, Buffalo Philharmonic Orchestra and the Saint Paul Chamber Orchestra, next to first engagements in the U.S., Europe and Asia. Among the many chamber music engagements on his upcoming schedule, he has been invited to join the prestigious roster of Lincoln Center's Chamber Music Society Two, starting in 2018. Artistic Directors of Lincoln Center's Chamber Music Society are cellist David Finckel and pianist Wu Han.
Born into a family of educators, Francisco Fullana first studied with Bernat Pomar in his hometown of Palma de Mallorca, later graduating from the Royal Conservatory of Madrid, where he matriculated under the tutelage of Manuel Guillén. He is ?a graduate of The Juilliard School, where he received bachelor's and master's degrees, studying with Donald Weilerstein and Masao Kawasaki, and is also?an Artist Diploma graduate from the USC Thornton School of Music, where he worked with the renowned violinist Midori.
"Francisco Fullana was a paragon of delicacy as he unveiled the opening notes. His bow seemed not so much to pull the strings as to float on them....he elicited tremendous volume and tone." - San Francisco Classical Voice
"The important violin solo part was played by Francisco Fullana, who turned in a virtuoso performance while staying true to the music's Baroque provenance." - Bachtrack
"Fullana...played brilliantly, channeling Vivaldi's fiery scales, fluidly shifting to near vibrato-less lyricism in slow movements, retaining the often-exaggerated seriousness and whimsy that Richter infused." - ArtsBHAM
Related Articles
View More Music

Stories
More Hot Stories For You