Dragonette & Kokiri Link Up For New Single FAITH IN LOVE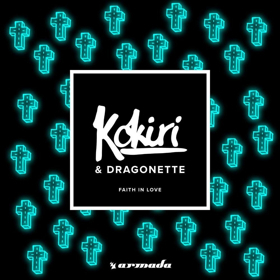 After courting big acts such as Anne Marie & Marshmello, Jessie Ware, Naughty Boy and Craig David with his ability to craft up infectious, full-bodied vocal House cuts, Kokiri is back with another record that strikes a perfect ten on the catchiness scale. In tandem with Canadian Pop-Electro act Dragonette, the Liverpool-based House guru once again delivers a song that sticks: 'Faith In Love'
Listen to Kokiri & Dragonette - Faith In Love
Helmed by deep sub bass and Dragonette's captivating vocals, 'Faith In Love' sweeps clubbers off their feet right off the bat. Driving fans further into the sonic deep end with melodically impeccable synth plucks and strong beats, this cut has crowd favorite written all over it and marks a perfect example of how the right link-up can lead to a potential turned dance floor hit.
Kokiri: "Sometimes as an artist, you find yourself listening to a vocal over and over, desperate to find some inspiration at 3am on the 46th listen. This wasn't the case for 'Faith In Love'. As soon as I heard the vocal, I knew exactly how I wanted this track to sound. I wanted to create an ethereal feel to mirror the emotional context of the lyrics. I wanted the track to subtly build up in energy and then surprise the listener by having a drop that contradicts the delicacy of the lyrics."
Dragonette: "This song is about getting through a dark time to the other side. Sometimes we need a reminder that things won't always be the way they feel in the moment. There was a time when I was 100% convinced that I wouldn't trust or love again. This song is my reminder to myself, no matter what I think is true about myself. Be open to being wrong."
Listen to 'Faith In Love' on Soundcloud: https://bit.ly/2NsrFur