Country Music's Rodney Atkins Opens SCERA Shell Season 5/28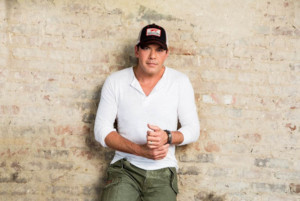 When the SCERA Shell Outdoor Theatre opens its 2018 season on Memorial Day, May 28, there's no doubt country star Rodney Atkins is going to give his all to a concert that is pure country.
"I always want to stay true to my roots," he says. "I'm country. I don't want to put out music that people will say, 'Now, what kind of music is that?' Am I on a pop station here? . . . I appreciate other kinds of music, but I know what I do and where I stand, and what I want to sing about."
What Atkins has "wanted to sing about" has worked for the Tennessee-born country star for more than two decades. He has sold more than 10 million albums, released four albums and garnered six number one hits. His last studio LP, "Take a Back Road," yielded a number one hit, and his 2006 single, "Watching You," was named the number one song of the decade by Country Aircheck.
His emphasis is on relevance and believability, and when someone calls him "authentic," that makes him extremely happy.
Rodney Atkins is crisscrossing the country this summer showcasing country radio staples such as "Watching You," "These Are My People," "Farmer's Daughter," "It's America" and "If You're Goin' Through Hell." He will also introduce some new sounds he used for an album that will be released later this year. Whatever the music, however, it will reflect deep country roots.
The concert festivities will begin at 8 p.m. at SCERA Shell Outdoor Theatre, 699 S. State Street, Orem, in the middle of SCERA Park. General admission tickets are $25 for adults, and $20 for children from 3 to 11 and seniors 65 and older. Patrons may bring a blanket or limited quantities of $1 plastic lawn chair are available to rent. Reserved seating areas with a free lawn chair range from $30 to $40 for adults and $25 to $35 for children and seniors. Tickets are available at www.scera.org, by calling SCERA at 801-225-ARTS, or in person between 10am-6pm weekdays and Saturdays from 12noon-6pm at SCERA Center for the Arts (745 S. State St., Orem), or at the Shell box office 90 minutes prior to performance.
Atkins calls himself a "song mechanic" and focuses on heartfelt music about the highways of life, about family and about love. He credits his wife Rose Falcon Atkins for helping him reconnect to his music in the wake of a few years where he knew he needed a creative reinvention. He has frequently said his wife helped him find is voice again. He went through a period where he needed to figure out where he had been and where he was going, and says when he met Rose, the world made sense again.