Comedian Clare O'Kane LET IT BE Out 8/10 on AST, Vinyl & Digital Pre-Order Available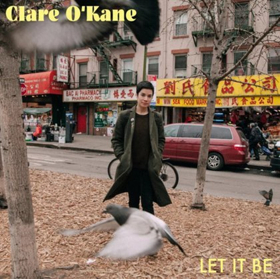 Comedian CLARE O'KANE is set to release her debut comedy album 'LET IT BE' on FRIDAY, AUGUST 10 on ASPECIALTHING RECORDS. Taped live, the album starts with a fantastic introduction by Megan Koester before Clare hits the stage with her sharp comedy to talk her Asian mom, her grandma, her dad, little kids, nude modeling, her millionaire ex-boyfriend and more. 'Let It Be' will be available as a limited "coke bottle clear" 12" vinyl pressing with a download card, as well as digitally everywhere. Pre-orders available.
PRE-ORDER CLARE O'KANE 'LET IT BE':
iTunes: https://apple.co/2LBjSq0
Vinyl: https://bit.ly/2uLf4aj
Clare O'Kane is an actor, comedian and writer from San Jose, California. She has performed in the Edinburgh Fringe Festival, Bridgetown Comedy Festival, SF Sketchfest, Outside Lands, High Plains Comedy Festival and other festivals around the country. She has been described as "sarcastic" and "half-Asian". Clare has written for Spongebob Squarepants, appeared on Viceland, and is one-third of the sketch group Blessed. They have made a couple of very funny videos, none of which have gone viral. Clare is frequently cast in short films and can be seen in the new Witch Taint video alongside Dave Hill and Phil Costello, she recently opened for Jawbreaker and can be seen on stages around the country regularly. She currently lives in Brooklyn, NY.
ASPECIALTHING RECORDS is a Los Angeles-based independent comedy record label owned and operated by Matt Belknap and Ryan McManemin. Stemming from an online message board, aspecialthing records has taken a D.I.Y. approach to producing and distributing the finest stand-up comedy albums since 2006. AST is home to Patton Oswalt's Grammy Award Winning album 'Talking for Clapping' as well as outstanding releases from Bob Odenkirk, Paul F. Tompkins, Doug Benson, Greg Proops, Jen Kirkman, Wyatt Cenac, Karen Kilgariff, Kyle Kinane and many more. AST looks forward to expanding their catalog while continuing their dedication to exceptional emerging and established comics.