City Winery Chicago Announces Musiq Soulchild, Bobby McFerrin and More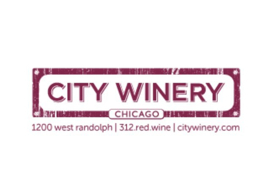 City Winery Chicago, 1200 W. Randolph Street, announces neo-soul/R&B innovator Musiq Soulchild, jazz vocalist Bobby McFerrin ("Don't Worry, Be Happy") and more. The following shows go on sale to the public on Thursday, October 4 at noon.All tickets will be available at citywinery.com/chicago.
Monday, November 12
$25/$28/$32/$35
Conya Doss' voice reflects the sounds of the past, present, as well as what is yet to come, and her musical taste is a mix of genres (classical, soul, blues, etc...). This is apparent in her most recent release CLEAR. With undeviating smoothness, soul, rhythm, and melody, the poised songstress has composed a 13-song compilation of perfectly placed instrumentation intertwined with her smooth vocals, with a hint of rasp.
All of Doss' albums are authentically steeped in the spirit of growth and change and CLEAR does just that. The album focuses on being TRANSPARENT and clearing thoughts to music in order to be better aligned with one's spiritual self.
Monday-Tuesday, December 17-18
$35/$38/$45/$48
Louisiana born Blues star Tab Benoit is dedicated to drawing on his Cajun roots to fuel a long-standing discography of back-to-basics blues signatures, earning him several awards in the genre, including a 2006 Grammy® nomination for Best Traditional Blues Album for Brother to the Blues, a collaboration with Louisiana's LeRoux, and multiple Blues Music Awards, including Best Contemporary Blues Male Artist two years in a row and two B.B. King Entertainer of the Year awards. With a career spanning back to nightly impromptu gigs at the Blues Box, a local Louisiana institution, and a record deal with Justice Records, Benoit has produced nearly 20 albums since 1993. Keeping in touch with his home state, Benoit also starred in the IMAX motion picture Hurricane on the Bayou, a documentary about Hurricane Katrina's effects and a call to restore the wetlands. Benoit returns to City Winery in celebration of his long career in blues.
Christmas for the Jews featuring Joel Chasnoff, Moody McCarthy, and Rabbi BARRY Schechter
Tuesday, December 25
General Admission seated: $28 advance/$32 at the door
Following sold-out shows in 2016 and 2017, Joel Chasnoff's Christmas for the Jews returns to City Winery Chicago with special guests Moody McCarthy and Rabbi BARRY Schechter. A Chicago native, Chasnoff is the author of the comedic memoir The 188th Crybaby Brigade about his service in the Israeli Army. He has performed on stage and screen in nine countries, including two off-Broadway shows, a USO comedy tour of Japan and Korea, more than 1,000 Jewish events in NORTH AMERICA and Europe, and Israeli late-night TV. A graduate of I.O. (formerly Improv Olympic) in Chicago and UCB and The PIT in New York, Chasnoff regularly performs improv and teaches his Improv Comedy 101 Workshop to adults and teens. A portion of proceeds from Chasnoff's comedy and book sales is donated to his foundation, Project Elijah.
Thursday-Friday, January 3-4; 7:30 & 10:00 p.m.
$65/$75/$78/$82
Musiq Soulchild is a hip-hop soul artist with a reputation for being musically gifted, beat boxing for MC's, free styling on the open-mic circuit or just performing acapela for strangers on the streets. Deeply inspired by the R&B/Soul sound of the 70's he uses the name "Soulchild" as a way to show respect and admiration to his biggest musical influences such as Stevie Wonder, Donny Hathaway, Marvin Gaye and many others. After the public was all too ready to stamp the singer as the next big neo soul act following the immense success of his bouncy, omnipresent 2000 debut single "Just Friends (Sunny)" and its powerful follow-up ballad "Love"-which has since become a go-to millennial wedding anthem-Musiq Soulchild flipped the proverbial script. He delivered a gorgeous 2002 cover of the 1968 Beatles' pop-rock classic "Something," showing off an understated range that managed to avoid look-at-me gimmickry.
Musiq Soulchild stands as an UNCOMPROMISING musical force. His 8th studio album and first 24-track double album Feel The Real represents a pivotal chapter in the ever evolving career of an artist who continues to search for new muses and new sounds. Soulchild has received multiple awards including, Billboard, BET, ASCAP, BMI, and Soul Train. He has also earned award nominations from MTV, the American Music Awards, the NAACP, and 13 Grammy nominations.
Steve Earle - Annual Winter Residency
Monday-Tuesday, January 14-15
Monday-Tuesday, February 25-26
$50/$55/$60/$65
San Antonio-born singer-songwriter Steve Earle is best known for his country music and rock 'n roll tinged "alt-country." A published writer and keen political activist, Earle has had his music appear in films such as Dead Man Walking, taking on the controversial topic of the death penalty in the United States. Earle has also had small roles on the HBO television shows "The Wire" and "Treme." Earle will return to City Winery in celebration of his newest album, So You Wannabe an Outlaw, released in 2017. A limited number of Meet & Greets tickets are available for $75 per show.
Alejandro Escovedo with Don Antonio Band - THE CROSSING Tour
Thursday-Saturday, January 31 - February 2
$35/$45/$50/$55
Mexican-American singer-songwriter Alejandro Escovedo has explored an array of musical identities throughout his career, including punk and roots-rock, alt-country, hard rock, Tex-Mex, folk and string quartets. Escovedo began his trailblazing career with San Francisco's famed punk band The Nuns followed by stints with the Austin-based alt-country rockers, Rank & File and the True Believers. He continued with countless all-star collaborations and a series of beloved solo albums beginning with 1992's acclaimed Gravity. Escovedo has earned a surplus of distinctions including the Americana Music Association's Lifetime Achievement Award for Performing in 2006. His most recent album The Crossing, released in September 2018, follows the story of two young immigrants, one from Mexico and one from Italy, as they come to the United States to pursue their American dream and IN SEARCH OF their punk rock idols.
Bobby McFerrin & Gimme 5: Circlesongs
Friday-Saturday, February 22-23; 7:00 & 10:00 p.m.
$60/$65/$75/$85
Bobby McFerrin is not so much a musician as he is an instrument of music itself, a pure distillation of sound into joy whose performances blur the lines between performer and audience, fusing the two in a joyous communion. McFerrin and members of the groundbreaking a cappella group Gimme 5 bring Circlesongs to City Winery Chicago featuring McFerrin's exhilarating vocal vocabulary, call and response, polyphonics and percussion, global rhythms, soaring melodies, lush harmonies, funny noises, invented language, silence, prayers, and laughter.
All City Winery Chicago events are open to all ages and start at 8 p.m., unless noted.
Tickets go on sale to the general public on October 4 at noon. Only members of City Winery Chicago's signature VinoFile™ program have access to ticket sales today in addition to receiving: a waiver of ticket service fees; free valet parking; Restaurant Loyalty Rewards, such as a free pair of VIP concert tickets for every $500 spent on food & beverage in the restaurant; exclusive membership-only events; and access to the proprietary City Winery Virtual Sommelier™, which helps make suggestions for wines one might enjoy based on past consumption at the venue.
Conya Doss, Tab Benoit, Joel Chasnoff, Moody McCarthy, Rabbi BARRY Schechter, Musiq Soulchild, Alejandro Escovedo, Don Antonio Band, Bobby McFerrin, Gimme5, and Steve Earle join a diverse mix of the most respected names in pop, rock, jazz, blues, world music, theater, dance, spoken word and comedy presented at City Winery Chicago, including previously announced headliners and supporting acts: Matt Andersen with Terra Lightfoot (Oct. 2); Jane Monheit (Oct. 3); Charlie Hunter Trio (Oct. 4); John Lennon Birthday Retrospectivefeaturing Phil Angotti, Tommi Zender & Casey McDonough (Oct. 7, 1p); Trace Bundy & Sungha Jung (Oct. 7); Crystal Bowersox (Oct. 8); Basia (Oct. 10, 6:30 & 9p); Chicago Plays The Stones featuring Ronnie Baker Brooks & Billy Branch (Oct. 12, 8 & 11p); Incognitofeaturing Maysa (Oct. 14, 5 & 8p); Surabhi Ensemble Global Tour Project with Massamba Diop (Oct. 15, 7:30p); Grant-Lee Phillips & Josh Rouse (Oct. 17); Steven Page Trio with Wesley Stace (Oct. 18); Isaac Mizrahi (Oct. 19, 7:30p); Wasabassco Burlesque (Oct. 19, 10:30p); Terisa Griffin (Oct. 20, 7 & 10p); Jim Messina (Oct. 21); WildClaw Theatre Presents - A Taste of Deathscribe (Oct. 22); The English Beat (Oct. 24, 7p); Algebra Blessett (Oct. 25); Kevin Griffin (Oct. 26); Matisyahu (Oct. 28-30); David Cook (Oct. 31); Paul Thornwith Trapper Schoepp (Nov. 1); Loose Ends featuring Jane Eugene (Nov. 3, 7 & 10p); Vusi Mahlasela (Nov. 4, 7p); Katharine McPhee (Nov. 5); Peter Asher & Jeremy Clyde (Nov. 6); Girls Gotta Eat - Live Podcast (Nov. 7); Keller Williams Duo with Danton Boller (Nov. 8); David Phipps (Nov. 9); John Hiatt (Nov. 10-11); Eliane Elias (Nov. 13); Peter WOLF & the Midnight Travelers (Nov. 14); Joe Henry (Nov. 15); Jon McLaughlin & Matt Wertz (Nov. 18, 4 & 8p); The Expendables (Nov. 19); J Mascis with Luluc (Nov. 20-21); 30DB featuring Jeff Austin & Brendan Bayliss (Nov. 23, 7 & 10p); BoDeans (Nov. 24, 7 & 10p; Nov. 25, 7p); Anthony David (Nov. 26); Pokey LaFarge (Nov. 27); Canned Heat (Nov. 28); Dwele (Nov. 29, 7 & 9:30p); Jane Lynch (Nov. 30, 7 & 10p); Jennifer Knapp & Margaret Becker (Dec. 2, 12p);Suzy Bogguss (Dec. 2, 7p); Kris Allen (Dec. 4); Joe Pug (Dec. 5); Los Lobos (Dec. 9-12); Vienna Teng with Katie Rose (Dec. 16); Kurt Elling (Dec. 19-20); Michael McDermott (Dec 21-23); Shemekia Copeland (Dec. 26-27); Avery*Sunshine (Dec. 30; Dec. 31, 7:30 & 11p; Jan. 1, 5p); Corky Siegel's Chamber Blues featuring Tracy Nelson (Jan. 13, 7p); Randy Bachman (Jan. 24-25); 10,000 Maniacs (Feb. 14-16); Donavon Frankenreiter (Feb. 18, 6:30 & 9p); Procol Harum (Feb. 20-21); Kasim Sulton's Utopia (Mar. 7); Ron Pope (Mar. 8-9) andJohn Parr (Apr. 10).
Opened in 2012, City Winery Chicago is a fully operational winery, restaurant with outdoor patio, concert hall and private event space located in the heart of the West Loop at 1200 W. Randolph, in the historic urban Fulton Market district. Once a refrigerated food distribution warehouse, the 1911 building has been transformed into a contemporary 33,000 square foot HAVEN for those passionate about wine, music and culinary arts. The décor evokes the romance of being in wine country, from the exposed stainless steel fermenting tanks and French oak barrels, to the aroma of fermenting grapes. The West Loop's only fully operational winery has produced dozens of in-house wines sourced from vineyards in California, Oregon, Washington, Argentina and Chile, including a Wine Enthusiast 92-point 2015 Verna's Vineyard Reserve Pinot Noir. With more than 400 unique producers from around the world City Winery is recognized with 2014 and 2015 Best of Awards of Excellence "for having one of the most outstanding restaurant wine lists in the world" by Wine Spectator. The globally inspired, locally sourced, wine-focused food menu is conceived for pairing and sharing. The concert hall accommodates up to 300 guests, all seated at tables with complete beverage and dining service, ensuring a comfortable "listening room" experience enhanced by a state-of-the-art Meyer Sound system. Riedel is the official and exclusive provider of glassware, showing City Winery's commitment to enjoying quality wine in a quality vessel. American Airlines is the Official Airline and Virgin Hotels Chicago is the Official Hotel of City Winery. For more information, please visitwww.citywinery.com.