Chicago Sinfonietta Presents Praise + Punk in a Smashing Battle of the Bands Beginning this Weekend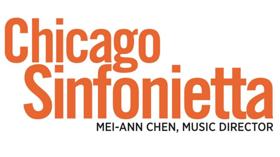 One of the most diverse classical musical organizations in the nation, Chicago Sinfonietta, is closing their 30th anniversary season with Praise + Punkin a smashing 'battle of the bands' against Mucca Pazza, an absurdist marching band, with special guest Apostolic Church of God Sanctuary Choir. The historic onstage rematch between Chicago Sinfonietta, the previous winner in 2015, and Mucca Pazza will be Saturday, May 12 at 8 p.m. at Wentz Concert Hall at North Central College, 171 E. Chicago Ave., Naperville, and Monday, May 14 at 7:30 p.m. at the Symphony Center, 220 S. Michigan Ave., Chicago.
With romance to spirituality and passion to battle, emotions will run high from start to finish in Chicago Sinfonietta's concert mashup that puts gospel music, classical selections and a nonconformist marching band into one epic program. The Praise + Punk program includes guest artists Melissa White (violin), Ifetayo Ali (cello), and a stellar program that includes Eugene Butler (How Excellent is Thy Name), Camille Saint-Saëns (La Muse et le Poète), Mucca Pazza member Andy Deitrich (War of Amusements), Sergei Prokofiev (Romeo and Juliet Suite) and other various artists (Gospels, Ending of all Endings) to round out this not-to-be-missed concert experience, featuring a rarely performed ending to the Romeo and Juliet Suite.
"May 14 not only closes an incredible season of music and exploration, but this concert summarizes what Chicago Sinfonietta aims to do - provide memorable music from various genres, push the boundaries of how classical music is perceived, introduce amazing artists both known and unknown, collaborate with artists from different genres, and invite the audience to join us in experiencing the fun and joy of music," said Musical Director Maestro Mei-Ann Chen. "Our first encounter was so popular, that we had to invite Mucca Pazza back for a rematch. Collaborating with Sinfonietta's long-time collaborator, the Apostolic Church of God Sanctuary Choir, was literally a life-changing experience as it was my first experience performing gospel music. Come and let the Chicago Sinfonietta touch your heart in ways that are often unexpected yet extraordinary!"
"We are delighted to once again take up the gauntlet thrown down by our friends at the Chicago Sinfonietta!" said Mucca Pazza Artistic Director Ronnie Kuller. "This time, we prepare to duel as Montagues vs. Capulets to tell the story of Romeo and Juliet in Prokofiev's original conception - which, believe it or not, includes a gorgeous and rarely-performed joyful ending. (Woe?! What woe? Whoa! Wow.) Everybody wins!"
For 30 years, diversity, inclusion and bold and dynamic programming has been at the center of Chicago Sinfonietta's mission. In 2016, Chicago Sinfonietta was one of just 14 organizations in the nation to receive the MacArthur Award for Creative and Effective Institutions - the "genius award" for nonprofit organizations. Along with national recognition, this award came with a large, one-time investment of $625,000 establishing the organization's first ever reserve fund and quasi-endowment. On the tail of this recognition came the most successful annual Ball ever which raised more than $535,000 for the orchestra. Chicago Sinfonietta was named by ASCAP as the recipient of the 2011-12 Award for Adventurous Programming and in 2013 was dubbed, "the city's hippest orchestra" by the Chicago Tribune, always embracing the daring programming that has been part of its history.
Chicago Sinfonietta is grateful to its season sponsors including Aon, Blue Cross Blue Shield of Illinois, Southwest Airlines, Fairmont Hotel, Hotel Indigo and NBC5. Chicago Sinfonietta also thanks its BRIDGE Audience Engagement sponsor Macy's, as well as its season media sponsors including Chicago Tribune, ChicagoMagazine, Naperville Magazine, and WBEZ.
Tickets to Praise + Punk: The Ending of All Endings range from $10 to $62 when purchased in advance online. For tickets or more information, please visitwww.chicagosinfonietta.org.
About the Sinfonietta
Now in its 31st year, Chicago Sinfonietta has pushed artistic boundaries to provide an alternative way of hearing, seeing and thinking about a symphony orchestra and is dedicated to promoting diversity, inclusion, racial and cultural equity in the arts. Each concert experience blends inventive new works with classical masterworks, each from a diverse array of voices, to entertain, transform and inspire. In 2016, Chicago Sinfonietta was the proud recipient of John D. and Catherine T. MacArthur Foundation's prestigious MacArthur Award for Creative and Effective Institutions (MACEI). This award recognizes exceptional organizations that are key contributors in their fields.
The orchestra was founded by Maestro Paul Freeman to address disconnect between the utter lack of diversity in orchestras and the vibrant, nuanced, communities for which they play. For more than 30 years, Chicago Sinfonietta has made it their mission to represent the city of Chicago, reflecting that vibrancy on stage and in their programming, making classical music accessible for anyone. In everything they do, Chicago Sinfonietta are inspired by founder Paul Freeman (1936-2015). The orchestra's 31 years have been highlighted by six European tours, two Kennedy Center performances, two Millennium Park concerts attended by over 19,000 people and 15 recordings.
About Mei-Ann Chen
Innovation, imagination, passion and dynamism are the hallmarks of conductor Mei-Ann Chen. Music Director of the MacArthur Award-winning Chicago Sinfonietta since 2011, and Artistic Director & Conductor for the National Taiwan Symphony Orchestra Summer Festival since 2016, Ms. Chen is acclaimed for infusing orchestras with energy, enthusiasm, high-level music-making, and galvanizing audiences and communities alike. A sought-after guest conductor, Ms. Chen's reputation as a compelling communicator has resulted in growing popularity with orchestras globally.
North American guesting credits include appearances with the Symphony Orchestras of Atlanta, Baltimore, Cincinnati, Chicago, Detroit, Fort Worth, Houston, Indianapolis, Oregon, River Oaks Chamber, San Diego, San Francisco, Seattle, Toronto, and Vancouver. Overseas engagements include the symphonies of BBC Scottish, Denmark's National, Aalborg, Aarhus, and Odense, Sweden's Gävle, Gothenburg, Helsingborg, Malmö, and Norrköping, Netherlands Philharmonic Orchestra at the Concertgebouw, Norwegian Radio and Trondheim, Finland's Tampere Philharmonic, Austria's Grosses Orchester Graz, Germany's Badische Staatskapelle Karlsruhe, Brazil's São Paulo Symphony Orchestra, and National Taiwan.
About Mucca Pazza
Mucca Pazza is an intrepid interdisciplinary instrumental music ensemble from Chicago, IL. Over the last 14 years, they have made a name for themselves playing alarmingly danceable music composed and arranged especially for their implausible instrumentation by band members - original music which defies classification but has bloomed out of manifold influences, from surf to Stravinsky, from Bartok to Zappa, from Esquivel to Ellington. In addition to blaring trumpets, slithering saxophones, clarinets, trombones, and tubas, the band boasts a drumline that seems to share a single nervous system, an entire section of disparate instruments that don't belong anywhere near a marching band (electric guitars, accordion, violin, and yes, a cello), and contains within its multitudes a cheer squad that performs absurdist cheers and asymmetrical, impressively low-to-the-ground pyramids. No-one has ever been completely certain of the exact number of people in Mucca Pazza. Everyone can be completely certain that this group of weirdos belongs together! Mucca Pazza: embracing the absurd! For more information, visithttp://www.muccapazza.com/.
About the Apostolic Church of God Sanctuary Choir
The Sanctuary Choir has been an anchor for the music ministry of the Apostolic Church of God throughout the seventy-plus year history of the church. The music focus of the choir is centered on quality presentations of sacred music including anthems, gospel, hymns, and inspirational songs.
For the over three hundred members of the choir, our many appearances are not merely performances but opportunities for ministry. Under the leadership of the late Bishop Arthur M. Brazier, the choir established itself as a powerful presence in the revitalized South Shore/Woodlawn community and throughout the music ministry of the church and continues to do so under the leadership of our current pastor, Dr. Byron T. Brazier. The
Sanctuary
Choir appears regularly on the church's weekly television ministry and its annual Christmas and Easter concerts. Other notable performances include appearances at the
Chicago
Sinfonietta's
Martin Luther
King celebrations at
Symphony
Center, Chicago's Gospel Festival, Millennium Park Opening Festivities with the
Chicago
Symphony
Orchestra, for inauguration ceremonies, and with the Czech
National
Symphony
Orchestra in Prague, Czech Republic. The
Sanctuary
Choir has also appeared in concert with renowned artists Yolanda Adams, Kurt Carr, Maurette Brown Clark, Kirk Franklin, Gladys Knight, Dwayne Lee, Wynton Marsalis, Donnie McClurkin,
Elizabeth
Norman, Kirk Whalum, CeCe Winans, and the artists formerly known as Three Mo' Tenors. For more information, visit https://www.acog-chicago.org/ministries/music.
About Willetta Greene Johnson
Willetta Greene Johnson, Ph. D., is Senior Lecturer and Master Teacher in physics and chemistry at Loyola University Chicago. She is also a Grammy-award winning songwriter, producer and author. A classically trained pianist and cellist, she has arranged for The Chicago Sinfonietta, The Memphis Symphony Orchestra, Old Saint Patrick Catholic Church, Jason Tyson, Smokie Norful, Bill Winston, Mary Mary, Marvin Sapp, Yolanda Adams and many others. Donnie McClurkin once called her 'one of the most prolific up and coming song-writers and arrangers.' Dr. Johnson has also founded the ensemble JourneySong who has performed as far as Chartres, France, as well as at venues such as The Goodman Theatre and other city events. She was commissioned to arrange Celebration Medley, featured in tonight's concert, to commemorate the decades-long association between the Apostolic Church of God Sanctuary Choir and The Chicago Sinfonietta. Look for her music on iTunes and amazon.com and events information at strategicmusic.biz.