Cheat Codes Join Forces with Little Mix for New Summer Anthem, ONLY YOU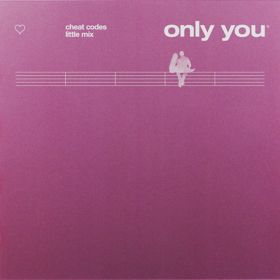 Perfectly blending pop and electronic music, Cheat Codes are an LA based trio comprised of Trevor Dahl, Matthew Russell and Kevin Ford. The group have seen a meteoric rise since they first formed in LA two years ago. Their tropical infused re-work of the Salt N Pepa classic "Sex", has generated half a billion streams on Spotify. "No Promises" featuring Demi Lovato proved to be the song of summer 2017 - reaching 4x platinum status globally with over 600 million cumulative streams. The group's follow-up radio single, "Feels Great" featuring Fetty Wap has moved over 1 million global equivalents to date including over 100 million streams on Spotify alone.
Cheat Codes have also been commissioned for official remixes for acts like U2 and Maggie Lindemann, collaborated with David Guetta and were hand selected to tour with The Chainsmokers.
Little Mix are a global pop phenomenon who have to date sold more than 40 million records globally. This includes four platinum-selling albums and four UK No.1 singles. Their last album 'Glory Days' was their most successful to date spending a total of five weeks at No.1 in the UK, the most for a girl group since the Spice Girls in 1997. It's the biggest selling album by a female group this millenium in the UK, as well as the group's fastest selling album to date. The lead single 'Shout Out To My Ex' also won the Best British Single at the BRITS, giving Little Mix their first ever BRIT Award.
Little Mix were also named the UK's Most Watched VEVO Artist of 2017 with more than 189 million views in the UK this year. Their Glory Days Tour, sold more than 800,000 tickets, the biggest UK Arena tour for the last two years.
The band are about to embark on a new 2018 'Summer Hits Tour' throughout July. They are currently hard at work on their fifth album due for release later this year.
Cheat Codes upcoming summer shows include Billboard Hot 100 Festival, Ultra Europe, Tomorrowland, Summerfest, Mysterlands and SW4.
"When we did "Only You" we wanted to tell a story that a lot of people are familiar with, like picturing love as your favorite movie and this is the final scene. You don't want it to ever end but unfortunately there's no way to rewind the footage, the memories of that love are all we hold. Only you is about that special someone that no matter where you are in the universe your stars still align."
- Cheat Codes
"We love Cheat Codes and are really excited about this track. We can't wait for it to drop on Friday. It's a feel good summer anthem and we hope you all love it as much as we do."
- Little Mix