Celestial Cycles: Percussionist and Composer Sameer Gupta Spins Syncretic Gold from Ragas, Jazz Impulses, and a Community of Creativity on A Circle Has No Beginning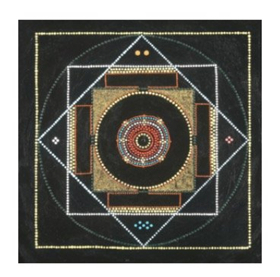 The small turnings of life spin into bigger eddies, the wheels within wheels where the everyday meshes with the transcendent. These patterns, captured in gestures, in cycles layered on cycles, have fascinated artists across cultures, across centuries.
They've also impacted New York-based composer and musician Sameer Gupta. Like trying to find the start of a complex rhythmic cycle, it's hard to know where to separate the tabla player and drummer's inspirations. Cosmic keys and midnight ragas intermingle, while techniques and concepts flow gracefully into one another. Gupta captures the mystery and clarity, alongside the celestial and personal message in his music, and distills it on A Circle Has No Beginning. (release: February 16, 2018)
The fine-tuning of the creative senses in the improvisational moment; that suspension of past and future thinking, informs Gupta's work, no matter what the style. Fluently moving from kit to tabla, Gupta has years of amalgams and experiments under his belt, from crafting unique jazz tunes to shaking up the Indian classical scene via the Brooklyn Raga Massive and high-profile curation efforts. He has played with everyone from Harry Belafonte and Prince Lasha to Karsh Kale and Liz Wright, and Gupta invited longtime friends from all his worlds to create an album that leaps from busy New York streets to meditative celestial realms.
One beginning for Gupta's latest work was a single song that moved him deeply; the opening track "Little Wheel Spin and Spin," by Buffy Sainte-Marie, Canadian folk singer, activist, and outspoken advocate for Native Americans. It resonated on many levels with Gupta. "One thing I learned from activists is that small actions are important and can be connected to bigger movements. Buffy St. Marie evokes that vibe and a presence that calls the spirits to teach us," reflects Gupta, who found Sainte-Marie and other Native American musical activists inspiring. "I think the most powerful way to get music going is not technically, not via the notes, but by creating a moment when all the people's senses gets fine-tuned. Jazz and improvisational music like Indian classical helps do that. They bring the listener to what's going on right now in the moment."
The moment is saturated, for Gupta, meandering through different shades and feelings. Clouds of melody lines coalesce and disperse, as solid grooves walk the line between frenetic drum-n-bass and tabla licks (Gupta's outstanding take on "With Blessing," a classic Bollywood song, one of several reimagined on the album). The expansive, dreamy electronic effects range far and wide, with several acoustic players anchoring the sound.
One of them: bold keyboard player Marc Cary (Focus Trio, Betty Carter, Art Taylor), a longtime friend. The buzzing sounds of Cary's Moog and Wurlitzer surprise and intrigue, and for Gupta, they are intimately and subtly connected to Indian classical cognates. "For me, Marc's role is about the drone, and manifesting that drone-like space," explains Gupta. "You hear and feel it, but it doesn't overpower what is happening. It's the water that fills in the textures and binds it together. The drone has a similar role in Indian classical music through the Tanpura [the drone-generating stringed instrument] often equated with an ocean. A building emerges from the waters, a palace with all its details, which is the composition or performance. Then it retreats back into the water. Song is emerging from this cosmic unifying oceanic drone."
Building these palaces of sound doesn't mean you have to stick to one set of bricks. Gupta chooses his artfully. The results have eclectic origins but sound seamless. Several pieces sprang from living in New York, like "Innocence in Harlem" and others have deep South Asian elements, like "Come Take Everything" and "With Blessings," classic Golden-Era Bollywood songs. Gupta reframes a melody by 18th Century Carnatic composer Tyagaraja into an improvisational springboard for the ensemble, and matches the tune of the Native American Indian Movement Song with a late-night raga ("Two Faces of the Moon").
Several tracks roam the area between the Indian classical alaap (un-metered improvisational exposition of a raga) and the jazz solo or improv. Gupta can shift between a focus on chords and a focus on mode, noticing where the two overlap. "In both cases, you have the freedom to hear and play whatever you want. Sometimes the color of the chords and tones feels more like a jazz chord to me," Gupta says. "Then, I'll notice, that another particular chord sounds a little bit like a raga. That's where I start to hear the jazz and Indian classical connection."
Gupta's connections to jazz spin with equal force on this album. As a young man, Gupta became obsessed with the playing of South African jazz pianist Moses 'Taiwa' Molelekwa, a musician's musician with a genius touch. Gupta was so inspired, in 2001 he eventually went to Molelekwa's home club, the Bassline in Johannesburg, though the pianist had passed away at a relatively young age before Gupta could meet him. Titled for Molelekwa's nickname, the melody for "Taiwa" came to Gupta on his return to the US.
He played around with various arrangements, then played it for Cary, who ultimately contributed his creativity towards getting closer to the essence of the song, and ultimately adding it to his set, so as to spread the story of the song around the world: "Marc told me later that that opening melody was stuck in his head, that he was crying singing it to himself." The piece has evolved through the blessings of several great musicians, a bridge developed by brilliant saxophonist and composer Casey Benjamin, performed by Stephon Harris's Blackout, and recorded by Robert Glasper under the title "For You." Gupta's arrangement refocuses the piece on the melody that came to him years ago, and Marc Cary's playing brings the piece back to its original, poignant form.
Some inspirations whirl in radically new directions, like "Prog-Raag Bhimpalasi," a fully improvised take on a melody Gupta picked up from shennai master Bismillah Khan. "Most of it is just a unbridled improvisation on Bhimpalasi, which is a North Indian Classical raga that reflects the 'veer rasa', or 'feeling of valor' - personally I picture the Superhero/Monkey God 'Hanuman', laughs Gupta. "We all work together with a natural chemistry, and all the musicians on the project can support as well as push. They all take their time, and that arc, or overall gesture, is important."
This arc doesn't form for its own sake, in service of technical sparkle or virtuosic posturing. Gupta's main goal is to move; to summon feeling and impression. "Technique and virtuosity will impress those who know the subject, but in such a diverse musical world isn't the point to connect with all people on an essential unifying level?" he muses. "Whether you know the craft or not, the final impression has to be moving and genuine; it has to elevate the senses, and try to respectfully push the boundaries of what we as creative minds are capable of realizing."
Related Articles
View More Music

Stories
More Hot Stories For You