Carl Anderson Releases New Song TEN DIFFERENT REASONS From Forthcoming EP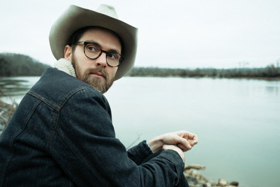 Today, the Nashville-based singer/songwriter Carl Andersonreleased "Ten Different Reasons" from his new EP You Can Call Me Carl out May 31 via Tone Tree Music. American Songwriter praised the "joyful mid-tempo rocker" and the EP's "knockout band of players, including Phil Cook and The War On Drugs's Charlie Hall."
Stream "Ten Different Reasons" via YouTube!
"'10 Different Reasons' is a song I wrote in the studio whilst recording You Can Call Me Carl," explains Carl Anderson. "The song seems to be about a desire to be present, and instead of obsessing on what has gone wrong or isn't working in my life, to try to focus on the things I do have going for me. Almost like a reminder to myself to try and extract as much joy from the process of making music as I possibly can. Growing up my Mom always told me, 'it's not about the destination, it's about the journey.' I didn't get into music for money or to be popular. I did it because It felt good and I couldn't help but do it. If this song or any of my little numbers are able to reach folks and mean something to them, well, that's just extraordinary."
The EP was produced by acclaimed songwriter/producer Chris Keup for roughly ten days of raw, loose magic at White Star, a renovated barn-turned-studio located on farmland outside Charlottesville, VA. On the record is an all star backing band of Charlie Hall (The War On Drugs), Phil Cook (Hiss Golden Messenger), Daniel Clarke (Natalie Prass), and Rick Holstrom (Mavis Staples).
Rolling Stone recently called the collection, "...an EP of Seventies folk tinges, wistful bedroom pop and melancholic country heartache."
The EP is lush but understated, with rich, rootsy arrangements underpinning Anderson's reedy voice as he grapples with the fallout from infidelity, heartbreak, and betrayal.
"I realized through this process that we're capable of handling a lot more pain than we think we can," says Anderson. "If that message can come through to even just one person who needs to hear it, then that's what it's all about."
Recently, Carl Anderson has written songs for artists like Andrew Combs, Devon Gilfillian and Becca Mancari. In the coming week, Anderson will announce tour dates in support of the new EP.
You Can Call Me Carl Tracklist:
1) Bottom Of The Bottle
2) Roses
3) She Took Everything
4) Ten Different Reasons
5) Dream Of You
6) Head Hung Low
Carl Anderson: Website - Facebook - Twitter - Instagram
Credit: Laura E. Partain
Related Articles View More Music

Stories
More Hot Stories For You