Billy Mohler to Perform at The Grammys, Releases Debut Album FOCUS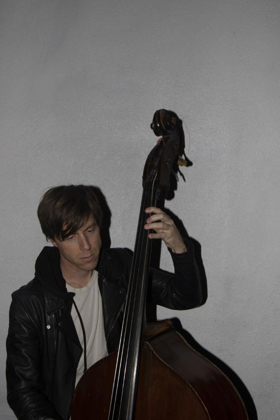 Bassist/Composer Billy Mohler returns his Focus to jazz after a successful career in rock, pop and R&B production and songwriting. Mohler's leader debut Focus is due out this March via Make Records, featuring a stellar chordless quartet with Shane Endsleyand Nate Wood of Kneebody and Chris Speed of a MULTITUDE of ensembles.
When bassist/composer Billy Mohler graduated from Berklee College of Music and joined the prestigious Thelonious Monk Institute of Jazz, a life in jazz seemed the most obvious prospect before him. But life, as it so often does, had other ideas: A Top 40 hit, production credits with some of pop music's most famous names, arena touring with rock and R&B legends, and a Grammy nomination all followed.
Mohler never forgot his first love, however. With his long-delayed debut album, Focus, he does just that - focuses his attention on his own distinctive voice, in collaboration with some of modern jazz's most acclaimed and inventive voices. Due out in late March on Mohler's own Make Records, Focus features a cutting-edge chordless quartet with trumpeter Shane Endsley and drummer Nate Wood (both of the progressive jazz-rock quintet Kneebody) and saxophonist Chris Speed (a founding member of the influential bands Human Feel and Claudia Quintet).
"I've made a lot of records and do a lot of songwriting for other people," Mohler says. "Now I'm just to strike more of a balance; I want to stretch my own musical abilities and play the music that I want to play, with musicians that I've always admired and have long wanted to play with."
The result is an adventurous set of original compositions, with sharply-honed melodies as memorable as anything Mohler may have written in the pop world but with an edge of tightrope-walking audacity that sparks inspired improvisational flights from the full quartet. Anyone familiar with the innovative work created in recent years by Mohler's bandmates will realize how thrilling that prospect sounds in light of these artists' dauntless creativity.
In part that stems from the band's undeniable chemistry - understandable from Wood and Endsley's shared history in Kneebody and Speed's work with both of them, but also from the fact that Wood and Mohler are nearly lifelong friends. The two started out playing music together as middle school students in Southern California, later becoming founding members of the million-selling group The Calling, which had an enormous hit in 2001 with "Wherever You Will Go," which enjoyed the second-longest run at number one in the history of the Billboard Adult Top 40 chart.
Long before that, however, Mohler was virtually born into music. His godfather is legendary singer Bill Medley of the Righteous Brothers, a childhood friend of Mohler's father. While his parents weren't involved in the business, Mohler grew up surrounded by music, from his mother's love of classic rock and '80s pop to his father's vast collection of jazz, which early on introduced Mohler to the likes of Miles Davis, John Coltrane, and Oscar Peterson. Those two strands would be forever intertwined in Mohler's imagination, coming to define his parallel lives in music.
In Nate Wood, Mohler found a friend and collaborator who shared his eclectic tastes and abilities. Wood's father was a touring keyboardist and the drummer grew up in a house full of instruments, the ideal playpen for Mohler's formative musicianship. "It was common practice for us to jam at Nate's house after school," Mohler recalls, "which always meant switching instruments back and forth. We would jam on heavy metal tunes and then work out reggae breakdowns. I didn't realize that was something unique until I was an adult."
When Mohler really began to delve into jazz, he discovered the music contained the virtuosity and electricity that so excited him about heavy metal, combined with the feeling and groove that attracted him to SoCal's thriving reggae scene. Intent on following in the footsteps of - and perhaps studying with - some of his favorite musicians, he applied to only one school: Boston's renowned Berklee College of Music.
After graduation Mohler moved home to L.A., where he was one of only five musicians accepted into the Monk Institute. While there, he enjoyed the opportunity to perform and study with jazz superstars Herbie Hancock, Wayne Shorter, Clark Terry, Jimmy Heath, Christian McBride, Brian Blade, Joshua Redman, Cassandra Wilson and Barry Harris, among others. Mohler was asked to perform at the U.S. Department of State in Washington, D.C. for then-Secretary of State Madeleine Albright's birthday in an ensemble consisting of himself, Hancock, Shorter, Terri Lyne Carrington, and Giovanni Hidalgo.
Despite that high-profile experience, though, Mohler didn't find the jazz community in California as amenable as the one he'd just left on the east coast. At the same time, he found unexpected success with The Calling, rocketing him into the world of pop and rock music. In subsequent years, Mohler toured and recorded with soul superstar Macy Gray and worked with singer-songwriter Aaron Bruno on the band that would become Awolnation.
With Rene Arseault, Mohler formed the production/writing team Riot City, which has co-produced songs featuring Lady Gaga and Aimee Osbourne, daughter of heavy metal icon Ozzy Osbourne. He's also worked with the likes of Kelly Clarkson, Jon Brion, Steven Tyler, and Liz Phair, and served as musical director for skateboarding legend Tony Hawk's Boom Boom Huck Jam tour. After founding Make Records, he began veering back towards jazz with the release of the debut album by The Jimmy Chamberlin Complex - an all-star jazz band led by the drummer of the Smashing Pumpkins.
Throughout that success, Mohler never lost track of the evolution of his favorite artists on the other side of the country (and the industry). "Whenever I was in New York you'd find me at the 55 Bar or Smalls all night. That's where my passion still was."
That passion can be heard throughout Focus, and is very obviously shared by his stellar bandmates. The chordless setting allows all four space and freedom to fully explore Mohler's vivid compositions, while freeing the bandleader from the sometimes utilitarian role of the bassist, granting him the freedom to spontaneously control and change the harmonic environment.
Mohler's return to jazz - his shift in Focus, to reprise the central theme of this album -- was in no small part inspired by his three young children, an experience that has the tendency to reorient one's perspective. "I started thinking about the bigger picture of life in general, about leaving something behind for our kids," he says. "I always liked that in the jazz world, no matter how successful you become you're able to build something that gives your name as an artist merit and weight."
Related Articles View More Music

Stories
More Hot Stories For You