Belly Release Video For MINE Ahead of First Major US Tour Since 1995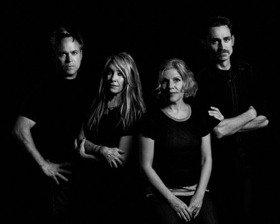 This summer, Belly embark on their first US tour in support of DOVE, their critically acclaimed new album & first release in 23 years. In celebration of the upcoming tour, the band released a video for "Mine."
Stream "Mine" via YouTube:
"Growing up in age of UHF there was a channel out of Boston, CHANNEL 56. They had a Saturday afternoon show called CREATURE DOUBLE FEATURE that was a weekly dose of Sci Fi, horror and B movies," explains the band's Chris Gorman, who directed the video. "Comic books, the Creature Double Feature and the Spencer's Gifts style pop culture of the 60's and 70's really established my early creative aesthetic sensibilities. The goofy approach to the making of these movies made the monsters lovable and sympathetic rather than terrifying. When I hear the word creature it immediately conjures mental images of these hapless lovable weirdos bouncing into each other. We were looking to do something without using the band, something that was more of just a visual experiment with simple eye candy, and my son's monster collection combined with cheap party lights and lava lamps just seemed like a natural pairing. I think 'Mine' is a love song, and what's more lovable than monsters?"
DOVE was produced and recorded by band member Tom Gorman alongside longtime friend of the group Paul Q. Kolderie (Hole, Throwing Muses, Radiohead).
The album was featured as an NPR Music First Listen, who said "Dove looks at the past only as a pathway to the present - at the sum of lives that have never stopped being lived, whether or not Belly was around to chronicle them."
Pitchfork said, "On their first album in over 20 years, Tanya Donelly and her band conjure the same potent mix of grace and force that fueled their 1990s output" while Rolling Stone proclaims, "...the group sounds 20 years better and more equipped at making Belly music, with its intricate textures, smart vocal harmonies and lyrics about grown-up concerns."
Belly, who formed in 1991, is Tanya Donelly (guitar, vocals), Tom Gorman(guitar), Chris Gorman (drums), and Gail Greenwood (bass). The band released their gold-certified critically-acclaimed debut album Star in 1993, which spawned the alternative radio and MTV staple "Feed The Tree" and led to Grammy nominations for Best Alternative Music Album and Best New Artist.
Belly will launch their first major US tour since 1995 in Los Angeles on August 8. "We're all looking forward to presenting these songs in a live setting, and having the opportunity to play together again," says Chris Gorman. "We should be in for a really exciting year."
Tour Dates:
8/8: Los Angeles, CA - Teragram
8/9: Los Angeles, CA - Teragram
8/10: San Francisco, CA - Great American Music Hall
8/11: Portland, OR - Revolution Hall
8/12: Seattle, WA - Neptune
8/22: Portland, ME - Port City
8/25: Brooklyn, NY - Music Hall of Williamsburg
8/26: Brooklyn, NY - Music Hall of Williamsburg
9/28: Philadelphia, PA - Union Transfer
9/29: Washington, DC - 9:30 Club
10/4: Madison, WI - Majestic Theater
10/5: Minneapolis, MN - Fine Line Music Cafe
10/6: Chicago, IL - Vic Theatre
Photo Credit: Gorman Studio