Thousand Below Announce Second Album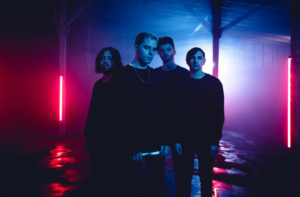 San Diego foursome Thousand Below have announced their second album Gone In Your Wake. The album, which is the follow up to 2017's The Love You Let Too Close, arrives on October 11 via Rise Records. The band has just dropped the video for the new track "Disassociate."

"'Disassociate' is a song about the common lapse of emotional and mental attachment to your immediate surroundings or present place in life as a result of traumatic experience or depression," the band said. "It's about that feeling we know all-too-well where you feel alone in a crowded room, no matter who you're surrounded by; be it friends, family, or co-workers. It's about the frustration of feeling so detached from your current place in the world that you feel you barely cast a shadow in the room at all. We've all been through this - we've all felt this at some point in time for one reason or the other. We wanted to capture that feeling in a heavier, high tempo, and more chaotic song than we've ever written before."
Thousand Below will hit the road this fall, supporting Of Mice & Men. All dates are below. The band previously shared the song "Chemical."
GONE IN YOUR WAKE TRACK LISTING:
"Chemical"
"Disassociate"
"Fake Smile"
"Alone (Out Of My Head)"
"The Edge Of Your Bed" (Featuring Michael McGough)
"Vanish"
"171 xo"
"Learn To Lose And It All Gets Easier"
"Lost Between (Featuring Marcus Bridge)
"The Other Side Of Things"
"Gone In Your Wake"

THOUSAND BELOW ON TOUR:
WITH OF MICE & MEN, FOR THE FALLEN DREAMS, + BLOODBATHER:
9/23 - Los Angeles, CA - Teragram
9/24 - San Diego, CA - Soma
9/25 - Flagstaff, AZ - The Green Room
9/27 - Salt Lake City - Complex
9/28 - Denver, CO - Marquis
9/29 - Lawrence, KS - Granada
10/3 - Columbus, OH - Basement
10/5 - Ottawa, ON - Brass Monkey
10/6 - Toronto, ON - Lee's
10/7 - Montreal, QC - Fairmont Theatre
10/9 - Philadelphia, PA - Volatage Lounge
10/11 - Virginia Beach, VA - Elevation 27
10/12 - Greensboro, NC - The Blind Tiger
10/15 - Houston, TX - Warehouse Live
10/16 - Austin, TX - Come And Take It Live
10/17 - Dallas, TX - Cub Dada
10/19 - Mesa, AZ - The Underground
Related Articles View More Music

Stories