The 2018 Ailey Spirit Gala Benefit Raised Over $1 Million For Educational Programs & Scholarships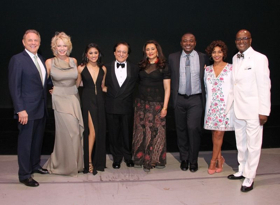 Led by Artistic Director Robert Battle, Alvin Ailey American Dance Theater's 2018 Lincoln Center engagement continued last night with the star-studded Ailey Spirit Gala. The one-night-only benefit performance and party featured Honorary Chair Jussie Smollett, who stars on Fox's Empire and recently released his debut album, Sum of My Music. The evening honored Vikas Kapoor and Ailey Trustee Jaishri Kapoor for their remarkable support of the Ailey organization and their dedication to Ailey's educational initiatives. Gala Co-Chairs were Stephen Meringoff & Kim Charlton, Almaz & Marc S. Strachan, and Daria L. & Eric. J. Wallach; and Vice Chairs were Michele & Timothy Barakett, Robyn & N. Anthony Coles, Leslie & Tom Maheras, and Pamela D. Zilly & John H. Schaefer. Over $1 million was raised to support Ailey's extensive educational and training programs for young people, including AileyCamp and scholarships to The Ailey School.
A "Celebrating Revelations" participatory workshop on Lincoln Center's Josie Robertson Plaza got things started with the public dancing Alvin Ailey's masterpiece taught by Nasha Thomas, National Director of AileyCamp and former Company dancer. This special event coincided with NYC Pride and launched Ailey's celebration of NYC Dance Week, a citywide festival from June 14-23, with over 30 free classes offered at Ailey Extension for first-time students.
Afterwards, guests enjoyed performances by all parts of the Ailey organization, including AileyCamp in a work by instructor Jonathan Lee and Ailey II's Marcus Williams, dedicated to hip-hop legend Prodigy of Mobb Deep and in honor of the program's 30th year; gifted young dancers from The Ailey School showcasing their talents in Robert Battle's Battlefield; rising stars of Ailey II in an excerpt of Juel D. Lane's Touch & Agree; and Alvin Ailey American Dance Theater in an excerpt of Jamar Roberts' Members Don't Get Weary and a memorable finale of Revelations.
Prominent figures in the worlds of entertainment, business, philanthropy, and politics attended the gala, including Manhattan Borough President Gale Brewer, choreographer Jessica Lang, Kennedy Center honoree Carmen De Lavallade, Ailey Board President and former Chairman and CEO of BET Networks Debra L. Lee, CNN anchor Don Lemon, model Damaris Lewis, fashion designer and stylist B Michael, New York State Council on the Arts chair Katherine Nicholls, film legend Cicely Tyson, Ford Foundation President Darren Walker, The Breakfast Club host Angela Yee, and Urban Bush Woman founder Jawole Willa Jo Zollar. After the performance, Ailey's Board of Trustees and more than 800 guests joined for a soiree on the promenade with musical stylings from deejay to the stars DJ M.O.S.
Ailey's Lincoln Center engagement continues with three special programs, including a Saturday Family Matinee featuring a free Q&A with Ailey dancers and culminating with two performances on Father's Day. For the comprehensive season press release, with details on the programs and repertory, click here.
Family Matinee - Saturday, June 16 at 2pm
Following the Musical Icons Saturday matinee program, the entire family is invited to stay in the theater for a free Q&A moderated by Rehearsal Director and Guest Artist Matthew Rushing with dancers Rachael McLaren and Jamar Roberts who also choreographed Members Don't Get Weary, featured on the program.
Father's Day - Sunday, June 17 at 3pm and 7:30pm
Two exciting Sunday programs offer an unforgettable Father's Day experience for parents and kids. At 3pm, enjoy the Ailey, Then & Now program, featuring works by choreographers central to the Ailey repertory; at 7:30pm, the Musical Icons program is sure to move the whole family with ballets set to music by legendary artists.
NYC Dance Week
Ailey Extension celebrates NYC Dance Week, a citywide festival from June 14-23, with over 30 free dance and fitness classes offered at The Ailey Studios (405 West 55th St. at 9th Ave.). A variety of classes are offered each day for first-time students, including Horton (the modern dance technique seen in Revelations), West African, Hip-Hop, Vogue, and Ballet, among others. New and returning students have the chance to take two classes for free: Katherine Jimenez's New York Style Mambo class on Saturday, June 16 at 4-5:30pm and Karen Arceneaux's DanceFit class on Friday, June 22 at 6-7pm. To view Ailey Extension's complete NYC Dance Week schedule, visit aileyextension.com/nycdanceweek.
Lincoln Center Season Programming - Subject to Change
Ailey, Then & Now: Stack-Up / Mass / In/Side, Revelations
Friday, 6/15 at 8:00pm, Sunday, 6/17 at 3:00pm
Musical Icons: The Golden Section / Members Don't Get Weary / Ella, Revelations
Saturday, 6/16 at 2:00pm*, Sunday, 6/17 at 7:30pm
Celebrate Women: EN / A Case of You, Shelter / Revelations
Saturday, 6/16 at 8pm *Family Matinee - followed by a post-performance Q&A session with the dancers