Photo Flash: Patricia Kennedy Hosts Wounded Vets at Joffrey Ballet's NUTCRACKER
Thanks to the efforts of philanthropist and veterans activist,
Patricia Kennedy
, founder of Step Up 4 Vets, a not for profit organization whose mission is to partner in the transition of our returning veterans as they readjust, redirect and rebuild their civilian lives, 55 veterans of Iraq and Afghanistan made up for many missed holidays with an all day family celebration centered around the acclaimed Joffrey Ballet's renowned Nutcracker. 26 years ago, longtime Joffrey Board member & close friend of
Robert Joffrey
and
Gerald Arpino
raised the funds to create the Joffrey's now internationally acclaimed Nutcracker. Scroll below for photos!
The festive day began with an elegant private luncheon hosted by Ms. Kennedy in the opulent mezzanine lounge of Chicago's historic Auditorium Theatre at Roosevelt University. Everyone was in the holiday spirit and even USN STG Jay Somers' German Shepherd service dog Kodie sported a huge pair of reindeer antlers! For Ms. Kennedy and Step Up 4 Vets it was the Joy of Giving Back celebration for those who have sacrificed so much for our country.
The main mission of Step Up 4 Vets Joy of Giving Back program is to provide our injured warriors the healing power of the performing arts and bonding experiences with their families to make up the missed holidays while serving our country far from home in harm's way.
Many of the veterans attending the festivities receive care from the Captain James A. Lovell Federal Health Care Center (FHCC) in North Chicago, IL. The FHCC is the only integrated DoD/VHA facility in the country that serves Active Duty, their Dependents and Veterans. There were also representatives from the US Marine Corps. Wounded Warrior Regiment in the Midwest Region that attended this event to honor those who gave up so much for our country.
Midway through the luncheon, Ms. Kennedy, a former board member and longtime supporter of The Joffrey and other dance organizations, took a few moments to explain her transition from "ballet slippers to combat boots". Joking that "they both lace up", Ms. Kennedy explained how her work with Career Transition for Dancers' which aids dancers who have suffered a career-ending injury and must transition to a second act career served as both model and motivation for her to help our heroes transition to the new normal of their civilian lives.
A very special presentation followed when Step Up 4 Vets Founder, Ms. Patricia Kennedy, presented her organization's "Peace One Earth Medallion" to retired Marine Cpl. Aaron Mankin.
During Operation Iraqi Freedom in May of 2005 a roadside bomb attack killed six of his fellow Marines and left him burned over 25% of his body. The most significant injuries were to his face.
Cpl. Mankin was invited by philanthropist Ronald Katz to be the first patient of Operation Mend at UCLA Ronald Reagan Medical Center. He has endured nearly 60 surgeries and is a spokesman for the program.
"I've been involved with plenty of organizations that want to take care of me. Step Up 4 Vets and Ms. Kennedy want to care for me. And they do that by taking care of the things I care about, my family and the memories we make together now." Mankin said. "I'm honored to wear this medallion and it has already become a family treasure."
Ms. Kennedy created the Peace One Earth Medallion to express gratitude to the defenders of our freedoms while acknowledging the hope for a world at peace.
The Peace One Earth Medallion depicts a dove alighting upon the earth's twin hemisphere. A single drop of blood falls from the dove's heart symbolizing the "last drop" of blood to be shed for peace, The words Education, Equality, Ecology, Economy and Equity surround the central image and are the "5 Es", the essential elements for a peaceful and productive society.
In the past few years, the Peace One Earth Medallion has been presented to a number of prominent Americans and unsung heroes from the military and their families including entertainer and USO champion Wayne Newton, astronaut Buzz Aldrin, actors Hugh O'Brian, Stefanie Powers, Kate Linder, Gary Sinise, Ed Begley, Jr., and Mike Vogel, John Wordin, Executive Director Fitness Challenge Foundation, Los Angeles Dodgers' Rick Monday, Los Angeles Kings' Luc Robitaille and Mayor of Los Angeles Antonio Villaraigosa, Connie Mendoza-Piper in honor of Staff Sgt Christopher Neal Piper killed in action in Afghanistan June 16, 2005, Tiffany Smiley wife of Capt Scotty Smiley, the first blind active-duty Army officer, injured in Afghanistan April 6, 2005 . Eve Bucca in honor of her husband military veteran and FDNY Fire Marshal Ron Bucca who perished on 9/11 and the Metherell Family in honor or Mark Metherell former Navy Seal Team 5 killed in Iraq April 10, 2008.
Following the lunch, guests welcomed by Joffrey Ballet Artistic Director Ashley Wheater took their orchestra seats in the magnificent theatre to view the world's most acclaimed production of "The Nutcracker" by the incomparable Joffrey Ballet. Featuring choreography by Robert Joffrey and Gerald Arpino, score by Peter llyich Tchaikovsky and performed by The Chicago Philharmonic, the Joffrey's awe-inspiring Nutcracker has captivated audiences for 25 years with brilliant costumes, larger than life scenery, entrancing storytelling and Tchaikovsky's famous score.
At the final curtain, Cpl. Aaron Mankin made a special onstage presentation of the bouquet to ballerina Christine Rocas, the lead dancer portraying The Sugar Plum Fairy.
Trolleys then shuttled the families to the historic Palmer House. The adults enjoyed cocktails in the State Ballroom while being entertained by holiday carolers, magicians and characters from The Nutcracker. The children had the chance to participate in holiday themed Creation Stations including Marzipan Magic Tricks, Bubblegum Bead Station to make bracelets and necklaces, Candy Cane Creativity Station where they decorated wooden soldiers, crowns and pointe shoes with paint, glitter, feathers and rhinestones, Nutcracker Party Photo Booth where they took photos in front of the magical 'Green Screen' with Wes Cleaver Photography, Rock Candy Mani's, Palmer House Pastries where the kids decorated sweet treats with the Palmer House's Pastry Chef Fabrice, Licorice Lego Station allowing guests to use Lego building blocks to create structures resembling all things Nutcracker and much more. They also enjoyed personalized Nutcracker T shirts hand painted by artist Roy Adorjan of RNR Airbrushing and Apparel
Following cocktails, guests were ushered into the beautifully bedecked Grand Ballroom for The Annual Nutcracker Family Dinner organized by The Women's Board of the Joffrey Ballet and chaired by Carol Stone and Laura Kofoid. The guests and especially the children danced 'till they dropped to the hip and hot sounds of DJ Brad Blumenthal's Energy Productions.
The following day, Ms. Kennedy and a small group wrapped up the weekend with Mass at St. John Cantius Catholic Church celebrated by Reverend C. Frank Phillips, C.R. Built in 1893 just before the Chicago World's Fair, the historic baroque church is one of the finest examples of sacred architecture in the city. It was also the site of Ms. Kennedy's investiture in 2008 officiated by His Eminence Francis Cardinal George. Lady Patricia Kennedy, was recently promoted to Dame Grand Cross of the Sacred Military Constantinian Order of St George for her philanthropy. Dame Kennedy is one of only six women and the second American in the history of the order to receive this highest honor.
For Ms. Kennedy, The Joffrey Ballet Nutcracker is the continuation of a tradition begun several years ago when she purchased a viewing party for the Macy's Thanksgiving Day Parade and hosted dozens of veterans and their families for a balloon's eye view of the spectacular. This year, she is sharing her passion for dance with her veteran constituency recognizing the healing powers of the performing arts. In 2013, Step Up 4 Vets will celebrate its fifth anniversary and Ms. Kennedy will host additional holiday centered events for our veterans including the Joffrey Nutcracker and Family Party and the Macy's Thanksgiving Day Parade Brunch.
For over twenty year's Patricia Kennedy has had a deep impact on the future of dance, especially in the ballet world as a great supporter of the Joffrey Ballet. Indeed as the program notes, "The Joffrey Nutcracker was made possible by the extraordinary dedication to the vision of Robert Joffrey of our former board member Patricia Kennedy NY/LA 1985-1993 who spearheaded and underwrote the Joffrey Ballet 30th Anniversary Poster in 1986 designed by artist Melanie Taylor raising vital funds for this production".
Patricia Kennedy's efforts on behalf of our returning veterans focus on ameliorating the many problems they face upon returning home from battle. She believes it is a national tragedy that many of these true American heroes must contend with issues such as a homelessness, addiction, and Post Traumatic Stress Disorder and, that rather than honoring their sacrifice, we as a nation have either marginalized or forgotten those who have sacrificed so much for us. Patricia Kennedy wants to make a difference and she hopes that Step Up 4 Vets will be instrumental in giving our veterans the future they deserve.
For more information and if you wish to donate to Step Up 4 Vets Joy of Giving Back program please visit www.StepUp4Vets.org
Nutcracker Ballet photos courtesy by Herbert Migdoll, Joffrey Ballet. All other photos by David Crotty/Patrick McMullan Company.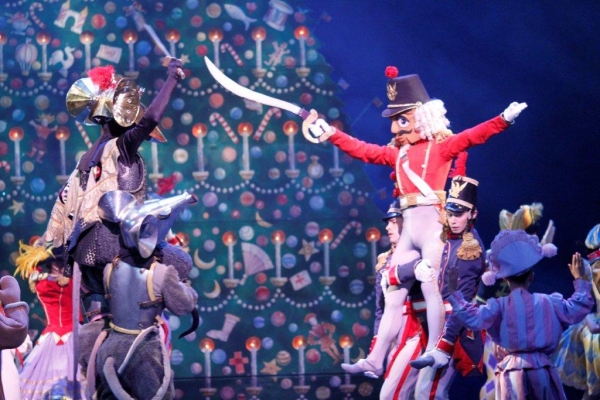 Battle Scene

April Daly

Christine Rocas, Rory Hohenstein and Company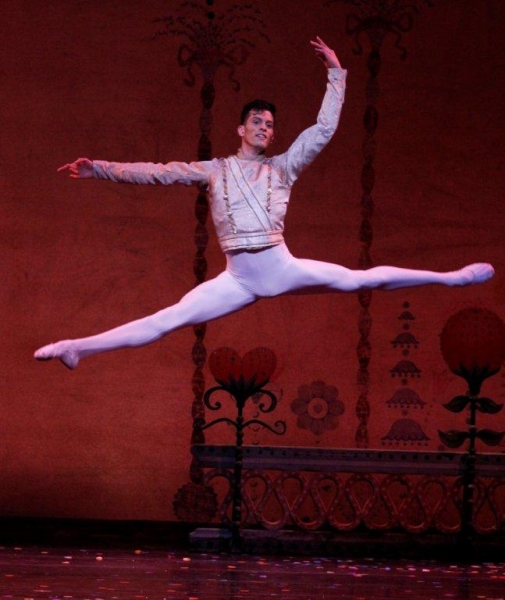 Dylan Gutierrez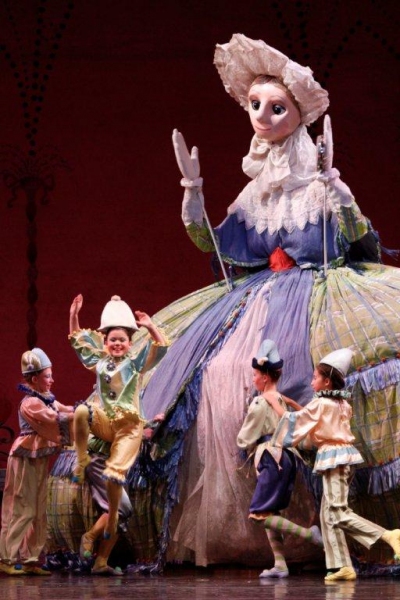 Francis Kane as the Nutcracker with the Children's Cast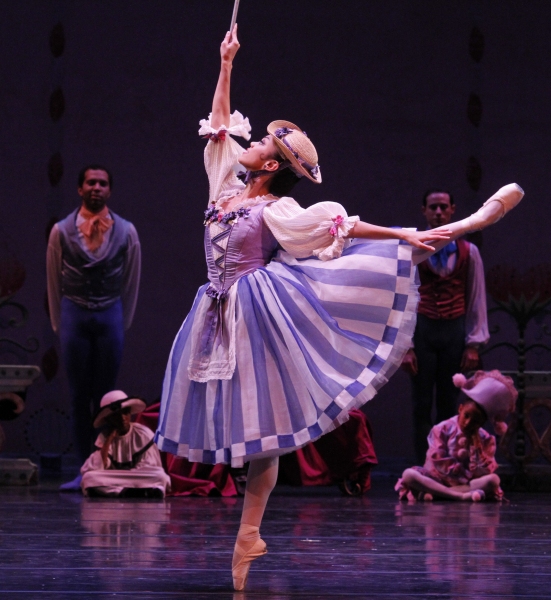 Jeraldine Mendoza

Ashley Dusa, Lindsey Dusa, Patti Dusa, USN YN Joseph Dusa

Travis Coursey, Patricia Kennedy, USMC Cpl. Aaron Mankin, Maddie Mankin, Hunter Mankin, Brilee Coursey

Arlene Pearson, Patricia Kennedy, Jeffrey Pearson, Cassie Leja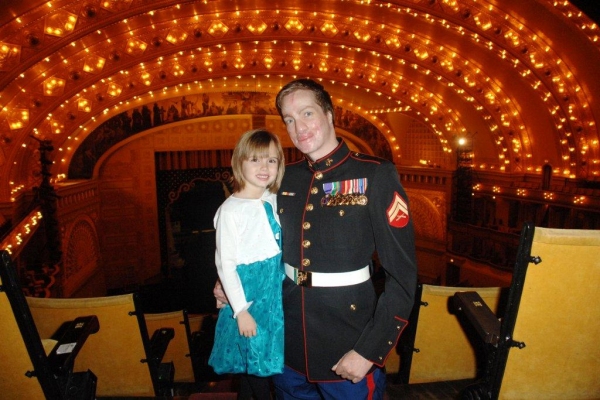 Maddie Mankin, USMC Cpl. Aaron Mankin

Kate-Lynn Somers, Juliana Somers, USN STG Jay Somers, Cysalee Somers, Pamela Somers, Patricia Kennedy

USMC Cpl. James Dahan, Kalel Dahan. Erin Dahan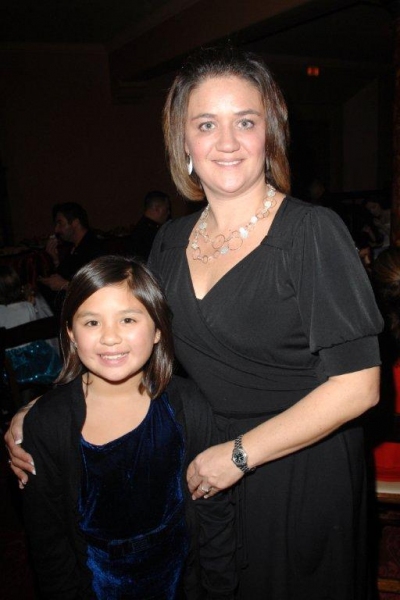 Joey Cabuyadao, Anne Cabuyadao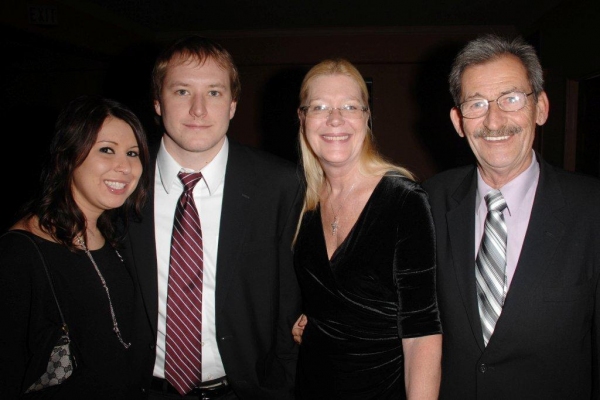 Kate Mohr, USN GSM Kevin Anderson, Patrice Anderson, Bernie Baker

Alexander Nephew, Gigi Nephew, USM GSM Donald Nephew

Clair Kerrigan, USMC LCpl. Patrick Kerrigan

Patricia Kennedy, Gianna Marzelli, USMCSgt. Gene Marzellii

Grace Carillo, Angelique Carillo, USAR SPC Joel Carillo

Patricia Kennedy, pins Peace One Earth Medallion on USMC Cpl. Aaron Mankin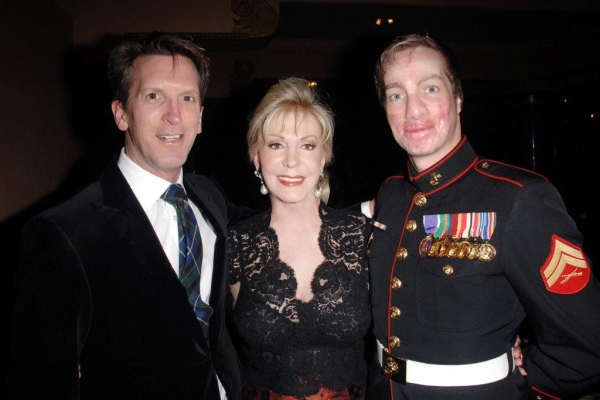 Joffrey Artistic Director Ashley Wheater, Patricia Kennedy, USMC Cpl. Aaron Mankin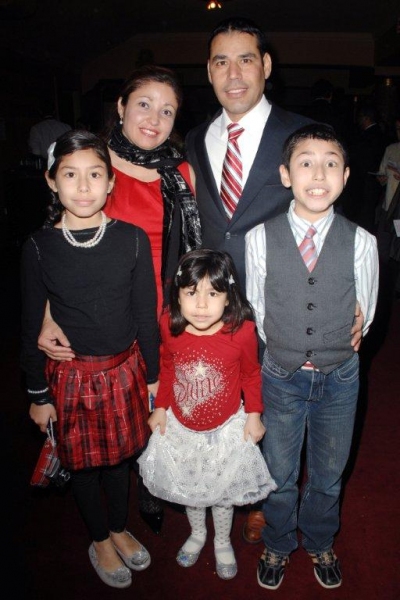 Gabrielle Mota, Lilly Mota, USN SCPO Ramon Mota, Elizabeth Mota, Giulian Mota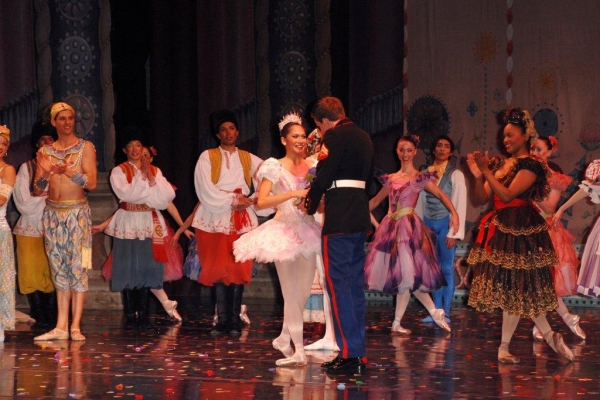 USMC Cpl Aaron Mankin prsents bouquet to Christine Rocas

USMC USMC Cpl. Aaron Mankin, and Joffrey dancer Dylan Gutierrez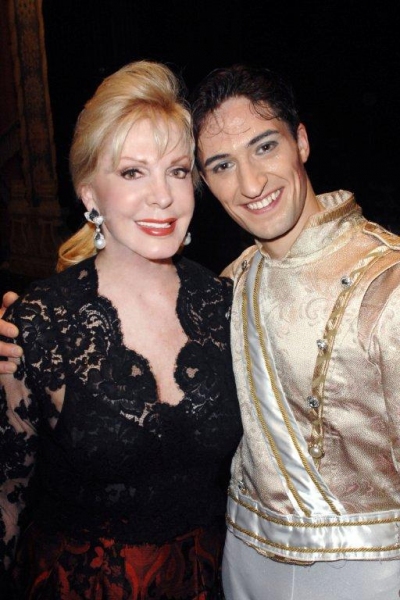 Patricia Kennedy, and Joffrey dancer Temur Suluashvili

USMC Cpl. Aaron Mankin, Patricia Kennedy, Temur Suluashvili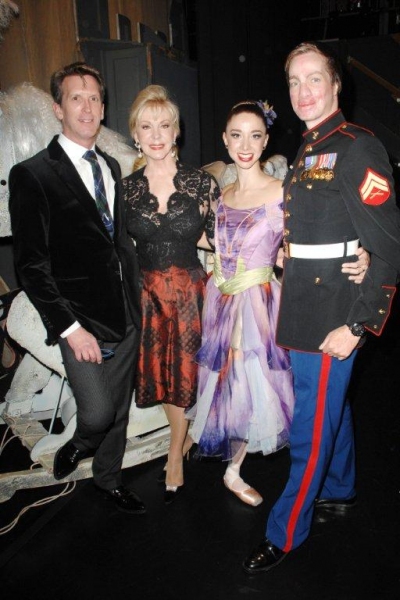 Ashley Wheater, Patricia Kennedy, April Daly, USMC Cpl. Aaron Mankin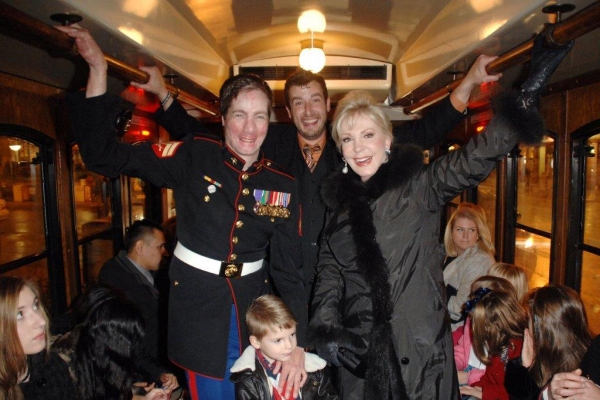 On the trolley USMC Cpl Aaron Mankin, Travis Coursey, Patricia Kennedy

Patricia Kennedy, USMC Cpl. Aaron Mankin

Erin Dahan Patricia Kennedy, Kalel Dahan, USMC Cpl. James Dahan

Related Articles
View More Dance

Stories
More Hot Stories For You