Peak Performances Presents Australia's Leading Indigenous Dance Theater With U.S. Debut Of CUT THE SKY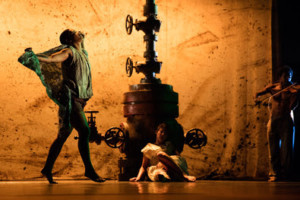 Peak Performances continues its 2018-19 season of genre-and-convention-defying performances with the U.S. premiere of Cut the Sky, from Marrugeku, Australia's preeminent dance theater ensemble of Indigenous and non-Indigenous artists. A rock concert, a work of modern dance, and a plea for environmental action and the rights of Indigenous peoples, Cut the Sky addresses humanity's frailty in the face of its own actions. The "multi-faceted, fast moving, and dark" (The Guardian) performance follows a group of climate refugees living in a landscape scorched by climate change, facing yet another extreme weather event. The piece, collaboratively conceived by Marrugeku co-artistic directors Dalisa Pigram, Rachael Swain (concept) and Edwin Lee Mulligan (poems); directed by Rachael Swain;and choreographed by Dalisa Pigram and Serge Aimé Coulibali, comes to the Alexander Kasser Theater at Montclair State University (1 Normal Ave., Montclair, NJ) November 15-18.
In its breathtaking 70 minutes, Cut the Sky collides dance, video, poetry, and song. Propelled back and forward in time, Cut the Sky revisits conflict with mining companies, the destruction of fauna, and the relegation of the marginalized, while contemplating the gift of a human life and the life giving force of the sun. Butterflies swarm searching for water; dancers disintegrate into the light; a song is sung calling for rain.
The performance in five acts is based on poems written and spoken by Nyikina/Walmajarri artist Edwin Lee Mulligan, "a remarkable performer and storyteller" whose text in Cut the Sky is "a paean to the gifts of mortality and belonging, its counter drive all about danger and the repetition of the havoc that humans can wreak" (Australian Book Review). It includes original songs from future soul singer-songwriter Ngaiire, Indigenous songs by the cast, and Nick Cave and Buffalo Springfield covers, sung by Ngaire Pigram.
At once local and international in its approach to a global crisis that will affect all regions and peoples on the globe uniquely, this collaboration, specifically centered around people in the Kimberley region in Western Australia, brings together artists from Asia, Africa, Europe, and remote and urban Australia. Climate change's impacts threaten, in Australia, to disproportionately harm Aboriginal people in remote areas-and perpetuate embedded structures of marginalization. Cut the Sky applies both a multidisciplinary artistic, poetic, and Indigenous perspective to a crisis often otherwise considered through the lenses "a lot of people coming from science and logic.'"[1]
The cast/co-creators include Eric Avery, Josh Mu, Edwin Lee Mulligan, Ngaire Pigram, Dalisa Pigram, and Miranda Wheen. The creative team includes Hildegard de Vuyst (Dramaturg), Matthew Fargher (Musical Director), Desire Machine Collective (Media Designers & Visual Concept), Stephen Curtis (Set and Costume Designer), Damien Cooper (Lighting Designer, and Patrick Dodson (Cultural Advisor).
Performance Schedule and Ticketing
Performances of Cut the Sky will take place Thursday, November 15, and Friday, November 16 at 7:30pm, Saturday, November 17 at 8pm, and Sunday, November 18 at 3pm at the Alexander Kasser Theater at Montclair State University (1 Normal Ave, Montclair, NJ).On Saturday, November 17 Peak Performances Executive Director Jedediah Wheeler moderates a post-performance First Impressions conversation with Marrugeku co-artistic directors Dalisa Pigram and Rachael Swain.
Tickets are affordably priced at $30, and can be purchased at www.peakperfs.org or 973.655.5112. Tickets are always free for Montclair State students.
About Marrugeku
Marrugeku creates innovative intercultural dance theatre from the northwest Australian experience, where desert meets the sea, Australia meets Asia and where cultures twine, fuse and morph. The company is under the artistic direction of Dalisa Pigram and Rachael Swain. Marrugeku was founded and based in Western Arnhem Land from 1994 till 2002 where it developed the ground breaking intercultural and interdisciplinary productions Mimi (1996) and Crying Baby (2001) in collaboration with Kunwinjku artists and story keepers.
Since 2003 Marrugeku is proud to create its contemporary productions in the land of the Yawuru people of Broome, WA. Drawing from the lives of people and communities living in remote northwest Australia, Marrugeku share the memories and traditions of Indigenous culture and experience through contemporary dance-theatre. Productions produced in Broome include the dance, film and karaoke work Burning Daylight (2009), the youth production Buru (2011), the multi-lingual dance and video solo Gudirr Gudirr (2013), performed by Dalisa Pigram and designed by Vernon Ah Kee, and most recently Cut the Sky (2015).
Marrugeku's ambitious large-scale outdoor and indoor productions are created through long-term collaborations with artists from remote and urban locations, though innovative international collaborations and in dialogue with Indigenous cultural custodians. The company utilises contemporary dance, traditional and contemporary music, circus, installation and video art to create its visually spectacular productions. Works are presented in a variety of alternative locations from remote Indigenous communities to international arts festivals in Australia and around the world.
Marrugeku maintains a rare position as an innovative contemporary performing arts company that practices in the northwest of Australia. The company conceives, creates, and presents its body of work wholly in Indigenous contexts and in remote conditions and as such responds directly to key issues facing those communities. Broome is an ideal home for Marrugeku to progress its central aims of culture making and culture mapping, and it is the Broome Indigenous community's own particular relationship to place, forged by a complex and often painful history, that drives Marrugeku's work.
About Peak Performances
Peak Performances is a program of the Office of Arts and Cultural Programming at Montclair State University and has been honored by the New Jersey State Council on the Arts with an Arts Citation of Excellence and Designation of Major Impact. Programs in this season are made possible in part by the New Jersey State Council on the Arts/Department of State, a Partner Agency of the National Endowment for the Arts; and the Mid Atlantic Arts Foundation.