New Victory Announces Victory Dance Summer 2018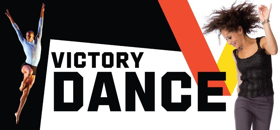 This July, The New Victory Theater will present its fifth season of Victory Dance, the Theater's initiative to provide free dance and dance education for kids in New York City day camps, schools and youth programs over the summer. From July 11 - 27, 2018, Victory Dance features three weeks of compelling contemporary dance performances carefully curated for kids ages eight and older.
Sharing the New Victory stage in a mixed bill of the City's most acclaimed dance companies and soloists, this year's Victory Dance artists include A Palo Seco Flamenco Company, Ayodele Casel, Calpulli Mexican Dance Company, Dance Theatre of Harlem, Davalois Fearon Dance, Ephrat Asherie Dance, Eva Dean Dance, Parul Shah, Paul Taylor's Company B, Pilobolus, Seán Curran Company and Stephen Petronio Company.
Between each piece, New Victory Teaching Artists and Education staff will provide insight into each work, sharing more about the company, choreographer or the dance in activities designed to engage minds and bodies in explorations of the work. At the end of the program, these moderators will return to the stage to lead a post-show Talk-Back. In this format, New York City kids have a unique opportunity to engage with Victory Dance choreographers and dancers, and the creators, in turn, learn more about how their work affects young people.
Designed to serve New York City students enrolled in NYC Department of Education summer school enrichment programs, such as Summer Arts Institute, subsidized day camps and social service agencies, Victory Dance offers:
FREE tickets to daytime dance performances in a historic jewel box theater

FREE Talk-Backs with Victory Dance choreographers and companies

FREE dance-related workshops, held at the school or camp facility before or after students' visit to the theater, to deepen students' viewing experiences

FREE New Victory School Tool Resource Guides to support further exploration of the art form in the students' day-to-day curriculum
Since its inception, Victory Dance has partnered with 47 dance companies who share the Theater's mission to celebrate the art form and inspire young people to embrace live performing arts. This summertime series, which reaches more than 4,000 NYC kids, mirrors the education programs The New Victory Theater provides to 35,000 students throughout each school year. The New Victory Theater looks forward to sharing live dance performance on stage, exploring the art form in classrooms and building relationships that will have an impact on NYC kids from summer to summer.
Click here for an overview of Victory Dance Summer Education Partnerships.
In addition to the free daytime performances for Victory Dance Summer Education Partnership students, one evening performance per week will be made available to the general public at $10 per ticket.
Each 90-minute Victory Dance performance includes a Talk-Back led by a New Victory Teaching Artist. The below programs are subject to change.
---
Program A:
School/Day Camp Performances: July 11 - 13 at 11am
Public Performance: July 12 at 7pm
Pilobolus All Is Not Lost

Ayodele Casel While I Have the Floor

Stephen Petronio Company Bud Suite

Eva Dean Dance BOUNCE Surfing (Excerpts)
---
Program B:
School/Day Camp Performances: July 18 - 20 at 11am
Public Performances: July 19 at 7pm
Paul Taylor's Company B (Excerpts)

Seán Curran Company Social Discourse (Excerpts)

Davalois Fearon Dance Time to Talk (Excerpts)

A Palo Seco Flamenco Company El Martinete
---
Program C:
School/Day Camp Performances: July 25 - 27 at 11am
Public Performances: July 26 at 7pm
Ephrat Asherie Dance Odeon (Excerpts)

Parul Shah Enduring Silence (Excerpts)

Calpulli Mexican Dance Company Mexika Tiawi! (Mexicans Onward!)

Dance Theatre of Harlem Harlem on My Mind (Excerpts)
---
Victory Dance is supported, in part, by the Jerome Robbins Foundation, Howard Gilman Foundation, Jody and John Arnhold, public funds from the New York City Department of Cultural Affairs in partnership with the City Council, and the Harkness Foundation for Dance.
All performances of Victory Dance will take place at The New Victory Theater (209 West 42nd Street). Victory Dance Education Partnerships are available free of charge to New York City day camps and school programs. For more information, please contact Education_Tickets@NewVictory.org. Tickets for public performances of Victory Dance are $10 and are available online (NewVictory.org) and by telephone (646.223.3010) beginning April 26.
The New Victory Theater brings kids to the arts and the arts to kids. Created in 1995 on iconic 42nd Street, this nonprofit theater has become a standard-bearer of quality performing arts for young audiences in the United States. Reflecting and serving the diverse city it calls home, The New Victory is committed to arts access for all students, teachers, kids, families and communities of New York to experience and engage with the exemplary international programming of theater, dance, circus, puppetry and more on its stages. A leader in arts education, youth employment and audience engagement, The New Victory Theater has been honored by the President's Committee on the Arts and the Humanities with the 2014 National Arts and Humanities Youth Program Award, by Americans for the Arts with a National Arts Education Award, and by the Drama Desk for "providing enchanting, sophisticated children's theater that appeals to the child in all of us, and for nurturing a love of theater in young people."
Founded in 1990, The New 42nd Street is an independent nonprofit organization charged with the continuous cultural revival of 42nd Street between 7th and 8th Avenues, building on the foundation of seven historic theaters to make extraordinary performing arts and cultural engagement part of everyone's life. The New 42nd Street fulfills this purpose by ensuring the ongoing vibrancy of 42nd Street's historic theaters; supporting performing artists in the creation of their work at the New 42nd Street Studios and The Duke on 42nd Street; creating arts access and education at The New Victory Theater, New York's premier theater for kids and families; and through the New 42nd Street Youth Corps, its model youth development initiative, which pairs life skills workshops and mentorship with paid employment in the arts for NYC youth. Inspired by the city it serves, The New 42nd Street is committed to the transformational power of the arts.