D.C.'s Chamber Dance Project Reaches Beyond The Stage For A World Premiere Dance Film A SINGLE LIGHT
A Single Light, will take place online on September 24, 2020.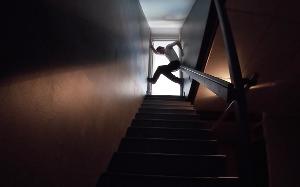 Chamber Dance Project, Washington's premier contemporary ballet company, presents New Works 2020 (& beyond). Chamber Dance Project reaches beyond the stage-and the expected-to present virtual performance events that showcases artists with exciting new dimensions of innovation and intimacy.
Following the success of a July 31 screening of new works created in four cities across America, another free screening of a world premiere dance film collaboration, A Single Light, will take place online on September 24, 2020. Reserve a free ticket for the nationally-presented screening at chamberdance.org/beyond or call 202-499-2297 for more information.
On Thursday, September 24, be the first to view a new dance film collaboration by the creators of last season's acclaimed Prufrock: choreographer Diane Coburn Burning and composer James Bigbee Garver, followed by the first public screening of Exit Wounds with the original cast Andile Ndlovu and Luis Torres.
A Single Light will incorporate vignettes choreographed by Diane Coburn Bruning through July Zoom rehearsals with seven of the company's dancers in their homes. The film, now in post-production, will be a collaboration with the composer of last season's acclaimed Prufrock, James Bigbee Garver, working with award-winning producer and filmmaker David Hamlin. The evening will also include the first public screening of a film made of Exit Wounds with the original cast. In keeping with the positive and creative outlook of CDP founder, Diane Coburn Bruning, there will be a "red carpet" post-show before the film.
"Embracing the new realities of a world living under pandemic, CDP's New Works 2020 (& beyond) looks to offer audience members a unique and memorable virtual performance experience that they can take to heart every bit as much as if they were seated in a theater. Perhaps even more so, as they will be part of a global audience sharing in the creativity of CDP's fabulous artists together," said international arts writer and critic Steve Sucato.
About the Dancers
Christian Denice is in his first year with Chamber Dance Project. He has worked with Odyssey Dance Theatre, River North Dance Chicago, Company E, Montgomery Ballet, BODYTRAFFIC, the Cambrians, and Les Ballets Jazz de Montreal. Christian has spent the past two years on faculty with the Joffrey Academy of Dance and Hubbard Street Dance Chicago's HS Pro Program. As a choreographer, he has created new works for Odyssey Dance Theatre, LEVELdance Chicago, DanceWorks Chicago, Interlochen Center for the Arts, METdance too, the Los Angeles Contem-porary Dance Company, Visceral Dance Chicago, Missouri Contemporary Ballet, Western Michi-gan University, METdance Houston, Modern America Dance Company, Modas Dance, SALT II, Wylliams/Henry Contemporary Dance Company, and Eisenhower Dance Detroit. Christian is the 2015-2016 winner of the University of South Florida's Echo Choreographic Competition and the 2016 winner of the Joffrey Academy's Winning Works Choreographic competition. In April 2016, Christian directed and choreographed a short dance film entitled "the watchers" filmed by Salt Lake City-based videographer Bryce Johnson. He is a certified Power Vinyasa yoga instructor and teaches for CorePower Yoga. Recently, Christian had the opportunity to re-stage KOSMOS by Andonis Foniadakis on the dancers of the National School of Dance in Athens, Greece.
Davit Hovhannisyan is in his seventh season with Chamber Dance Project. | Born in Armenia, Davit Hovhannisyan began dancing at the age of six and four years later he was accepted into the National Ballet School of Armenia on a full scholarship. At the age of 16, he began his professional career with the Armenian National Ballet Company. After arriving in the United States he received critical acclaim dancing with numerous companies throughout the country and joined Milwaukee Ballet in 2004. He is a principal dancer with Milwaukee Ballet where he is in his ninth season. He has danced many principal roles such as Romeo in Romeo & Juliet, Basilio in Don Quixote, Rudolfo in La Boheme, the title role in Dracula, Oberon in A Midsummer Night's Dream, Captain Hook/Mr. Darling in Peter Pan, Prince Solor in La Bayadere, Tamino in The Magic Flute, Captain Phoebus in The Hunchback of Notre Dame, Prince Siegfried in Swan Lake, Moon Prince in Scheherazade, Franz in Coppélia, and leads in The Nutcracker, as well as numerous leads in contemporary ballets. Davit has worked with contemporary choreographers including Michael Pink, Stephen Mills, Bruce Wells, Diane Coburn Bruning, Trey McIntyre, Margo Sappington, Kathryn Posin and Mark Godden, among many others. This is Davit's fifth season with CDP and he is sponsored by Reina and Brad Brekke.
Austin Powers is in his first season with Chamber Dance Project. He isa native of Portland, OR, began his ballet training at the age of 5. He trained on full scholarship at Houston Ballet Academy, San Francisco Ballet School, Alonzo King LINES Ballet School, the Center for Movement Arts, and the San Francisco Conservatory of Dance.
Mr. Powers began his professional career in 2014 as a trainee with Ballet San Jose, and the following year was a silver medalist at the Youth America Grand Prix competition. He joined BalletMet in 2015, where he has been performing for 5 seasons.
He has danced original choreography by Cooper Verona, Myles Thatcher, Edwaard Liang, Matthew Neenan, Dalia Rawson, Mads Eriksen, and Grace-Anne Powers. Some of his favorite roles have been Tybalt in Edwaard Liang's Romeo and Juliet, 18+1 by Gustavo Ramirez Sansano, Interplay by Gerome Robbins, Symphonic Dances by Liang, Fool's Paradise and After the Rain by Christopher Wheeldon, Cacti by Alexander Ekman, and Herr Drosselmeyer in Gerard Charles' The Nutcracker.
He has also collaborated with his wife, Grace-Anne, to choreograph and dance several works for San Jose's Commons arts festival, and an original production of Amahl and the Night Visitors for Opera Project Columbus.
Grace-Anne Powers is in her first season with Chamber Dance Project. A Pennsylvania native, she is currently an artist with BalletMet. She began her ballet training at Central Pennsylvania Youth Ballet and continued her studies at The Art of Classical Ballet in Pompano Beach, FL with Magaly Suarez. Prior to joining BalletMet in 2015 she was a dancer at Ballet San Jose, a soloist at La La La Human Steps in Montreal and a principal soloist with the Cuban Classical Ballet of Miami. She has performed a large repertoire of principal roles in the classics including Giselle, Swan Lake, La Bayadere, Don Quixote, Sleeping Beauty, Romeo and Juliet, Carmen, Esmeralda, Raymonda, and Le Corsaire, among others. With La La La Human Steps, she performed in New Work choreographed by Edouard Lock, which premiered in Amsterdam in 2011 and then toured internationally for the following two years. She has also had the pleasure of dancing works by George Balanchine, Jerome Robbins, Edwaard Liang, William Forsythe, Twyla Tharp, Ohad Naharin, Paul Taylor, Val Caniparoli, Dwight Rhodin, Yuri Zhukov, Amy Siewert, Andrea Schermoly, Alex Ketley, Gustavo Ramirez Sansano, Michael Pink, Matthew Neenan, Alberto Alonso, Jorge Garcia, among others. Ms. Powers has received awards, including the Jury Award at Shanghai IBC in China and a Silver Medal at the World Ballet Competition in Orlando. She was also nominated for Pointemagazine's "The Standouts of 2018" for her interpretation of Edwaard Liang's Giselle. Ms. Powers has also been involved in several film projects for BalletMet including "In Tandem" and "Becoming Violet," for which she received an Emmy Award.
Luz San Miguel is in her seventh season with Chamber Dance Project. | Born in Madrid, Spain, Luz San Miguel received her training at Carmina Ocana Ballet School, and on a scholarship at the Municipal Institute of Ballet in Antwerp, Belgium. Prior to joining Milwaukee Ballet, she danced with BalletMet, Charleston Ballet Theater, Tulsa Ballet, Dresden Ballet and Leipziger Ballet in Germany. She has performed as a guest artist in Italy, Spain, Switzerland, Belgium, Germany, Portugal and several cities in the United States. Luz has performed leading roles in ballets by John Cranko, George Balanchine, John Neumeier, Nacho Duato, Anthony Tudor, Stanton Welch, Uwe Scholz, Glen Tetley, Paul Taylor, Lila York and Jerome Robbins among others. During her time with Milwaukee Ballet, she has performed roles such as Lucy in Dracula, Clara and Marie in The Nutcracker, Odette/Odile in Swan Lake, Kitri and Matador Lady in Don Quixote, Tinker Bell in Peter Pan,Swanhilda in Coppélia, the lead roles in Cinderella, Esmeralda, Romeo & Juliet and La Bohème. Luz is returning for her sixth season with Chamber Dance Project. She is sponsored by June Hajjar and Laura and Randy Moorhead.