Click Here for More Articles on DANCE - CONTEMPORARY
BWW Reviews: Eryc Taylor Dance Grants New Choreographers a Chance to Shine
When Eryc Taylor, Artistic Director of Eryc Taylor Dance, stood on the Marley floor of Martha Graham Studio Theater and addressed the sold-out audience for two performances showcasing new work from the winners of his annual New Choreography Grant, he began with the question he's often bombarded with by others in the industry: "Why would you give money away?" His response: "Why wouldn't I?"
That kind of generosity of spirit is what sets ETD (and Taylor himself) apart. The company is heavily focused on giving back not only to the fellow dancers but to the larger community in New York City and worldwide through programs such as ETD Outreach and New Choreographer's Grant, now in its fifth year with fifteen recipients to date. The impetus to take ETD grant funds and give them to others came from his own experience of the critical difference such support makes in an aspiring choreographer's career.
"Our ETD New Choreographer Grant is in honor of those who helped jump start my own career as an emerging choreographer. It's my way of saying thank you to those who have helped me when my career was just blossoming, many years ago," Taylor reflects, "The dance community is small, and if we don't support each other, especially by encouraging fledgling dancers and choreographers at the genesis of their careers, then what hope do we have for the future of dance?" The grant was generously funded for the third consecutive year by The Marta Heflin Foundation.
It was clear from Taylor's nearly uncontrollable excitement that this was a very special group. Of the 100 plus applicants, ten were selected and interviewed which resulted in the top three--Kanon Sapp, Jordan Ryder, and Melanie Ramos--who were awarded one thousand dollars each and crucial feedback on their dance pieces during the early rehearsal period as well as career guidance from Taylor--a newly added benefit to ETD/NCG recipients for 2018. Of the three young women, Taylor gushed, "Of the many fine candidates, their applications and interviews were articulate, original, and had something to say. They shined the most brightly and had fire." After viewing the three-part evening of compelling choreography created by three women all fresh from their university training it became obvious why these vibrant young talents were something to get excited about.
The first piece--by Kanon Sapp--was called "Veil." At first I was anxious that, given the current state of affairs and Western obsession with Middle Eastern ideals and even attire, that this might be an attempt to explore themes of oppression of women by going beneath the hijab. Fortunately this was not the case and though the work did examine oppression and submission of women (as well as their liberation) it was symbolized through a very Western representation which is not as often regarded as a tool of oppression--the bridal veil. Three women (Sam Assemany, Elizabeth Cousar and Ashley Hill) enter the stage to ethereal chants ("O Magnum Mysterium" by Tomas Luis de Victoria) in a bridal march, eyes obscured by a strip of white lace and doning white lace leotards. The trio moves in sculptural gestures and are graceful, pure, almost holy or nun-like in their expressions of agape and piousness. These movements shift into aggression and rejection as they seem to turn against one another then later retreat to the wings and return in only nude bra and panites--stripped down but with veils intact. They prostrate and much of the choreography here is on the floor, a contrast to the prior movements while lyrics and a woman's monotone voice (from "The Letter Your Mother Couldn't Write" by Warsan Shire) express the subjugation of and "cruel life of a woman in a man's world."
Finally, in the third movement (set to the aptly titled "Death of a Violin" by Joss Holden-Rea), the veils are removed and the women's' movement shifts to more rounded, curvaceous expressions, fluid at first and then sharp, with twists, twirls and hand gestures mimicking concealing and revealing before they return to the chaste bride-like stance as church bells toll. When asked about her inspiration for "Veil" it was not surprising that Ms. Sapp revealed her muse to be a marble statue called The Veiled Virgin, which to her represented something that was "hard but extremely delicate."
The second choreography, "Awakenings", was by Melanie Ramos and featured a quartet of performers (Cemiyon Barber, Hayley Clark, Quaba Ernest and Emmalie George) with the two female dancers on pointe. The piece was danced entirely to Steve Reich's Piano Counterpoint (Parts I, II and III). Reich is a contemporary of composer Philip Glass and that style can be felt in the repetition and meditativeness of the music with subtle variations. The spritely plunking of the keys was punctuated by the dancers perfect precision. Of the three choreographies, this was the most traditional in terms of style as it featured largely classical and contemporary balletic movements that would have felt at home with ABT, Alvin Ailey or even the musical theater flair of Jerome Robbins, and the dancers' technique was flawless.
But what brought a particular charm to the piece was the inspiration behind it and (like Reich's piano playing) the subtleties that made one alert to key sea changes. The dancers all moved with the grace and airiness of birds. There were times when it seemed they barely touched the ground. The piece had a very New York feel and they fluttered about like pigeons in a park separately with little to no interaction. Then, a transition occurred and for a fleeting moment, the strangers came together and the movements became more grounded and sensual. The dance resumed with more partnering and connection with each other, which was further enhanced the next time the quartet united. Ms. Ramos credited Reich's music as the inspiration, noting the composition shifts in energy and moods reflect that of people's emotions and behaviors. She paired this with her habit of "people watching" and spun it into three parts as the dancers enact people going about their normal, redundant routines, oblivious to their surroundings and then having a moment of "awakening" that compels them to shift their focus more into relationships and the world around them as well as having a more positive, open-minded approach to life finally resulting in success, unity, and boundless energy clearly represented in the performers' exuberant expressions.
The third and final performance--choreographed by Jordan Ryder in collaboration with the dancers--was entitled "Railways" and featured an original electro-synth composition by Rob Neubauer that was composed in tandem with the creation of the choreography for a truly collaborative experience. Each of the evening's pieces increased in number of dancers from three to four and then a group of six (Julia Gold, Gabe Katz, Emma Massarelli, Dante Norris, Philip Strom, and Miranda Viars). The dancers wore sleek black garments and black and neon knee coverings with a futuristic feel that matched the music. The whole piece had a bit of a space age, high-tech "Tron" sense about it from the sharp, angular movements in pairs or groupings that would burst into speedy leaps and flips, robotic gazes, stark grounded floor work (thank goodness for those knee pads--clearly not just for fashion), erratic flailing, collapsing then rising up again and huddling as a unit, sometimes in support, other times in rejection of a member of the group. To me--aided by the soundscapes and visuals--it was evocative of a kind of network, a complex system such as a computer or brain where signals fire rapidly and rely on each other to function as every gesture seemed to inform another, but sometimes these machines (including the human mind) can short-circuit or malfunction and not cooperate so fluidly. Of the motivation for the themes behind "Railways", Ryder said that the inspiration was "barriers" in physical, mental, and social senses, but that the narrative is the last step in her process--movement guides the relationships, then the narrative further informs and defines what they want to say through the performance and how it relates to and supports the original concept.
All three of the choreographers, when asked about their favorite and most helpful part of the process said their one-on-one time with Taylor from the first feedback and especially the consultations about the industry and business of the dance world, nonprofits, and promotion of your work and your company. All too often one leaves their university experience with an arts degree, plenty of skill and passion but no clue how to transform any of that into a sustainable career or even know where to start. Through caring enough to guide others at the genesis of their development, sharing wisdom from many years of experience, and not being afraid to put his grant money where his mouth is, Eryc Taylor through the ETD New Choreographer Grant has given these twinkling young stars a spotlight to shine even more brightly during a time one is most in need of such support and encouragement.

Choreographer Kanon Sapp. ETD/NCG recipient 2018.

Choreographer Melanie Ramos. ETD/NCG recipient 2018.

Choreographer Jordan Ryder. ETD/NCG recipient 2018.

Eryc Taylor, the Artistic Director of Eryc Taylor Dance.

From "Veil" by Kanon Sapp. Photo by Kanon Sapp.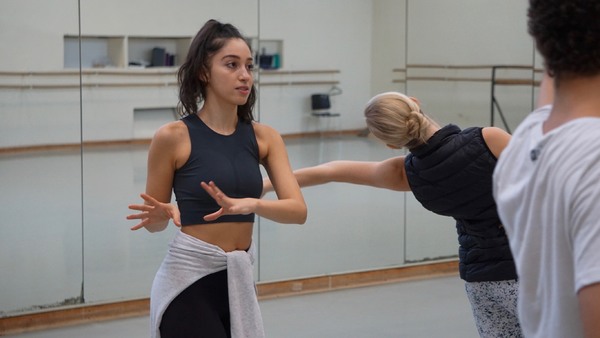 From rehearsals for "Awakenings" by Melanie Ramos. Photo by Bailey Mutschler.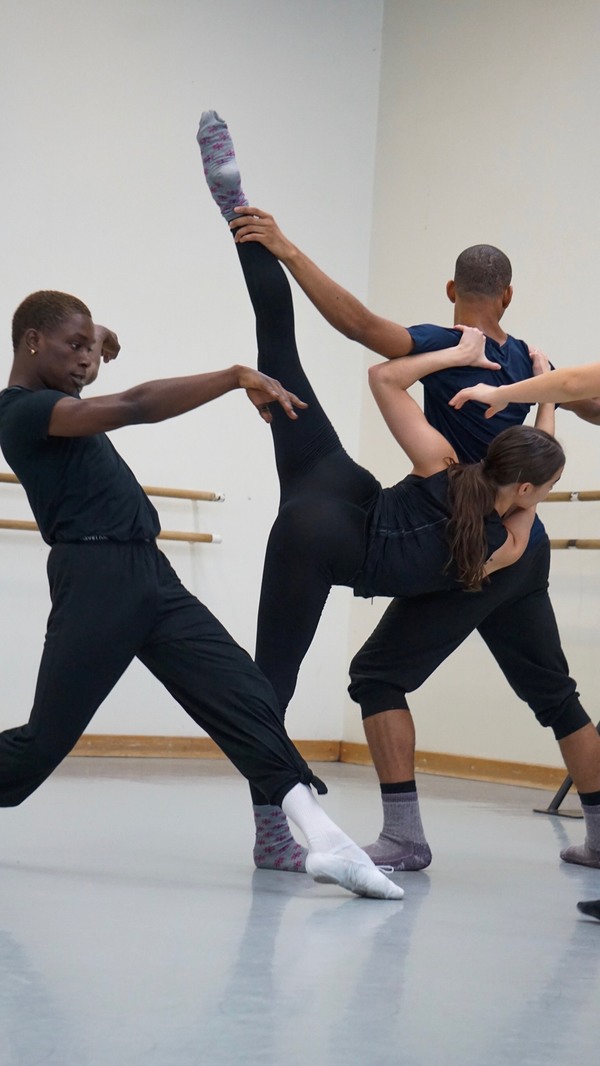 From rehearsals for "Awakenings" by Melanie Ramos. Photo by Bailey Mutschler.

From rehearsals for "Railways" by Jordan Ryder. Photo by Meghann Padgett.

From rehearsals for "Railways" by Jordan Ryder. Photo by Meghann Padgett.