Review: SLEEPING BEAUTY DREAMS at The Beacon Theatre is a High-Tech Futuristic Fantasy
Last week I witnessed three remarkable explorations of distinctly different Tchaikovsky ballets, utterly transformed to reflect modern tastes and suit the times we live in: The multicultural dances celebrated in The Brooklyn Nutcracker by Brooklyn Ballet at Kings Theatre, Swan Lake by the all-male en pointe comedic dance divas of Les Ballets Trockadero de Monte Carlo (aka "The Trocks") at the Joyce Theater and Sleeping Beauty Dreams at the Beacon Theatre. Two of the three reimagined the ballets but still remained faithful to the originals, especially to the score, but the third blasted any traditional expression to smithereens with the precision of a ray-gun.
Though Tchaikovsky had enthused to his friend Nadia von Meck in a letter that "the music of this ballet will be one of my best creations", in regards to The Sleeping Beauty, the composer's score was nowhere to be found in this ultra modern version of the fairy tale. Instead, the classical composition was replaced by pulsating electronic music complimented by otherworldly visuals that were aided by technologies so advanced they seemed to be the stuff of dreams (and at times, nightmares) of a distant future. But the minds behind Sleeping Beauty Dreams have proven that the future of blending art with technology is here and now -- though it's still finding its footing.
Sleeping Beauty Dreams is a dystopian futuristic sci-fi fantasy evocative of Ex Machina, Westworld and Ghost in the Shell. Digital avatars -- virtual characters that reacted in real time to the dancers' movements on stage -- have been created to transform the performers' gestures into live-rendered CGI spectacles.
The premise of the fairy tale (originally created by Frenchman Charles Perrault then adapted by the German Grimm Brothers) is poetic yet problematic due to Princess Aurora's hundred years of slumber, so some modern versions have played with the presentation, including Matthew Bourne's exquisite, imaginative interpretation where Aurora's beloved -- armed with the kiss of awakening -- is transformed into a vampire in order to ensure his immortality and eternal youth that allows him to rescue the drowsy damsel. Sleeping Beauty Dreams gives no backstory or introductions to characters and plot, but exists entirely in Aurora's dreamscapes during her century of unconsciousness. This setting provides the terrain for the visionaries involved to ignite their imaginations and let loose their wildest expressions since the world of dreams isn't constricted to a definitive time or place.
The impressive international lineup included: One of the world's most celebrated and acclaimed dancers -- Prima Ballerina Diana Vishneva (Russia) -- as the principal dancer portraying Princess Aurora, who was reunited with the equally engaging Marcelo Gomes (Brazil) -- playing the Prince on Friday's performance (Gomes' husband and fellow dancer Nicholas Palmquist will assume the role on Saturday)-- for the first time on stage since both performers retired from American Ballet Theatre, composer Thijs de Vlieger (The Netherlands) from the progressive EDM drum and bass trio Noisia, the luxe attire, futuristic textiles stunning silhouettes outfitted by designer Bart Hess (The Netherlands), digital art from Tobias Gremmler (German-born, Hong Kong based) known for his profound expertise and bold artistic exploration that "breaks the wall between virtuality and reality" (designNET), technology art by fuse* (Italy) -- a creative studio and production company that operates at the intersection of art and science, exploring the expressive potential of emerging digital technologies, Laurent Fort (French-born, U.S. based) whose lush luminous effects are guided by Leonardo da Vinci's idea of simplicity as the ultimate sophistication, and choreography by Edward Clug (Slovenia) who blends balletic beauty with starkly contemporary and avant-garde expressions that are further enhanced by the fusion of the live flesh-and-blood performers with their virtual avatar counterparts. Visionary producer and director Rem Hass originated the idea for this project and assembled the "dream" team.
One would have had to have scoured the world to locate the top innovative artists in their respective fields to assemble this prestigious team for such an ambitious undertaking. What they are seeking to accomplish is a kind of theatrical alchemy, transforming all of their base metals of merit into gold. These multidimensional creative revolutionaries all share a deep passion for integrating artistry with technology and science to delight the senses in a way that is vibrantly mesmerizing -- all the more so when their talents come together in one place.
While Sleeping Beauty Dreams is visually striking and the talent involved is undeniable, in its current incarnation, it is best enjoyed as a sort of moving meditation or music video brought to life. Purists and fans of the classical ballet may find it a bit unnerving and not to their tastes -- though it will be interesting to see if it finds an alternative audience within the techie realm who may be able to better appreciate the extraordinary efforts involved. (I found it almost as interesting to observe the live maneuvering of the technicians, including L-ISA audio engineer Carlos Mosquera, manipulating the sound much like the dancers on stage were contorting their bodies).
Despite the international dream team, the piece isn't flawless -- perhaps because its grand ambitions and overfocused spotlight on cutting-edge technology has overwhelmed its intent and emotional depth. What's mostly missing is the narrative -- which is unclear though the program notes explained that the avatars represent Aurora's inner conflicts, temptations and demonic forces (her "fury" is represented by a multi-limbed digital being reminiscent of the Hindu goddesses Kali and Durga). There is a troupe of male dancers in androgynous shifts which at first seemed to be her captors in sleek modernistic lab coats (bringing to mind the Westworld reference) but their interactions didn't propel the story. Even her duets with the Prince were danced beautifully but lacked some potency, which was surprising for such megastars renowned and applauded for their warmth and acting ability almost as much as their dancing.
Maybe that is what is missing most -- warmth and humanity. Sometimes at the dawn of when new science and technologies are being introduced into art (such as CGI in film, think of Star Wars: Episode 1 - The Phantom Menace), it can feel a bit cold and robotic. The urge to dazzle can overshadow the desire to connect to an audience on a personal level -- which is what makes great art so adored. But as it develops and grows, with the right intentions and without losing sight of what matters most -- not just the stunning visuals but the essence of what makes human stories meaningful -- this emerging artform could be able to catapult live performances into a higher stratosphere, rather than act as two disparate aspects competing for attention.
The element of this highly credentialed creative team that was absent was a writer. Imagine what it might have been if a sci-fi mastermind like Philip K. Dick could have lived to have seen such abilities and what he would have done to enhance the nightmarish futuristic dreamscape Aurora was trapped in? Or what if the extraordinary skill of Neil Gaiman had been enlisted to create characters and pen a libretto or plot for a stage play or ballet? With an emerging market and growing demand for sci-fi and fantasy explorations on stage worldwide, it will be interesting to see how this exciting technology can be expressed in the context of a production that connects to the human heart. Hopefully these remarkable innovators will return to the drawing board (or their studios and laptops) with intent and a story that can match or even surpass the visuals, instead of being consumed and overwhelmed by them.


Poster for Sleeping Beauty Dreams.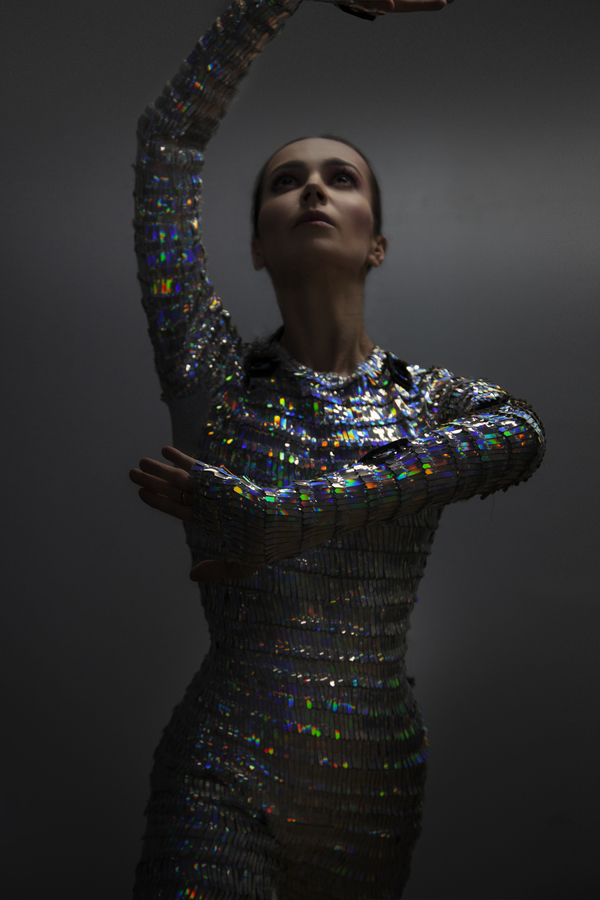 Diana Vishneva as Princess Aurora. Costume by Bart Hess.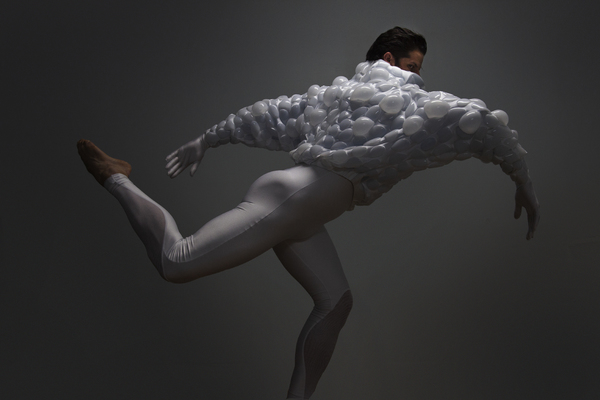 Marcelo Gomes as the Prince. Costume by Bart Hess.

Ian Sprig as one of the Spirits. Costume by Bart Hess.

Marcelo Gomes and Diana Vishneva in Sleeping Beauty Dreams.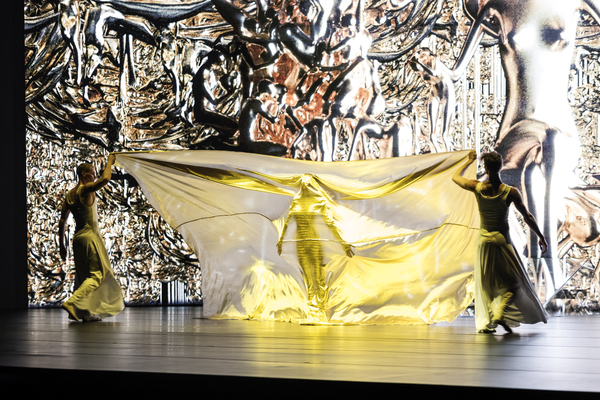 Diana Vishneva and ensemble in Sleeping Beauty Dreams.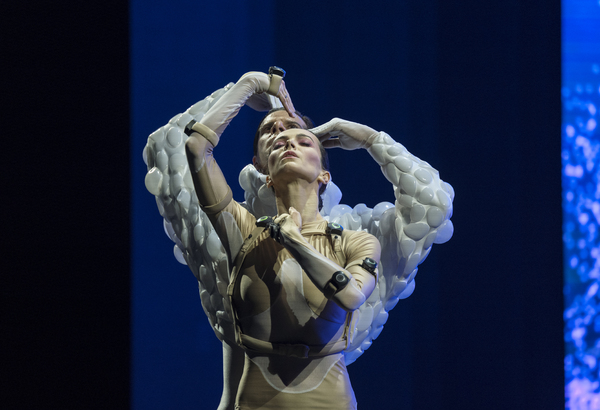 Marcelo Gomes and Diana Vishneva in Sleeping Beauty Dreams.
Diana Vishneva and ensemble in Sleeping Beauty Dreams.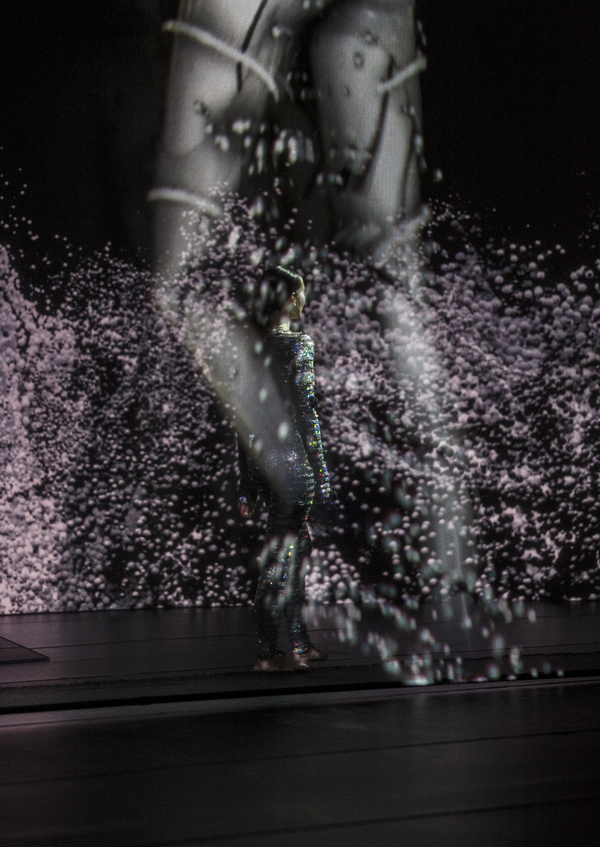 Diana Vishneva and digital avatar in Sleeping Beauty Dreams.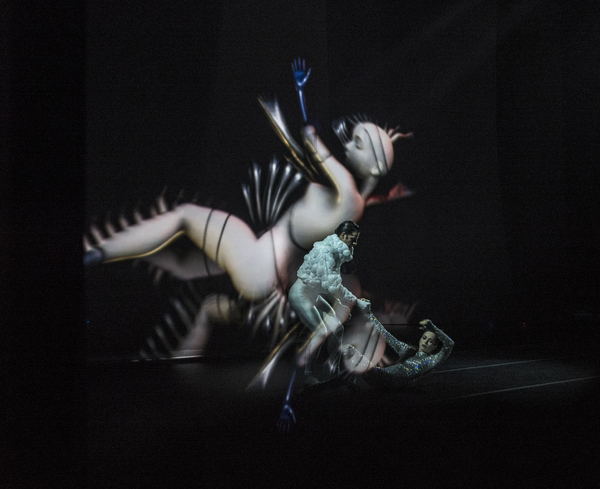 Marcelo Gomes and Diana Vishneva in Sleeping Beauty Dreams with a live-rendered digital avatar.
Marcelo Gomes and Diana Vishneva in Sleeping Beauty Dreams.