Click Here for More Articles on DANCE - HIP HOP / STREET
BWW Review: Going to the Roots of Hip Hop with RENNIE HARRIS PUREMOVEMENT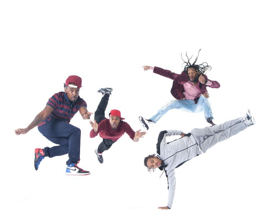 Friday, June 1, 2018 kicked off Rennie Harris Puremovement's New York engagement and return to the New Victory Theater, right in the heart of Times Square. The program featured the world premiere of the company's evening length piece: Rennie Harris: Funkedified in a multi-media work highlighting a variety of street dance styles such as Campbell locking, popping, waving, breaking, and social dances from the 1970s in collaboration with the internationally-acclaimed Hood Lockers.
The dance is set to a digital landscape of African American communities in the 1970s and the political turmoil and atmosphere of his childhood growing up in Philadelphia, PA. Here, Dr. Harris pays homage to the roots of hip hop in a celebration of funk music and street dance. The stage also featured a live funk band playing music of legends such as James Brown, George Clinton, and Dennis Coffrey.
This dance was a lot of fun! It was filled with so much high energy it made you want to get up on stage and dance along. The dancers of Rennie Harris Puremovement are very talented. The breaking was so cool with their fancy footwork on the floor and spins on their heads. The poppers were just amazing. The way they can make their bodies move with such accuracy and explosion is remarkable. Not to mention the fierce vogue moves that were performed as well. The Hood Lockers were absolutely jaw-dropping! I personally appreciated their outfits because they were historically true to what was worn in the 70s.
I want to say thank you to Dr. Harris for his work and dedication to elevating the value of the street dance culture, but also for reminding us of the roots of hip hop. Today, with the help of social media, we often focus our attention on the here and now, and forget how we got here. This was a great reminder of the history and foundation of hip hop dance and modern culture.
Rennie Harris Puremovement is a dance company that is dedicated to preserving and sharing the street dance culture that was founded and currently directed by Lorenzo "Rennie" Harris Ph.D.. The company was created on the belief that hip hop is one of the most important original forms of expression in the United States for the new generation. Since the age of 15, Dr. Harris has been teaching and advocating about the significance of street dance, which has often been characterized as a contemporary American indigenous form that expresses universal themes bridging man-made divides.
Rennie Harris Funkedified will continue its run at the New Victory Theater now through June 10th located at 209 West 42nd Street (between 7th and 8th Avenues). For tickets and more information, please visit the New Victory Theater's website at http://www.newvictory.org/box office or call the box office at 646-223-3010. You definitely won't want to miss it!
Photo Credit: Brian Mengini