Click Here for More Articles on Ballet!
BWW Review: DON QUIXOTE REIMAGINED BY THE NATIONAL BALLET OF UKRAINE at The Orpheum Theatre
Leonid Sarafanov from Kiev, Ukraine is a principal ballet dancer with the Mikhailovsky Theatre in St Petersburg, Russia and a Teatro alla Scala soloist,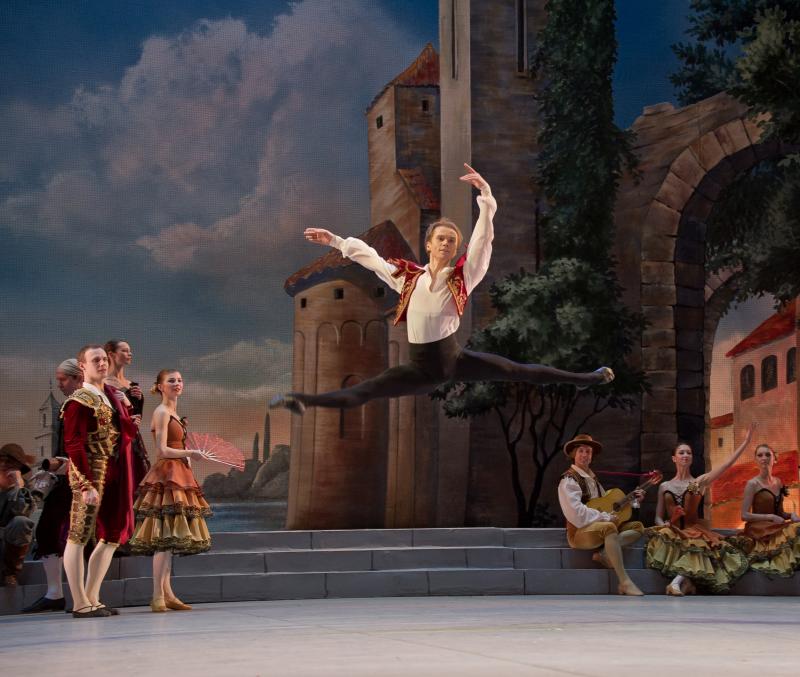 and was a special guest star in this dazzling one night's performance of Don Quixote at the Orpheum Theatre in Los Angeles, playing Basilio with much flair and specificity.
The company, playing two evenings in Los Angeles, presented Sleeping Beauty on Friday evening, May 18th and the lively Don Quixote for one exciting and much anticipated performance on Saturday, May 19th, at the historic Orpheum Theatre, in downtown Los Angeles. If you have never been to the Orpheum Theatre, it is one of the oldest theaters still existing in Los Angeles, and what a fabulous Theatre it is! It dates back to the vaudeville era, as part of the famous Orpheum circuit rounds.
Don Quixote, played appropriately dizzy by Serhii Lytvynenko, lives in seventeenth Century Spain, and based on the original novel by Miguel de Cervantes, the ballet is recreated with meticulous homage to the original choreography by Marius Petipa. It is a whimsical tale of an imagined adventure by a deranged old man and the characters he meets along his journey. Thinking he is a knight, he proceeds to try proving this, to no avail, while others play tricks on him, both amusing and somewhat cruel.
There are lavish sets and outstandingly beautiful costumes, representing the time period when the novel was written, and each setting was fully-staged with either matadors with flashing red capes, senoritas with fans waving, flamenco dancers, gypsies with tambourines and several suitors to the captivating Dulcinea, whom Don Quixote believes to be a princess, with much revelry by all.
The National Ballet of Ukraine is celebrating it's 150th year in existence, yet this is their first appearance in the United States. It is nice to see original choreography intact, and the entire Company is strong, precise, crisp; performing each step with bravado. Each soloist stands out in their respective turns. Jan Vana, as Espado, the lovely Tetiana Holiakova as Dulcinea, Stanislav Olshanskyi, Yulia Moskalenko, as Kitri, spirited Ekateryna Kozachenk, and, of course, Leonid Sarafanov, executed bold lifts, stunning pirouettes, grand jete's, with the men doing amazing turns en a la seconde, and the women doing brisk pique' turns, and sturdy fouette's that had the audience applauding and gasping in awe.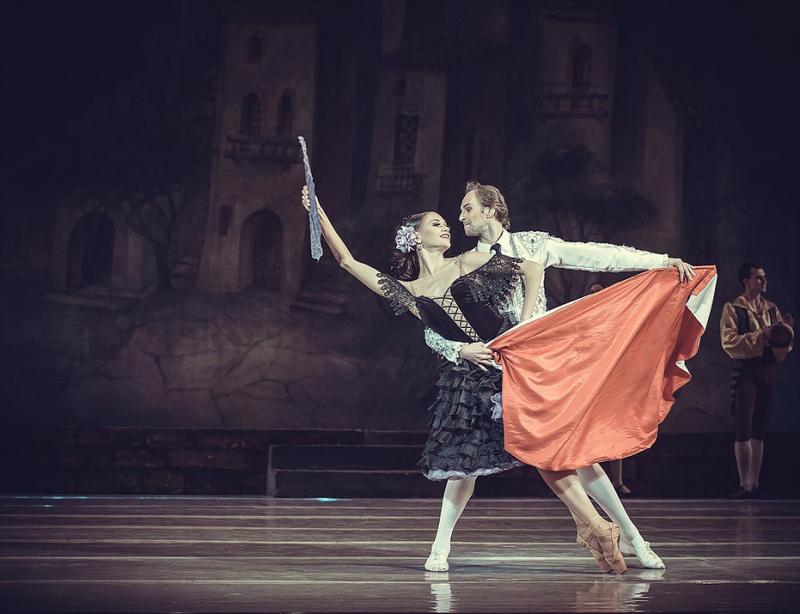 This is a wonderfully authentic ballet company and will be touring in the United States. If you'd like to check their upcoming schedule, for more information, go to: https://www.balletofukraine.com/.
They are an important company because they are giving us the Classic Ballets in much their original form as when first created. The history of Ballet is fascinating, as is any type of Dance, or Artistic Work, and hopefully they will continue visiting us with more gorgeous ballets in the future.
Photos by National Ballet of Ukraine and O. Olova