BWW Review: ABT's Staging of GISELLE Offers Superb Dancing but Misses the Mark During the Iconic Mad Scene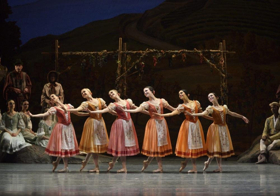 Kevin McKenzie, the Artistic Director of American Ballet Theater since 1991, has created an admirably faithful staging of the company's 1987 production of Giselle to the music of Adolfe Adam. A veteran himself of the leading role of Albrecht, McKenzie has kept the beloved classic alive for today's audiences with all of the requisite charm and dance mime in Act I as well as plenty of eerily dramatic tension in Act II.
However, what is missing -- or at least what was missing during the performance I saw on May 19th 2016 at the Metropolitan Opera House in Lincoln Center -- is the gripping intensity that should dominate the infamous "Mad Scene" in Act 1. Hee Seo in the role of Giselle danced with technical prowess and winsome girlishness during the love-triangle section of the libretto by Theophile Gautier, yet failed to deliver a compelling and convincing performance as a heroine gone berserk in the wake of being betrayed by her lover.
To be fair, the problem began when Principal Ballet Mistress Susan Jones in the role of Giselle's mother took far too long fumbling as she tried to let the heroine's hair down. Not only that, but she did so in full view of the audience and therefore killed the illusion that Giselle's hair had come undone without assistance when she fell in a disheartened heap after learning about Albrecht's deception. In addition, the ballerina's hair is in a blunt cut that only reaches her shoulder blades and never flew about in disarray to add to the visual depiction of insanity. More important, Hee Seo's acting was tepid and almost comical as she ran around in what should have been a heart-tugging testimony to the tragedy of unrequited love.
That said, the ballerina came into her own in Act II when she portrayed the newest member of the Wilis, the spirits of betrothed women who have died before getting married. Their mandate is to dance to death any unfortunate men who encounter them in the forest. As farfetched as that notion may seem, I never fail to be mesmerized by the ghostly brides. They were ably led in this case by Devon Teuscher as Queen Myrta. She has believable authority and the most other-worldly command of fluttering bourrees I've ever seen. Adding to the magic was the stagecraft with chilling flashes of lightning designed by Jennier Tipton. Also, ABT's always flawless corps de ballet moved as one and elicited appreciative applause for their efforts.
Eventually, although Thomas Forster as Hilarion succumbed to the Wilis' powers and died, Roberto Bolle as Albrecht was saved by Giselle's passionate intervention that fended off the Wilis until dawn broke at 4 a.m. and their powers were dissipated. The leads delivered masterful performances of the demanding lifts and the jumping beats, although at one moment Bolle dropped his ballerina when she was set to exit on stage left. From what I could tell, the pair crashed into the wing. The audience let out a collective gasp, but the ballerina came back onstage for her next section with no apparent injury.
ABT's Spring Season continues through July 7th with productions of Firebird, Afterite, La Bayadere, Harlequinade, Romeo and Juliet, Swan Lake, Don Quixote, and Whipped Cream. If you can, take advantage of this opportunity to see the magnificent work of "America's National Ballet Company".
Photo by Gene Schiavone
Related Articles View More Dance

Stories
Sondra Forsyth is Editor-in-Chief of Broadway World Dance. A National Magazine Award winner and a member of Dance Critics Association, she founded Ballet Ambassadors in (read more...)