Review: A Display of Pure Joy at BALLETNEXT's Spring Season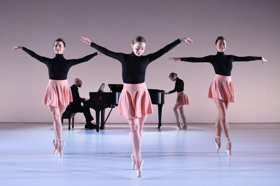 So often, dance is portrayed as a mysterious enigma, dramatic and otherworldly through overly complicated choreography and a hard-to-follow backstory. As a result, its magic can get lost in translation. But at BalletNext's spring season at New York Live Arts, pure joy was served as the appetizer, entrée, and dessert in a spirited program curated by former American Ballet Theatre dancer and BalletNext Artistic Director, Michele Wiles.
The world premiere of "The Pianist" kicked off the evening, a comedic celebration of the ups and downs of a ballet class. Wiles' clean technique and balance has sustained beautifully over time, setting the stage for the other dancers to join in on the fun. The company's artists are all beautiful and bright, but what was most impressive was their dedication to serving Bach's jovial Concerto in D minor score, grounding its melodic resonances with spritely jetés and playful piqué turns.
Up next, the world premiere of "Experience" debuted, featuring talented duo Violetta Komyshan and Natalie Stys. In an exploration of the dual sides of the self, the two dancers showcased impressive acrobatic athleticism, often staying in close contact with one another to highlight the interconnectedness of the singular's complexities. The choreography started out strong, but grew repetitive as time progressed. Yet Elliot Figg and Angela Kim's original score of the same name helped to sustain the piece's palpable drama.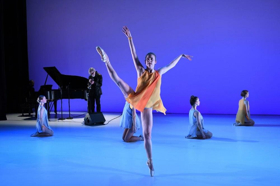 The world premiere of "Follin" was third, which featured a complete thematic departure for the company. Set to an electronica-inspired score by Figg and Kim, the piece highlighted a more subdued sensibility, blending lyricism with pedestrian movements. As the piece shifted from darkness to lightness, the choreography swiftly adapted, but ultimately concluded without resolution.
But the final piece of the evening, the world premiere of "Vibrer", stole the show, providing an immediate breath of fresh air into the space in the form of refreshing syncopation. Putting the dancers' incredible extensions on display, their bold lines created more than just art, but also a network of sisterhood; the love and respect they feel for each other was palpable.
BalletNext is a company with passion and burgeoning talent; I'm excited to see how they continue to grow.
Photo Credit: Eduardo Patino