Click Here for More Articles on DANCE - CONTEMPORARY
BWW Preview: NU AN SPIRITUAL DANCE SERIES 2018: 'MOVING THROUGH TEA' & 'UNIVERSAL EMOTIONS at Symphony Space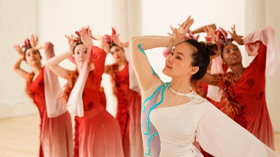 BWW Preview: Nuo An Spiritual Dance & Art Foundation
Imagine if your cup of fresh, flirty jasmine green tea or mug of earthy, sensuous Yunnan Gold suddenly sprung to life and was emboldened with a soul, purpose and place of origin as any other sentient being? What if our emotions were given names and humanized characteristics like in Ancient Greek myths where conditions and states of being such as Fames (Hunger) and Discordia (Strife) have been personified? Could you picture seeing the spirit of a tea leaf or such emotions as exuberant joy or paralyzing anxiety sitting beside you on a NYC subway or strolling down the pavement?
These are some questions that entice and provoke the ever-curious, full-of-wonder, acclaimed Chinese choreographer and dancer, Nuo An and her international company, Nuo An Spiritual Dance & Art Foundation, who will present an evening-length premiere of two new works, "Universal Emotions" and "Moving Through Tea," as part of the Nuo An Spiritual Dance Series 2018 at Symphony Space in New York City this Friday, May 11th, 2018.
"Moving Through Tea" has been in development since 2014 and, like any fine tea, it has finally reached the peak of its brewing period. Nuo An views this particular work as both her duty and mission as a dance artist from China. Like the masters of East Asian ink wash paintings, whose goal was never just to depict the subject but to capture its spirit and to understand its essence so much that they could reveal what was unseen, Nuo An immersed herself in the world of tea before she dared to embody it. She visited tea production sites in the Sichuan, Anhui and Yunnan provinces of China, met with Tea Scholar Dr. Dongmei Shen, and explored black tea "Heritage," Xuanwen Ming (tea) and the Pu'er Tea Plantation of the Fei Yan family. Even the Australian fine tea company, T2, has taken an interest in her unique explorations of capturing the spirit of tea through performance.
"Tea has sensations, feelings, stories. Different teas have unique personalities and their souls called out and spoke to me. I have had dialogues with tea." Nuo An explained as her inspiration for the three dances which breathe life into the famed Chinese Green, Black and Pu'er teas. The three teas are granted personas akin to the Triple Goddess (Maiden, Mother, Crone) from Western mythology/symbolism and renowned psychologist Carl Jung's "archetypes."(The choreographer was unaware of these concepts, which makes the "synchronicity" of the similarities even more remarkable and demonstrative of her work's universal depth and appeal.) "Green Tea" is fresh and vibrant, like a youthful teenage girl; "Black Tea" is sultry, bold and voluptuous, like a buxom woman in heels and red lipstick; and "Pu'er Tea" (the artist's favorite) is earthy, mature, potent, and powerful, like a wise woman living in the mountains, at one with nature.
Nuo An brings a delightful, charming and irreverent sense of childlike play and inquisitiveness to her work that (teamed with the exquisite discipline of herself and her dancers) explodes in powerful, surprising and deeply moving representations of the true essence of things we might overlook such as the journey of a tea leaf or the source of our strongest feelings. As for her impetus to portray "Universal Emotions," Nuo An sees it as her mission and duty from her dance therapy background. "I want to show the inside of real human beings. We can be dark, we can be light and we have to accept our wholeness." Through her new dance style, Spiritual Dance, Nuo An combines art and therapy to demonstrate to audiences that, "We are all the same."
"Spiritual Dance," founded by Nuo An, is a hybrid form of expression which integrates aspects of ballet, modern dance, contemporary, folk dance, and dance therapy with theatrics and storytelling, and is rooted in the principles of "Authentic Movement," Eastern Meditation, Zen Taoist, Tai Chi, all imbued with love for oneself and others. She describes it as, "A new form of professional dance and universal spiritual expression, not limited to any culture or religion, which combines recognized dance forms such as ballet or contemporary with grounded-ness, freedom and fluidity." To reach the high level of outward expression one will observe in Nuo An and her company's Spiritual Dance, Nuo An believes one must first turn their exploration inward through Authentic Movement, developed by dance therapist Mary Starks Whitehouse, which incorporates movement to promote self-exploration and improved mental health. As a certified Dance Therapist who has spearheaded programs at Phoenix House and Woodhull Hospital in Brooklyn, Nuo An describes the process:
"First, one must get to know themselves through Authentic Movement which is impulse-based and helps dancers to satisfy their own inner needs. Then, through meditation, one is cleansed of all personal emotions and distractions and is prepared to be filled like an empty cup or blank canvas. This is when a dancer is ready for the choreography to be set upon their bodies, so that they truly embody the spirit they are enacting. Before you can know another life or spirit, you must know yourself."
Other collaborators on the show have expressed the deeper level achieved through Nuo An's process of tapping into first oneself, then fully embracing and becoming the spiritual essence of an entity. Xiaoming Tian, the composer and vocalist for "Pu'er," one amongst the many talented musicians bringing authentic sounds of ancient and modern China to the production (including Wei Sun on GuZheng, Lu Liu on Pipa, and Yueyue Wang on drums), reflects: "I try to use the full range of my voice and vocal techniques, from falsetto to bass and throat singing, to depict the figures and action. I approach it like a film score, reacting to and inspired by the dancers." And standout sibling dancers, Ibn and Pamoja Days, both no strangers to cross-cultural intersections, being African-Americans raised by Muslim and Buddhist parents who'd attend a Christian church with their grandmother on Sundays, and whose dance backgrounds are as diverse and eclectic as their upbringing, sang praises for Nuo An's Spiritual Dance: "I've explored improvised dance at Montclair University, but it never spoke to me the way Authentic Movement and Spiritual Dance does," explained Pamoja, "It comes from an organic place within where there's no judgment, just movement. It's a completely universal expression of all cultures and people."
Such universality is the very heart of Nuo An's mission and purpose in sharing and developing this new art form, particularly for Western audiences. Hailing from the Hunan Province of China, Nuo An graduated from the Beijing Dance Academy and the Pratt Institute's Dance Therapy Program in New York. For over a decade, Nuo An explored various forms of experimental dance and dance theory to create what ultimately became Spiritual Dance, which was originally developed in China and has been further refined in the U.S. There is a distinctive, alluring mixture of Eastern and Western influences, but like a good tea they blend together perfectly, no one element overpowering the others. Spiritual Dance is created with the intentions of being an art form that promotes a global perspective, cultural fusion and exchange. As a member of the United Nations Council on International Dance (CID), a frequent world-traveler, and universal spirit herself, this is Nuo An's intention and also her impetus to further incubate the work in the U.S. "I love American people because they are so open and their hearts are broad," she asserts with, "I am Chinese but my art is universal. This is why I wanted to develop and share Spiritual Dance with American people and work with American dancers. I want to share the soul and essences of other lives (like tea and emotions) with all people and to open their eyes and hearts to seeing differently and look at the spiritual nature of all things."
Nuo An, her company and Spiritual Dance are indeed universal, but it is notable that she is Chinese and focusing on meaningful cultural exchange worldwide but specifically between China and the U.S. China's significance in the world cannot be understated or underestimated, and as a Chinese-born, globally-shaped artist she greatly honors her country of origin as well as her new home by the art she is creating and the ambitious purpose she proclaims with such determination and passion. Though these times can feel tense between nations, Nuo An's work and mission promotes and celebrates our undeniable commonalities as human beings and even spiritual entities to unite all beings and cultures through the very essence of what lies at our core.
Nuo An Spiritual Dance Series 2018: "Moving Through Tea" and "Universal Emotions" world premiere at Peter Norton Symphony Space, Friday, May 11, 2018 at 8pm. For more information visit: www.symphonyspace.org and www.nuospiritualart.org


Nu An (center) and Nu An Spiritual Dance Company with musicians for in rehearsals for the Symphony Space debut.

"Pu'er Tea" from "Moving Through Tea" the finale of the Nu An Spiritual Dance Series 2018.
Related Articles