Keitaro Harada Happily Travels Between Louisville and Cincinnati for Performances on February 2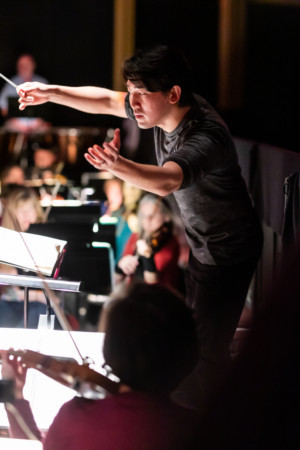 On Saturday, February 2, Keitaro Harada conducts Cincinnati Pops Orchestra in the morning and Louisville Orchestra in the evening. Why? The answer might surprise you.
In the last year, Japanese conductor Keitaro Harada has actually circled the globe conducting symphonic, opera, pops, ballet, and live movie show performances. From Japan to San Francisco, Cincinnati to Bulgaria, and parts in between, he makes his schedule flexible enough to fit as many engagements as possible without jeopardizing adequate prep, rehearsal time, and needed sleep. With multiple projects in play, he finds joy and reward in solving the music-plus-calendar equation.
Harada says the secret is being ultra-organized: "I'm constantly on the road, living in hotels many days of the year, preparing several scores at once, often learning new music, and balancing engagements with agents in more than one country. I faithfully use a bullet journal. Having a reliable system that keeps everything in place gives me the freedom to focus on the music and enjoy each and every rehearsal and performance."
There is nimble craft in harnessing the moving parts of an opera production, creating symphonic programs that capture the attention of young audiences, matching the "streamers and punches" of a film score with the on-screen action in a live movie show, and stepping onto the podium fully prepared. Harada finds a personal rhythm that gives him the opportunity to collaborate with as many fine musicians and ensembles as the space-time continuum will allow.
Follow Harada's Instagram Story on Saturday, February 2, as two shows in two states on one day unfolds: Instagram.com/khconductor
Related Articles
View More Classical Music

Stories
More Hot Stories For You