Five Boroughs Music Festival presents Rolston String Quartet, 10/13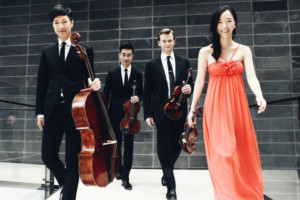 Five Boroughs Music Festival (5BMF) presents the Rolston String Quartet-winner of the 2016 Banff International String Quartet Competition and current Quartet-in-Residence at the Yale School of Music-on Thursday, October 13 at 7:30 p.m. at South Oxford Space in Fort Greene, Brooklyn. The quartet performs Beethoven's String Quartet Op. 18, No. 3, Debussy's String Quartet No. 10, and Schumann's String Quartet Op. 41, No. 3.
Additional concerts in Five Boroughs Music Festival's 2017-18 season include a performance of the Five Borough Songbook, Volume II on Thursday, November 16 at 7:30 p.m. at National Sawdust, completing the Songbook's borough-wide tour; the Lorelei Ensemble on Friday, February 9 at 7:30 p.m. at the Church of St. Luke in the Fields in Manhattan; a collaboration with International Contemporary Ensemble (ICE) and UpBeat NYC on Saturday, March 17 at 8:00 p.m. at Pregones Theater in the Bronx; and concerts by TENET on Friday, May 11 at 7:00 p.m. at King Manor Museum in Jamaica, Queens, and on Saturday, May 12 at 7:30 p.m. at Christ Church Riverdale in the Bronx.
FIVE BOROUGHS MUSIC FESTIVAL PRESENTS ROLSTON STRING QUARTET
Friday, October 13, 2017 at 7:30 p.m.
South Oxford Space
138 South Oxford Street
Brooklyn, NY 11217
Artists:
Luri Lee, violin
Jeffrey Dyrda, violin
Hezekiah Leung, viola
Jonathan Lo, cello
Program:
BEETHOVEN String Quartet Op. 18, No. 3 DEBUSSY String Quartet Op. 10 SCHUMANN String Quartet Op. 41, No. 3
Tickets, priced at $25 for general admission and $15 for students and seniors, can be purchased by visiting www.5bmf.org.

First Prize winner of the prestigious 2016 Banff International String Quartet Competition, the Rolston String Quartet has become Canada's newest ensemble attracting attention on the international stage. During the 2016-17 season, the quartet embarked on their Banff Competition winner's tour, taking them to Germany, Italy, and Austria. This season, the quartet performs in Europe, Israel, the United States, and Canada. Other highlights for the Rolston String Quartet include performances in such venues as the Smithsonian, the Kennedy Center, Harris Hall, Koerner Hall, and the Auditorium de Bordeaux. Notable collaborations include performances with renowned artists Andrés Díaz, Gil Kalish, Mark Morris, Donald Palma, Jon Kimura Parker, and Miguel da Silva. Additionally, they have worked closely with composers John Luther Adams and Brian Current.
As prizewinners, the Rolston String Quartet has also won First Prize at the 31st Chamber Music Yellow Springs Competition, Third Prize at the inaugural M-Prize Competition, and the Durosoir Prize at the 2016 Bordeaux International String Quartet Competition.
Currently the Quartet-in-Residence at the Yale School of Music, the quartet has participated in residencies and fellowships at the Shepherd School of Music at Rice University in Houston, Académie musicale de Villecroze, Aspen Music Festival, Banff Centre for Arts and Creativity, McGill International String Quartet Academy, Norfolk Chamber Music Festival, Robert Mann String Quartet Institute, St. Lawrence String Quartet Seminar, and the Yehudi Menuhin Chamber Music Festival.
The Rolston String Quartet was formed in the summer of 2013 at the Banff Centre for Arts and Creativity's Chamber Music Residency. They take their name after the Canadian violinist Thomas Rolston, founder and long-time director of the Music and Sound Programs at the Banff Centre for Arts and Creativity. The quartet was the only ensemble to be featured on CBC's 2016 list of hot Canadian classical musicians under 30.
Five Boroughs Music Festival's mission is to enrich communities and cultivate new audiences by bringing world-class, affordable chamber music to all corners of New York City. 5BMF collaborates with local cultural institutions to present up-and-coming artists alongside the genre's most distinguished performers, and challenges the standard definition of 'chamber music' by presenting a broad range of musical styles, from early music to contemporary works, world music and other non-classical forms.
Led by founders Jesse Blumberg and Donna Breitzer since 2007, 5BMF has presented over 50 traditional and contemporary chamber music programs in ten complete cycles around NYC. Described as "imaginative" by The New York Times and "vital" by WQXR's Operavore blog, 5BMF's commitment to musical outreach and diverse programming has attracted positive attention from the NYC arts community from its earliest days. 5BMF's artist roster is comprised of diverse, talented emerging artists and distinguished musicians alike. Its venues are just as eclectic, and have included historic NYC landmarks such as Federal Hall, the University Church at Fordham University, Flushing Town Hall, King Manor Museum, Brooklyn Conservatory of Music and the Snug Harbor Cultural Center, among many others.
To mark its fifth season in 2011-2012, 5BMF commissioned 20 composers to create the Five Borough Songbook, a collection of 20 unique songs inspired by New York City places, themes and poetry. Throughout the course of the season, the Songbook premiered in every borough of NYC, and was released as a double-CD studio album in 2011 by Roven Records. Following the success of the original Songbook, 5BMF commissioned a second volume of 20 new works for its 10th anniversary; the resulting Songbook, Volume II will premiere in all five boroughs of NYC throughout 2017.
5BMF's programming is rooted in familiar classical music traditions, but is inclusive of a broad range of styles; art song recitals, early music, new music and other non-classical forms are all represented. By employing a broad definition of chamber music and sustaining a commitment to artistic outreach by bringing world class programs to neighborhoods all over the city, 5BMF offers an affordable, intimate concert experience to a wide variety of New York City audiences.



Related Articles View More Classical Music

Stories
More Hot Stories For You