Work of Fiction Depicts Disaster Recovery and Relief on Global Scale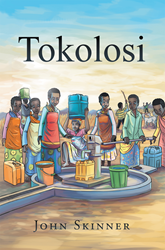 A compassionate account of drought-stricken suffering and privation in an imaginary, least-developed African country, author John Skinner takes readers on a journey in his new novel "Tokolosi."
The description of relief and recovery activities offers readers a vivid insight of the many and varied challenges of mitigating, preparing for, responding to, and combating such crises as severe drought-a description that may also assist prospective disaster managers. People's pleasures and their unexpected perils during that country's emergency further illustrate life at the sharp end and blunter end.
"The book is mostly set in 1990s sub-Saharan Africa and largely relates to real experiences shared by representative groups of fictitious, multi-ethnic players," said Skinner. "While there is a dearth of published work on disaster management and associated topics, I hope that 'Tokolosi' will help fill a part of the void."
Derek Morris, a retired New Zealand Diplomatic Service official, stated that the book "weaves together the suffering of helpless Africans, the greed and selfishness of their so-called leaders and public officials, the politics of aid, the United Nations structure, diplomacy, the persistence of team-builders, and memorable characters, including some striking women."
Inspired by the author's experiences in disaster recovery and relief, "Tokolosi" serves as an inspiration for people around the world to help those in need.
"Tokolosi"
By John Skinner
ISBN: 9781514499238 (softcover); 9781514499252 (hardcover); 9781514499245 (eBook)
Available at the Xlibris Online Bookstore, Amazon, and Barnes & Noble
About the author
While a research fellow at Oxford University, John Skinner contributed to two nonfiction books: "World Armies" edited by John Keegan, then a senior lecturer at the Royal Military Academy Sandhurst, and "The Defense of Western Europe" edited by Leo Gunn of Stanford University. Between army retirement and working with the United Nations in Africa, Skinner's coverage of organization and logistics in the West's first International Military and Defense Encyclopedia was published by Brassey's (United States) Inc. To learn more, please visit http://www.tokolosi.com.
Review Copies & Interview Requests:
LAVIDGE - Phoenix
Bryan Beach
480-306-6554
bbeach(at)lavidge(dot)com
Related Articles View More Books

Stories
More Hot Stories For You